How Top Agents
Crushed 2021
Goals with CINC
Did you miss the webinar or want to watch it again? Access the full webinar from 12/2/2021 below.
How Top Agents Crushed 2021 Goals with CINC
Thursday, December 2nd at 2pm EDT
There were two types of agents and teams in 2021. Those who wanted to wait and see what was going to happen. And those who decided to double down and invest in growth.
We mainly work with the second type here at CINC. While almost everyone grew this year. This second group actually grew market share.
Join our LIVE webinar Thursday, December 2nd at 2pm EDT to get a behind the scenes look at how top agents have been leveraging the CINC platform to crush their 2021 goals and gain market share.
Don't miss the opportunity to learn how these agents are using CINC to:
Target hyperlocal leads in their market that their competition is undervaluing

Keep leads coming back to their site well after the initial conversion

Find and connect with old, "needle in a haystack" leads stuck in their database that are finally ready to buy/sell
SAVE YOUR SPOT NOW!
Access Free Downloadable Content to Help Your Business Today
Want More Value?
Our Features
Why Choose CINC?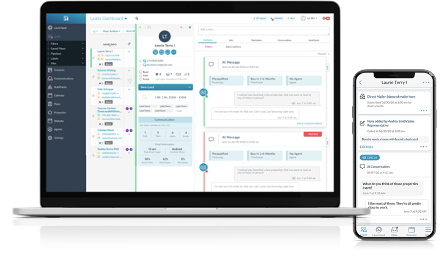 Capture Leads as You Market Your Area Expertise
Managing more than $30 million in advertising spend, CINC's team of experts know how to deliver hyper local leads. Advanced advertising products allow you to stay top of mind for homebuyers in your market area.

Identify Your Now and Future Business
Your local MLS integrates into a powerful home search and CRM. Efficiently tracking insights during your leads' searches allowing you to prioritize your time on your now business.

Nurture Leads and Clients with Numerous Communication Tools
Building relationships with home buyers require multiple ways to connect. You can mass text/email, dialer, video messaging, and more. These tools and other marketing features help you assist clients in finding their next home.

It's Not Just the System, but Tools to Convert
CINC helps you on Day One with implementation deploying the technology and continues through your time as a client with Masterminds & Best Practices expanding your business's potential. US-based support and networking with 40k+ agents are available at your fingertips.
What They're Saying About CINC AI
"This is a game-changer & the best thing CINC has done yet. I've got the hardest working team member that I've ever had, & they work 24/7/365. It never has an off day - you just need to call your leads." Robert Burt, Keller Williams Realty Emerald Coast
"CINC AI is amazing. The language flows and it sounds like me. CINC AI's conversion is even better than I am on the phone. It's giving me the opportunity to connect with leads better." Andrew Scherer, Luxe Fine Homes Team
"We know that our CINC AI works to engage leads in conversations because it's field-tested. We have worked with 5,635 top agents over the last 36 months contacting leads with our exclusive scripts. The result has been that the average person earns $8,970 in commission. These same scripts, techniques, and algorithms have been incorporated into CINC AI. Steve Murnin, SVP CINC Live Training