CINC + Waldner Winters Team | Request a Demo
Learn why CINC has the #1 user-rating (4.5+ stars) on Google for an all-in-one real estate lead generation & conversion CRM platform.
-Top Google Premier Partner for Real Estate Lead Generation
-Top Meta (Facebook) Business Partner for Real Estate Lead Generation
-G2 Winter 2023 High Performer
-4.6+ Star Rating on Apple App Store
How 50,000+ top teams and agents turn online leads into closings. Learn their secret by requesting a demo today!
Lead Generation
Expert Lead Generation for Hyper-Local Leads
Fill your database with the help of CINC's team of experts who manage $30M+ in annual ad spend, specializing in Facebook and Google Ads. With hyper-local targeting, CINC delivers piles of highly-qualified leads right to your team.
Leverage Retargeting

Get another chance to convert your website visitors with high-performing retargeting campaigns.

Enterprise-level optimization

CINC's ad platform makes hundreds of thousands of optimizations daily, consistently improving the quality and value of your leads at a scale no one else in the industry can match.

Precise Targeting

Reach the highest-quality buyers who will convert to close faster than other lead sources.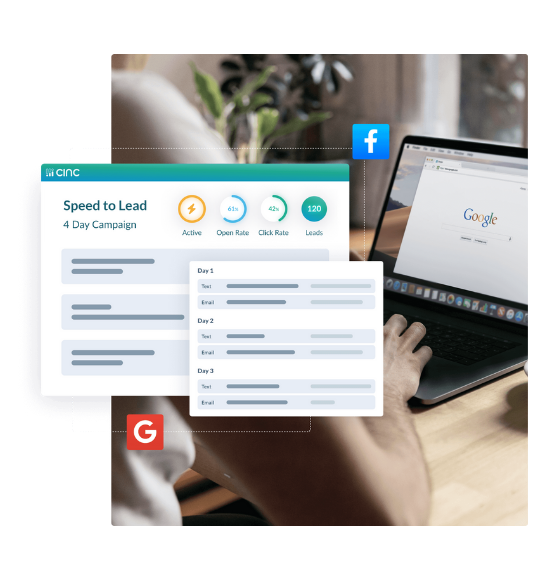 DESIGNED FOR AGENTS LIKE YOU
Real Estate Tools Are One Thing.
Closing Leads Is Another.
CINC's powerful all-in-one platform helps you generate and close more leads, growing your real estate business. That's why 50,000+ agents rely on it to nurture their most profitable business opportunities every day.
Whether you're growing the next real estate empire or streamlining your team's operations, CINC's tools help you dominate the market while making authentic connections.