ACCELERATE THE LEAD-TO-CLOSE CYCLE
Multiply Your Real Estate Business. Maximize GCI.
Winning in real estate means closing more leads, faster. CINC's all-in-one tools and US-based training help you get there.
Request a demo today and see the difference between CINC and… well, everyone else.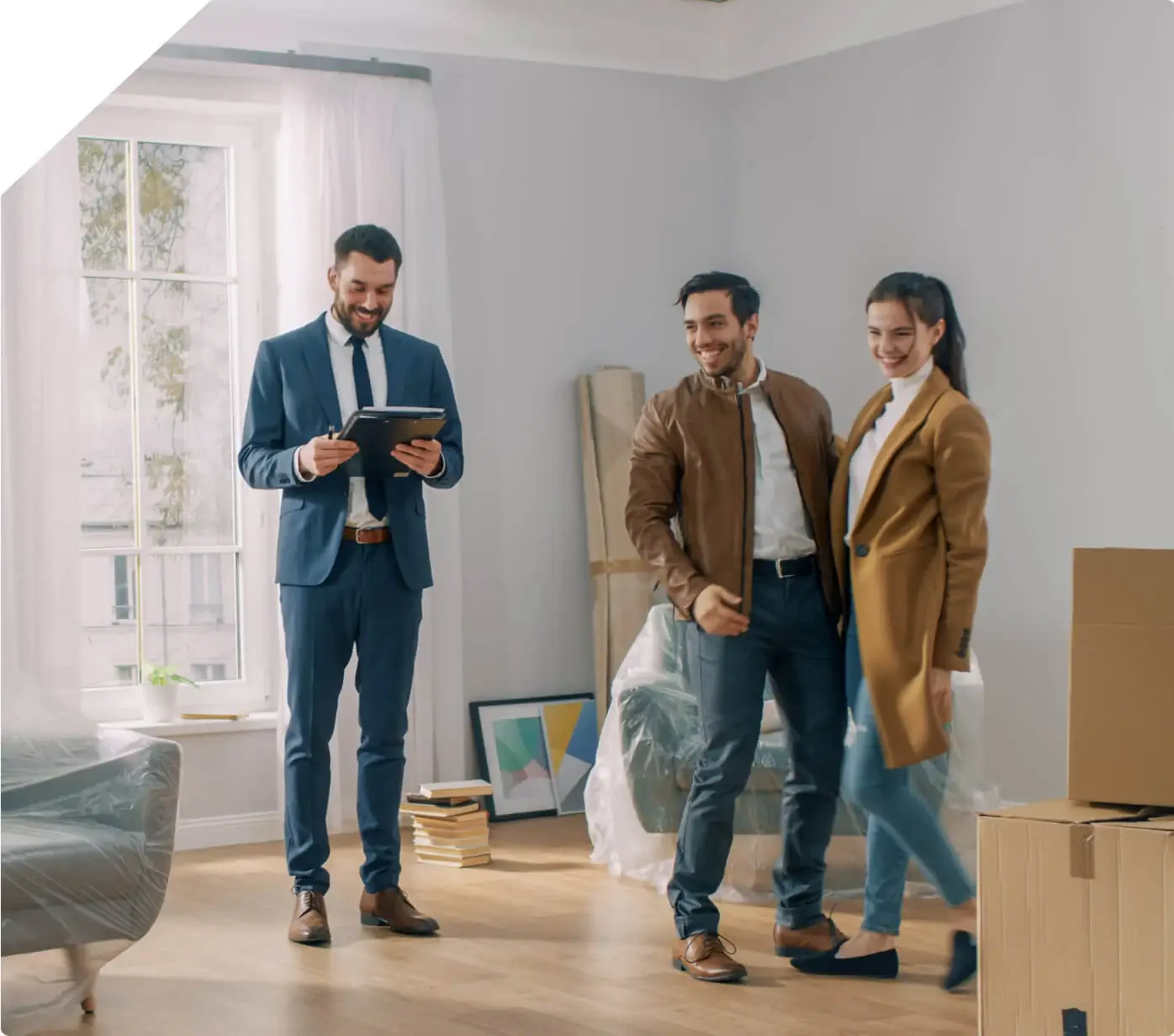 DESIGNED FOR AGENTS LIKE YOU
Real Estate Tools Are One Thing.
Closing Leads Is Another.
CINC's powerful all-in-one platform helps you generate and close more leads, growing your real estate business. That's why 50,000+ agents rely on it to nurture their most profitable business opportunities every day.
Whether you're growing the next real estate empire or streamlining your team's operations, CINC's tools help you dominate the market while making authentic connections.
MORE LEADS IN LESS TIME
Max Efficiency from Lead-to-Close
When your business is powered by CINC, you'll build stronger connections with more leads, leading to more listings and more sales.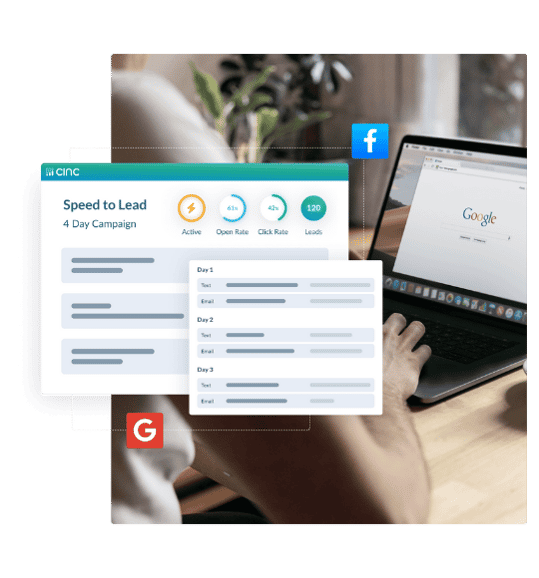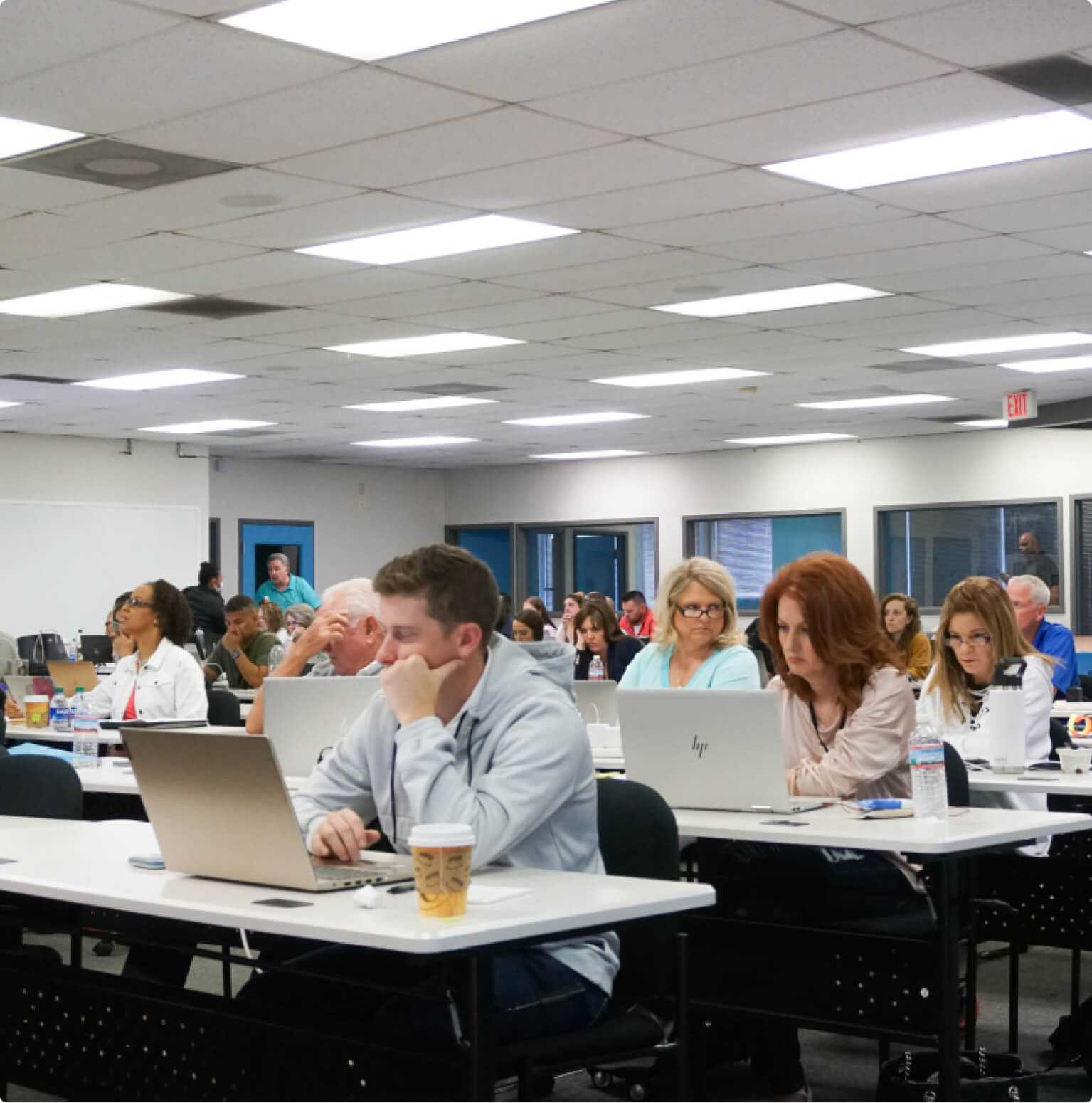 Nurture leads 24/7
With intelligent automated workflows, CINC lets you stay in touch with leads, no matter how many appointments you have today.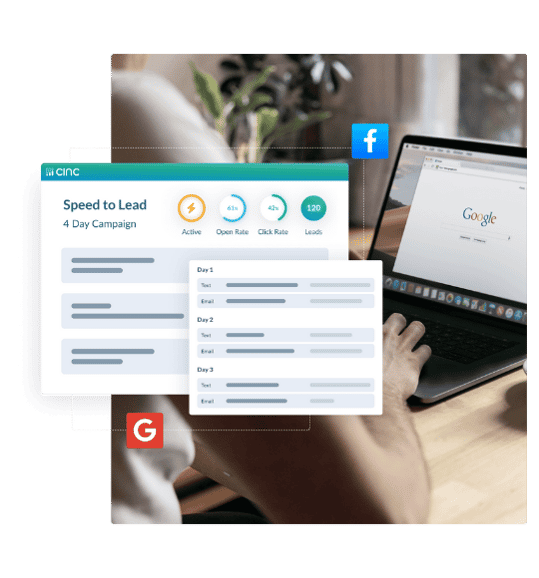 Better lead generation
CINC client marketing creates successful Google & Facebook campaigns for you that generate leads that close faster.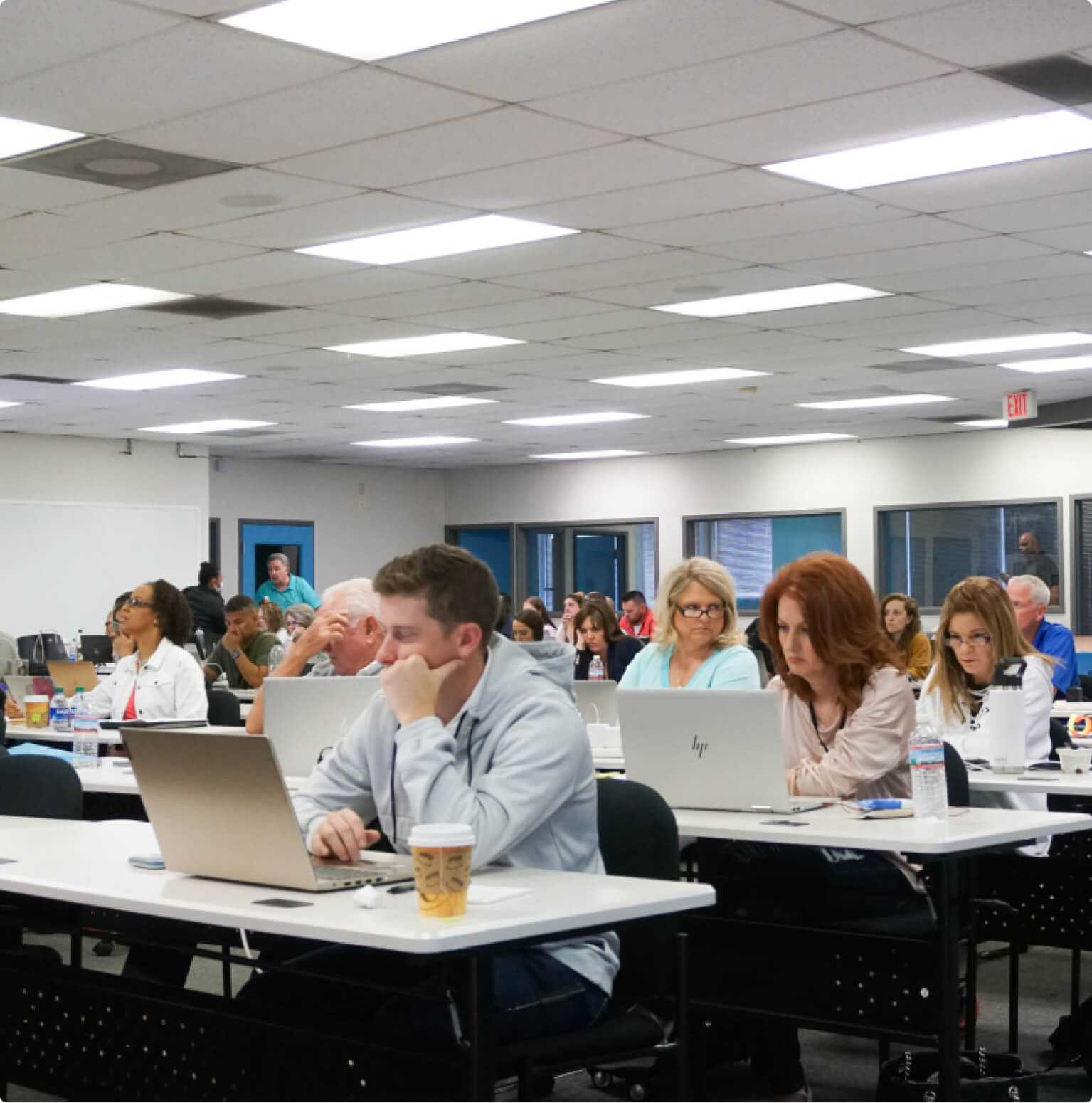 Go beyond the tools
CINC's US-based training and support gives you a community, live events, and masterminds that help grow you as an agent, team, or brokerage.
scalable lead generation
Better Tools Designed for Every Agent
Whether you're a solo agent or an established multi-office company, CINC's platform scales to streamline your lead generation. It's the system you won't grow out of anytime soon.
complete lead generation cycle
Fill your Pipeline...and Keep it Full
CINC will provide the leads and the automated and integrated tools you need to generate, follow up with, and close new deals.
Capture New Opportunity
Identify Database Potential
Nurture Leads into Clients
Convert to Close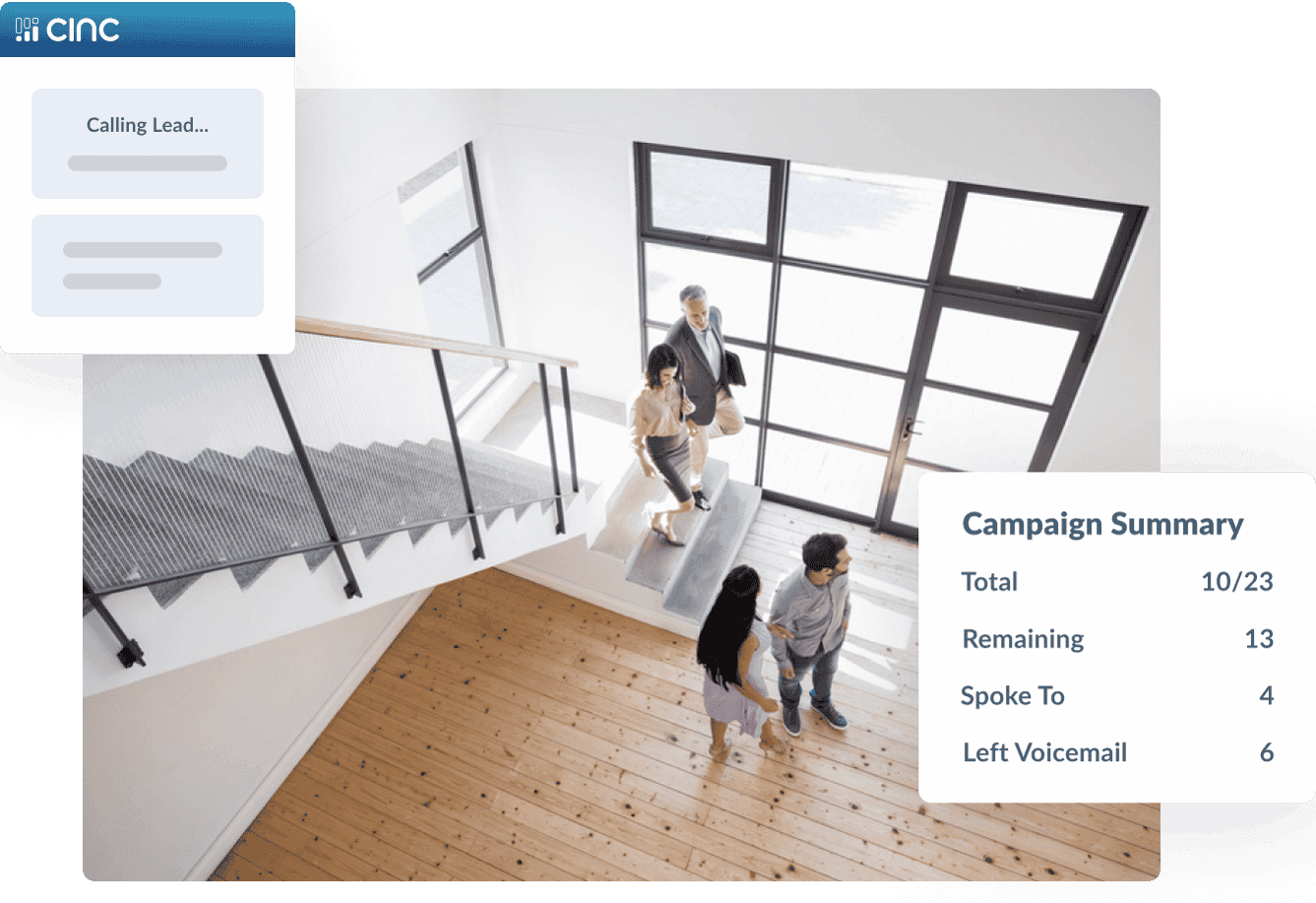 Capture New Opportunity
Get hyper-local, highly-qualified leads generated for you by CINC's full-service team of Google Premier and Facebook Premium partners, which manages more than $30 million in annual ad spend on behalf of CINC clients.
Target Qualified Traffic

Drive buyer & seller traffic with Google, Facebook, Instagram, and CINC-exclusive lead sources using your CINC IDX website.

Generate Qualified Leads

Turn visitors into leads with an optimized and speedy site designed for high GCI lead capture.

Integrate Lead Sources

Import past clients and other lead sources into a central dashboard where they can convert at a higher rate.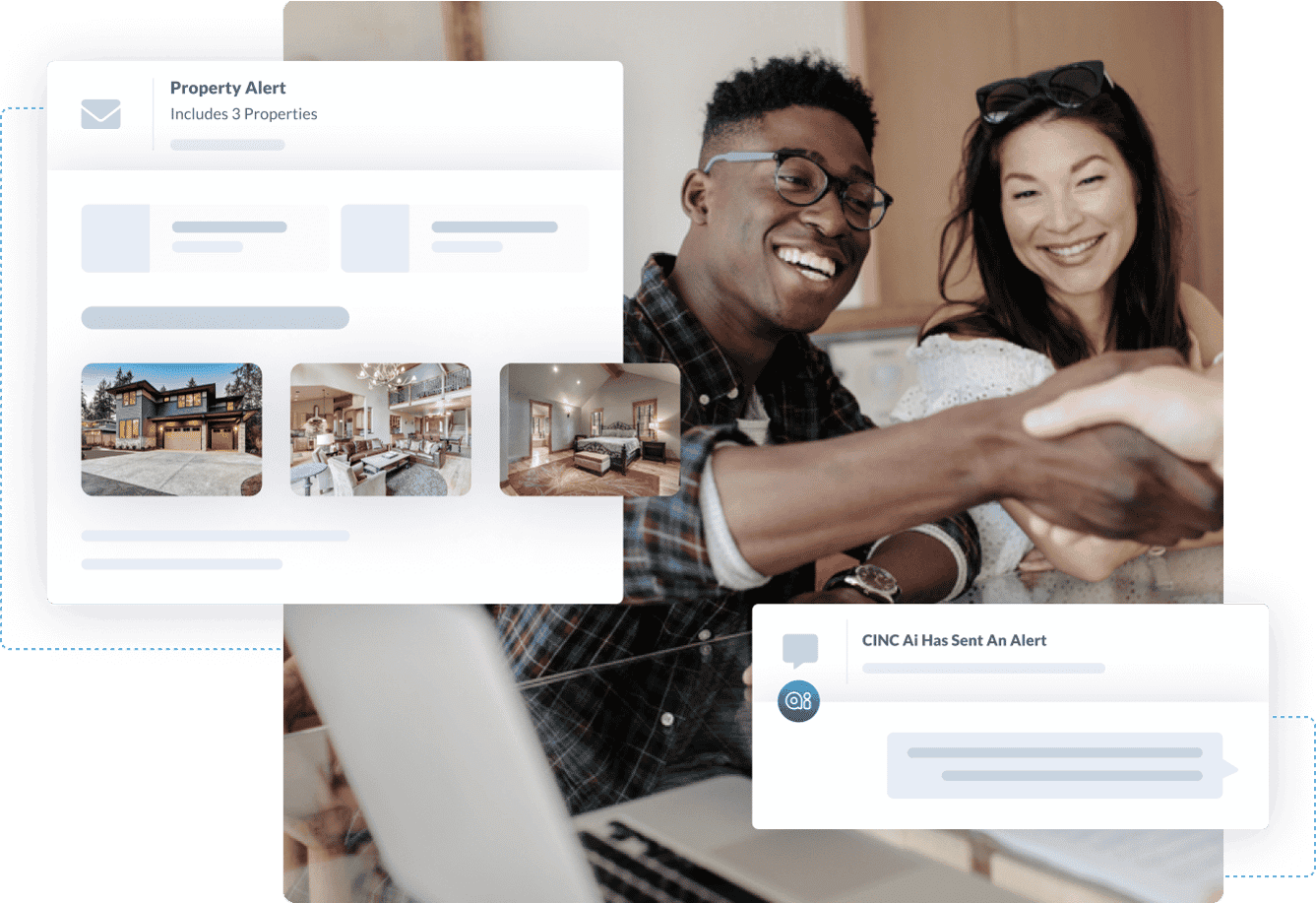 Identify Database Potential
Tailor your efforts with insights on lead motivations, buyer stage, and other critical data points.
Get More Insight

Collect rich details about your leads' preferences and needs with website tools and our top-rated home shopping app, Etta.

Manage your Pipeline

Automatically organize leads into contact lists based on the highest potential opportunity.

See Smart Suggestions

Get insights, scripts, and automations to know how to connect.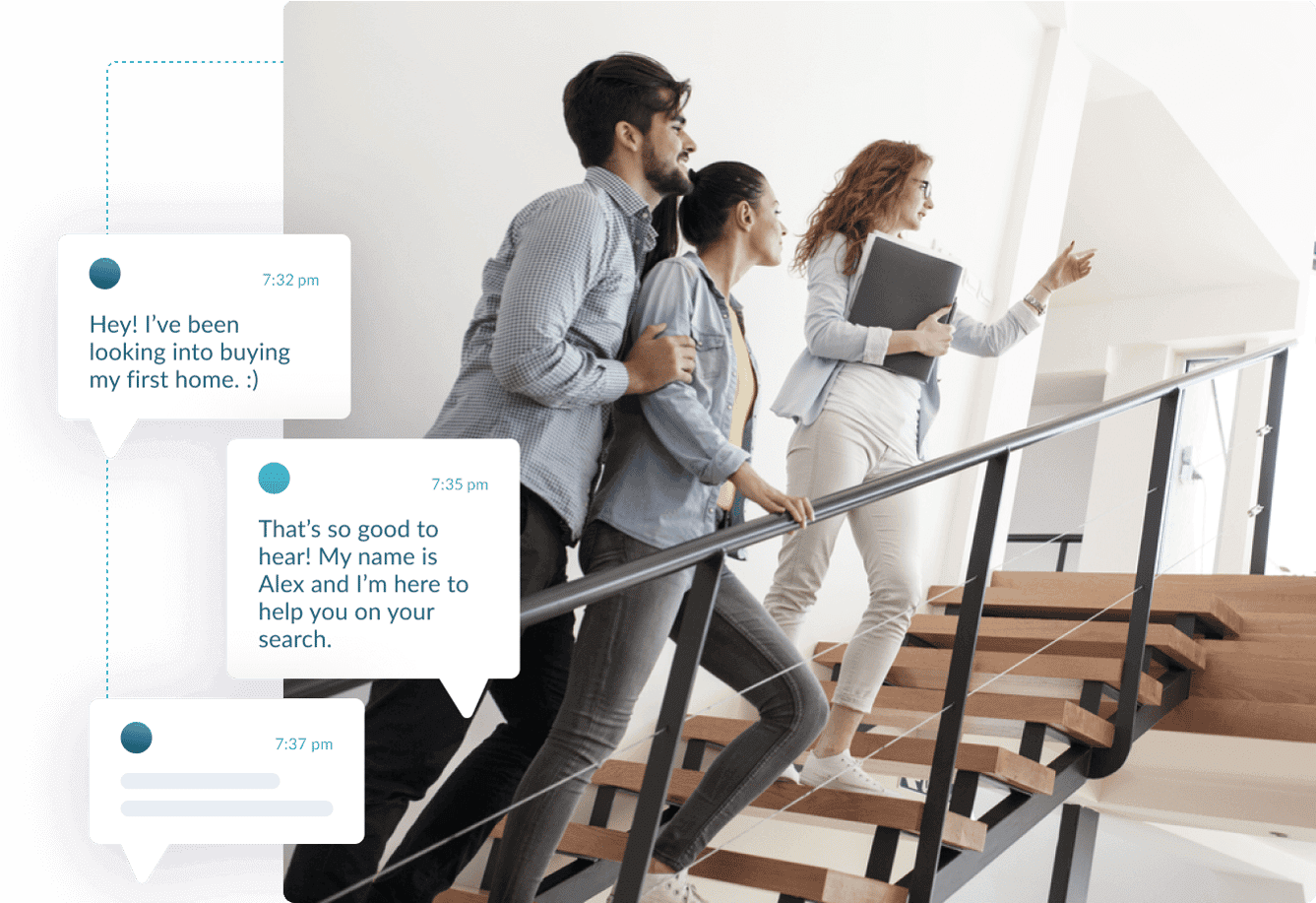 Nurture Leads into Clients
Using CINC's automated tools, follow up with your leads effortlessly, and play the long game.
Start the Right Conversations – Instantly

Behavioral messaging lets you start the right conversation, right away after leads perform an action on your site.

Create Authentic Connections

Use video messaging, text messaging, dialer, and more to build real human relationships.

Automate with AutoTracks

Consistently follow up with drip campaigns and task automation, nurturing your leads while eliminating redundancies.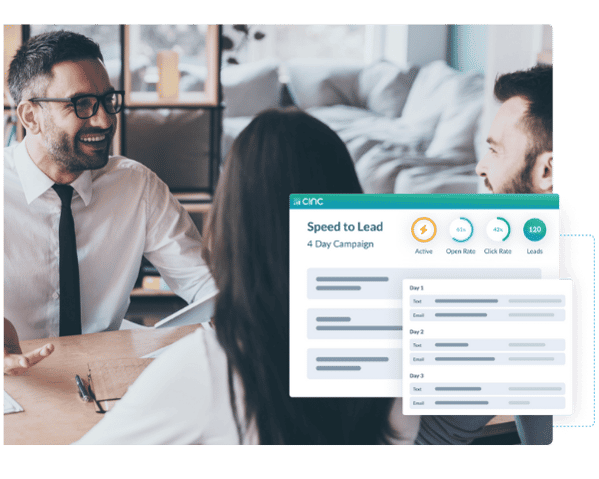 Convert Them to Close
Close leads, get more listings, and grow your real estate business with built-in tools.
Use the Right Scripts

Run your business more efficiently with templates, automations, and more.

Get Notified When They're Ready

With the CINC AI add-on, get notified when leads are ready to have a conversation with you.

Continuously Improve

Training and masterminds give you not only a system, but a community to expand your efficiencies and business's potential.
PREMIUM TRAINING & SUPPORT
Your Business
Grows

With You

CINC works so well, agents make

$7300

on average just during the training with our generated leads.

Your business grows best when you're growing, too. That's why the most successful real estate businesses spend nearly as much time on personal development as they do generating quality leads. This is why CINC makes your ongoing growth a major focus of our relationship with training and masterminds. It's like having 30,000 colleagues to support you.

This training works so well that agents getting started with CINC generate an average of $7,300 in potential opportunity with our generated leads… just during the training. Need more help? Our US-based client support team is available 9:30am-6pm ET Monday to Friday and 9am-6pm ET on Saturdays by phone, email, or chat.
return on investment seen by CINC clients
number of leads generated annually for CINC clients
lead conversion seen by CINC clients
Client Stories
Real Agents Tell Their Stories
See how growing real estate agents like you leveraged CINC to scale their systems.
Client Stories
How #1 KW Team in FL Built Business on CINC - Tom Nickley
"We trained, grew, and built our team on CINC. Fast forward to today, and we'll do about $300 million this year."
Read More About Tom
Client Stories
From 0 to 30 Sold Homes in Year 1 - Brooke Sines
"In that second year when I sold 55 houses, I was able to build a team, which gave me leverage to where I could exclusively work listings and use my team to handle the buyers."
Read More About Brooke
Client Stories
How I Grew from 6 Agents to 170 Agents in 4 Years - Calvin Case
"We were using another solution about a year before we switched to CINC. Since then, we've grown to 170 agents in three markets, and, turns out, most of our successful agents are the ones that use CINC."
Read More About Calvin
Testimonials
More from our Clients
Over 50,000 agents (and growing) use CINC everyday to generate and nurture better leads.

"CINC is most helpful with allowing the many ways to keep in contact with prospective clients. The ease of use of the platform allows you to customize it. I love the exceptional customer service. I love that I can keep in touch with all my clients in one central location throughout the years."
Yolanda P

"I have used CINC for 5+ yrs and done in-depth comparisons with the other top CRMs throughout that time. I simply have not found anything that is as comprehensive and well developed for a real estate business."
Clayton

"CINC is a complete solution for any real estate agent or team serious about their business.It does everything from providing a website platform, a full search feature for your clients, a CRM to manage your database, and it provides lead generation."
Nicki R