SCALABLE LEAD NURTURING
Like Having More Hours in the Day to Follow-Up
Great lead nurturing can position your real estate team as the dominant leader in your market. With CINC's automated follow-up, lead routing, and mobile apps, your leads get nurtured until they're ready for a seamless handoff to the right team member. It's an all-in-one tech platform that gives you more time to focus on your most dollar-productive activities.
Automations
Start the Right Conversations – Instantly
Use behavioral messaging to start nurturing leads moments after they perform an action on your site.
Automate Targeted Messages

Send tailored email drips and text messages based on information provided by your leads.

Gather More Insights

As your leads engage, CINC keeps track of responses to inform your team's follow-up

Hand Off Seamlessly

Once a lead is ready, the lead gets passed to your team communication can continue.
COMMUNICATION TOOLS
Move More Leads to Closing
With video chat, texting, email drips, and more, it's never been easier to build authentic relationships through the channels your leads prefer.
Track Cross-Channel Engagement

CINC's all-in-one platform automatically connects lead data across your channels, creating a unified picture of performance.

Make Deeper Connections

Video messaging, SMS texting, and email work together to enhance lead nurturing.

Achieve Goals Faster with AutoTracks

Say goodbye to boring drip campaigns with dynamic AutoTracks templates that deliver intelligent, high-performing messages based on lead activity.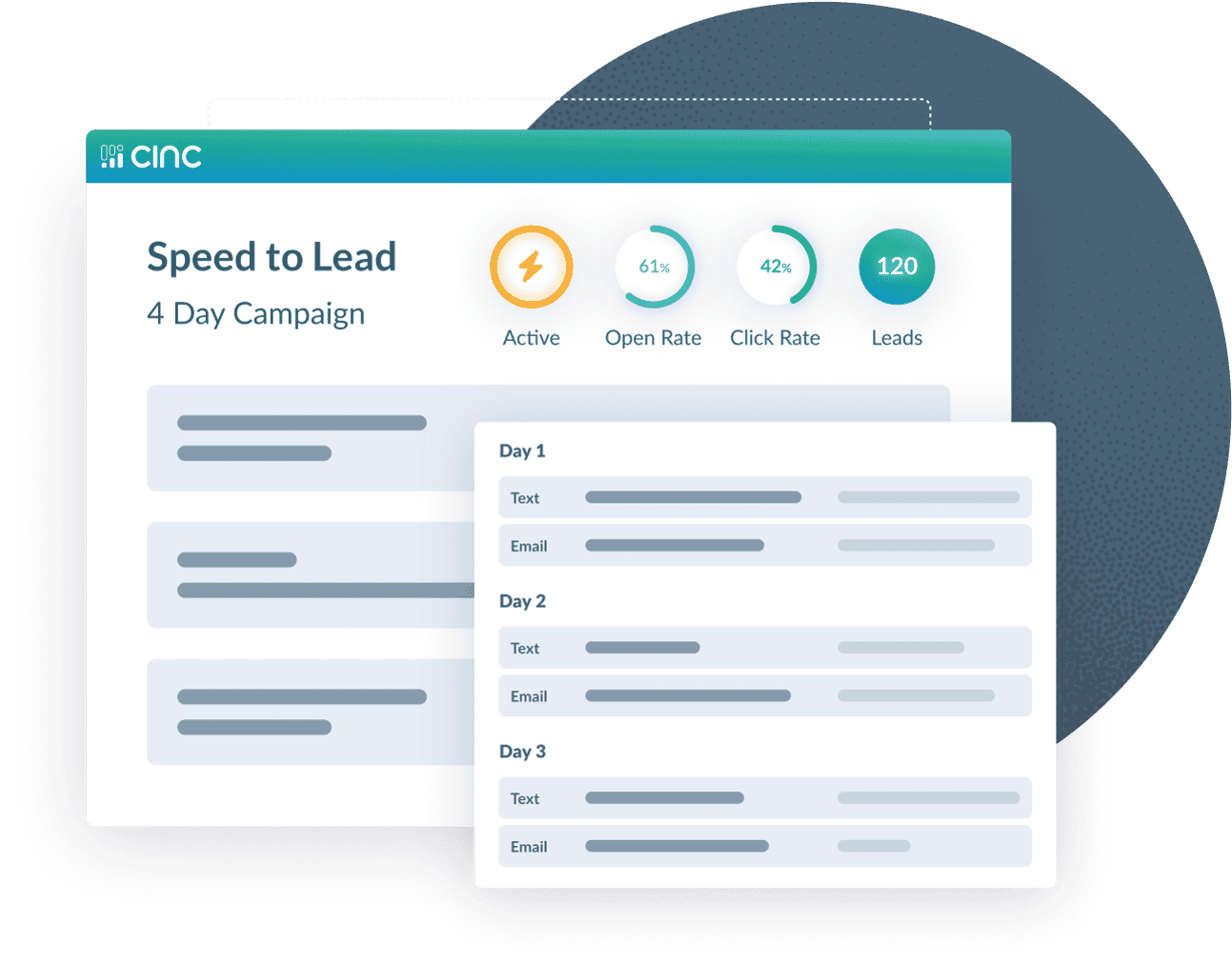 CINC AI
Continue the Conversation with AI-Powered Automations
CINC AI – available as an optional add-on – uses conversational AI to engage and nurture your leads on your behalf.
Scale Your Nurturing

With CINC AI, you'll get a virtual 24/7/365 team member who is always available to engage new leads.

Designed for Real Estate

Gather valuable insights about leads as CINC AI uses expert-designed scripts to build rapport and trust.

Hand Off Seamlessly

CINC AI's intelligent workflows know when to pass leads to you – or you can take over any time and have a full message history.
Dialer
Get More Results From Your Calls
CINC Dialer – available as an optional add-on – lets you call leads from VOIP or your cell, all while automatically providing you with notes and tracking important metrics.
Run Smarter Campaigns

Designed by real estate pros, Dialer lets you customize campaign parameters based on CRM data, lead activity, and more to maximize performance.

Automate Reporting

Know exactly how you're performing with automated email summaries and other reports.

Connect On The Go

Even if you're out of the office, Dialer lets you continue phone campaigns with your cell, masking your number and auto-logging your call.