COMMUNICATION TOOLS
Move More Leads to Closing
With video chat, texting, email drips, and more, it's never been easier to build authentic relationships through the channels your leads prefer.
Track Cross-Channel Engagement

CINC's all-in-one platform automatically connects lead data across your channels, creating a unified picture of performance.

Make Deeper Connections

Video messaging, SMS texting, and email work together to enhance lead nurturing.

Achieve Goals Faster with AutoTracks

Say goodbye to boring drip campaigns with dynamic AutoTracks templates that deliver intelligent, high-performing messages based on lead activity.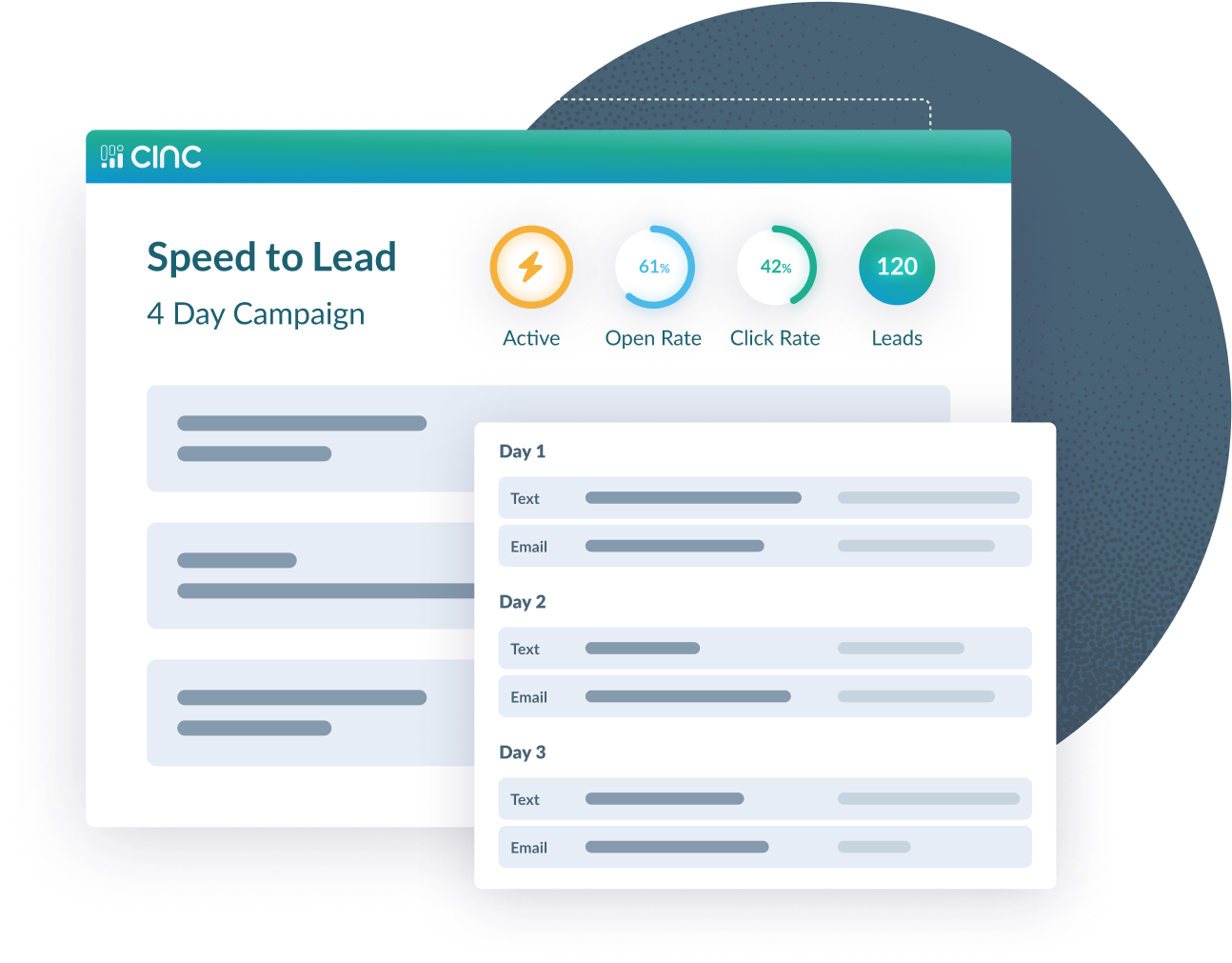 What communication tools does CINC offer to connect with leads?
With CINC you have a variety of tools to convert leads into clients. These tools include:
- AutoTracks
- VOIP Dialer
- Email
- Text
- CINC AI
What is AutoTracks?
CINC's AutoTrack is a feature that allows real estate agents and team leaders to create automated communications to their home buyer and seller leads. This automated communication follow up ensures your leads stay on the right track. AutoTracks can include texts, email, agent reminders, and tasks.
How can I use AutoTrack campaigns within my business?
AutoTracks allow you to automate follow-up in three different ways.
1) Sequence AutoTrack allow you to create a series of communication that run for a duration of time. Sequence campaigns are great for current and past client nurture, can be used for one off emails and texts you want to automatically send after contacting a lead or scheduling an appointment, and can also be used for lead re-engagement. These campaigns can be customized and are flexible. The order and amount of days can be adjusted, and the amount of steps (emails, texts, reminders) within each day can also be flexible based on team and agent needs.
2) Calendar AutoTrack allow you to automatically send emails, texts, or internal team reminders on specific dates of the calendar year. These AutoTracks can be used for holiday messages, monthly newsletters, and birthday messages.
3) Checklist AutoTrack are simply visual aids and tasks you can attach to a lead with a checklist of items you may need to complete.
Does CINC have a dialer?
Yes, the CINC VOIP Dialer is an add-on that allows you to make calls from your CINC platform without using a physical phone. All you need is your computer, a headset, and a good internet connection. Here are a few additional details about CINC's Dialer:
- Allows you to narrow down who you are calling by using filters, pipeline stages or labels for your CINC Leads Dashboard.
- At the conclusion of your Dial session you'll be able to view your Dialer Campaign History which shows the total number of leads in the call campaign, leads that picked up the phone, leads you spoke to for more than 30 secs (this is expressed as a ration of leads "spoken to", leads that a voicemail was left, leads hat did not pickup, leads that were not attempted.
- Call Summary Report: Gives you a review of the calls made yesterday, today, or within a custom date range.
- Use the dialer on desktop or within a mobile app.