2022 is quickly approaching, and if you're like most agents looking to improve their prospects for the new year, right now is the time to start strategizing for next year.
Workman Success Systems Master Coaches and CINC clients Cleve Gaddis and Tammie Slay, and Jamie Quenzer, VP of Marketing & Sales Operations at CINC, discussed six essential systems to integrate into any agent's business to prepare for Q4 and 2022.
Cleve Gaddis: What have you seen as best practices to get you started planning and preparing for the new year?
Jamie Quenzer: One of the most significant pieces of advice I've seen is to refrain from building your budget from the 2021 budget, instead identify your goals in 2022, and work backward from there. We use our closing metrics to understand how many conversations, appointments, and net new close business we will need to hit our goals.
Tammie Slay: When we do our business planning, we plan out five years in advance, and so by the end of the year, we aren't panicking about what to do next year. Our plan is already in place. The weeks leading up to the new year allow us to reflect on the year and refine the long-term plan in place. You have to start preparing for 2022 today because it's the lead that enters your database this afternoon that will close next year.
Lead Tracking
As the first important concept to understand regarding better practices, lead tracking is an effective tool for recapturing leads that have fallen through the cracks. Often, really busy agents, even new ones, have unpolished systems (post-it notes, receipts, phone notes). So, integrating lead tracking into your practice solves this problem for agents.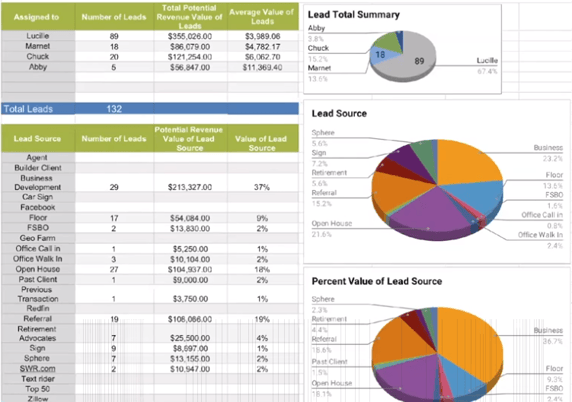 Your primary input is lead flow as you create a scalable business. If you can't identify how many leads you've attained or your conversion numbers, scaling upwards will be very difficult. For every agent on your team, you should produce 25 leads per month. The question agents need to ask themselves is, how many leads do I need to add to my pipeline every 30 days in 2022 to reach my goal?
The answer is not too many or not too few. The source and type of lead matter; every lead is different in how it will convert. But within the lead tracker, you can examine your lead pipeline and identify and support the multiple pillars that sustain your business. This ensures that you're nurturing a diverse array of leads and helps you avoid forgetting details on certain types of leads, which losing would prove detrimental to your business. Using CINCs platform, which provides agents with high-volume lead generation, is an effective solution. It would be best if you tracked your leads to scale your business because your lead tracker is essentially your business plan.
Daily Success Habits
After a busy work week, you must understand whether or not your past work week was successful. The problem is, the average real estate agent judges their success by the number of closings they've had for the week, when in fact, the prior week had nothing to do with the closings that occurred. The Daily Success Habit (DSH) tracker is a 60 point system, which lets you know whether you've done adequate prospecting activities every week, revealing whether or not your week was successful. The system tracks accomplished activities relating to developing leads into conversions by awarding points for completed activities like calls made, offers written, and closings.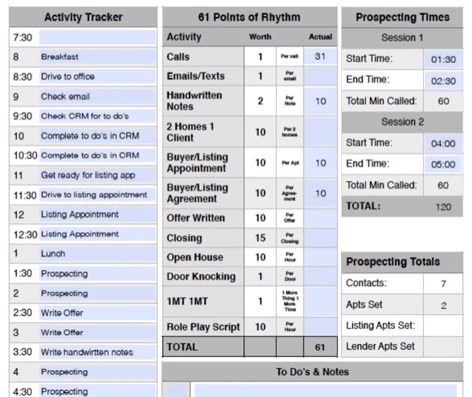 The question most agents have about this system is how many points does an agent need to get a closing? 296. This goal completely gamifies the process and gives a clear milestone for agents to shoot for that will ultimately generate success as a byproduct. You have to give people the opportunity to win every day, week, and month, and they need to know they're generating success to keep motivated and optimistic in their work.
ABC's of Lead Management
Leads can be broken down into three different categories:
A Leads: Someone that's ready to buy/sell.
B Leads: Someone that's ready to buy/sell in 30-90 days.
C Leads: Someone that's ready to buy/sell in 90+days.
Agents must break down their leads this way because the way you communicate with each type of lead varies. For example, it wouldn't make sense to continually reach out and remind a buyer that has already expressed that they are not ready to make a move for 90+ days.
Following up with each lead category varies as "A leads" should always have an appointment set up and focus on finding the right home. As you follow up with "B leads," you have to talk about what the prospects want to talk about, which means they need to feel like you're leading the search and finding properties for them and doing your due diligence to find homes that are the best fit for them. In your conversations, you should highlight one specific property and one specific property which has a feature they requested. Finally, "C leads" should be followed up once every month with general market communication. As the real estate advisor, you should share information to educate them about the market, such as the changing home prices in their area of interest.
CRM Management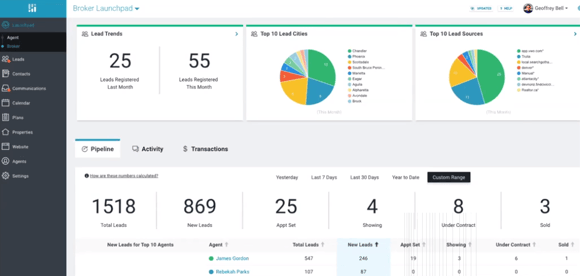 CRM management systems are integral towards maintaining and maximizing your potential. When utilizing CRM management systems for you and your agents, it's imperative and highly recommended to employ the "double looping" process; 5 essential questions you should ask when your having lead reviews with your agents. These include:
Is the lead categorized correctly?
Are you having phone calls/email/SMS communications with this client, and are they all accounted for in the CRM?
Is there an upcoming to-do item and no outstanding to-do items
Are they set up on a property alert?
What activities have prospects done online that would indicate that they have additional interest?
Top 50 Program
The Top 50 program is just working with your friends, plain and simple. It's just like when we were in grade school; you're just networking and making friends. It involves picking 50 people you like and want to call, then contacting them every month to have a meaningful conversation. Eventually, you build that relationship up to a point where you add this contact into your Top 50 initiative, asking them permission to ask them for referrals.
The individuals part of your Top 50 program will feel invested in your business and see themselves as stakeholders. We all want to be part of something bigger than ourselves.
Threat Based Messaging
Threat-based messaging is another great way to stay ahead of the competition, and it essentially makes lemonade out of lemons. You are rewriting the negative narrative caused by a threat and integrating said threat into your messaging strategy. This marketing strategy will help set your business ahead of the pack and prove an effective method of counteraction strategy for all future threats to your business.
As you build your 2022 success plan, start implementing these six tactics now. If you are interested in learning how CINC's high-volume lead generation and conversation can help your business, request a demo here.
Ready to take your business to the next level?
Join the thousands of people making the switch to CINC today.
Originally posted on
October 20, 2021
and last edited on
December 9, 2021