After a nearly two decade career at a Fortune 500 computer systems supplier, Bill Helton decided to ditch the corporate rat race to become an individual real estate agent a few years ago. Bill started using CINC's lead generation and conversion platform 4 years ago. Since then, he has grown from being a single agent to leading a Dallas Keller Williams team doing 211 transactions a year. We recently sat down with Bill to learn what's made him so successful.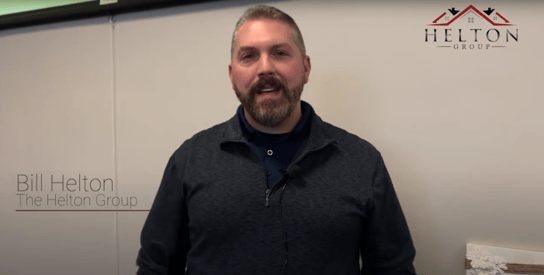 Question: Tell me about yourself, your business and about why you decided to use CINC?
Bill Helton: I started using CINC's lead generation and conversion platform about 4 years ago and at that time I was a individual agent with a quasi-buyers agent working with me. However, as an individual agent, I didn't even know what that meant nor knew how to get or share leads to that person. Plus, I had no CRM or data system in place. I had some pretty close ties with Fidelity National Financial (who now owns CINC) and, because I was already doing business with them and CINC was just acquired by them, I thought why not integrate CINC into my practice. Adopting CINC took me from an individual agent trying to figure out what to do to a team leader who is about to hire my 20th agent right now and expand. So it allowed me to really run a business rather than just trying to figure out what it means to be in real estate as an individual agent. CINC really got me from a point of not knowing what I wanted to do nor how to get there to a point of actually having a system of means and ability to get where I wanted to be, which is that larger team.
Question: As you've grown, walk me through like your production growth as well your production either GCI or transactions for your team from when you first started with CINC to where you are today.
Answer: I've learned a lot over the last few years because when I started off you know it was kind of slow, but I was still successful. This year we'll probably run about 211 transactions and it's variable because I can see when it gets slow I have to go jump in on the phone calls and set appointments and then get involved myself. However, if I'm not involved it's a different process. Bringing in the new agents and trying to get them up to speed by coaching and teaching them what to do takes time and sacrifices production efficiency short-term. It's really a back-and-forth balancing act of trying to manage training the team (both newbies and consistent producers) and helping out with individual production which really depends on what's going in the business on a monthly basis.
Question: Why do you think that you were successful with a real estate lead generation and conversion platform while other agents lose faith or deem lead generation and conversion platforms too expensive and not worth it? Why you and what did you do to become successful?
Answer: I think it's all about mindset because I've seen this with some of my own agents too. I've had agents in the past come and go on account of horrible leads. They either bail out on the team or we let them go or they go become an individual agent. It's funny because I keep tabs on those folks and they're not even in real estate anymore. I had one agent who brought so much negativity that when we got her out, everybody was asking me why it took so long. I reassigned this former agent's leads to a new agent who told me that these are amazing leads but they've already bought which made me wonder what would have happened if the new agent was assigned those leads in the first place. That first agent said these leads were bad, but it wasn't the leads that were poor, it was her mindset. I ended up going through her trash leads and she had leads that were not buying in the next few days and I thought "You didn't even bother farming them or letting the auto tracks go for it, or sending them some emails pretending that these messages are coming from you to be ready to show when they see that third or fifth house?" It's about working smarter, not harder. You've got to have the right mindset or this is the wrong career for you.
Question: Walk me through how you're recruiting, how CINC serves as a recruiting tool and as a means of retention for you.
Answer: CINC is a great tool for recruiting as well. You got to be able to hire them, train them, and retain them and those are really tough to execute, especially with all the competition that's out there. There's always some new shiny toy out there that'll entice somebody to go a different direction. With my group, I tend to be kind of the dad or the friend, and that's who we want to attract, those people that fit our culture. If people can make a relationship and they like you, they'll want to do business with you. With CINC, that's that technology piece in the background they don't have to worry about. CINC was that commonality of what helped me springboard into meeting the right other leaders in other places. People don't want to learn new technology for the most part and so if we've got it all figured out and I can manage it with minimal effort on the leadership side of it and it rolls out to everybody else, the pieces here add up to a one stop shop to get everything that you need to get a team going. I would not be at where I'm at right now today if it wasn't for CINC.
Question: As you've grown your team, how important have the trainers been within your business along with the technology? How impactful has technology been?
Answer: I ripped off all the videos from CINC. I put them into my training so I can identify exactly which ones I want them to watch and in a specific order. From there, it's more hands-on experience. When we pull a new agent in, the first thing that they're instructed to do is jump into our training to start learning some of the CINC scripts and once they pass a script test with my Director of Sales, my Director of Ops, and then me, I open up my pond and they can start making all kinds of calls. So they're really motivated to learn the scripts right up front because they don't get leads until they get the scripts. It's a very laid out road our road map to success and if they get the scripts in and learn a little bit about CINC and about basic buttons to click, how to use the dialer, the rest of it comes into setting appointments which is a whole different piece. I set it up so it's one bite at a time and one step at a time so they know where their road map is taking them next.
Question: When you think about working on the go and possible solutions, how does CINC allow you to operate in this capacity?
Answer: The CINC mobile app, hands down is perfect for working on the go. Being a dad of triplets, I was either always at a baseball game or some type of event and so I had to be flexible. Being able to use that that app was game-changing as it gives me that flexibility to be on the go and even be able to see who's calling in and see if it's a CINC lead. One other thing I love about that mobile app is how my wife, who's an agent here too can literally do dialer from her cell phone and I'm so amazed by that. She'll ride in the car while I'm driving and knock out 5 leads from the pond just like that.
Question: As your team has grown, are all your team members fishing through the pond or do individuals have to have certain practices in order to hop into the pond? Walk me through some of your lead standards.
Answer: I have multiple ponds for my agents in different regions of the large Dallas-Fort Worth area. Fort Worth is on one side. Arlington Mansfield is in the middle, which is where I live. And Dallas is in the far east. I have an urban Dallas office for a couple agents over there and I have a pond specifically for them. Then for Tarrant county which is a little bit more in the Fort Worth and Arlington Mansfield area, we have a different piece going here so I can still distribute out loan leads to individuals based on geographical area and use them as an exclusive source as well as just dropping the leads directly into a specific pond so agents can access that. I don't have to spend an extra several thousand dollars here and there because the system works for what I need it to do. You just got to be able to figure out the best practice to make it work that way.
Question: What would you tell someone that is on the fence about CINC?
Answer: I would first ask them what their goals are for their practice because CINC provides an opportunity to scale up your business. Most agents are most likely always on the lookout for growth opportunities to make a better life for themselves. If you want to get your foot in that door and use an individual system or if you're looking for scalability so you can bring in 15 agents 20 agents then you have that opportunity to expand using CINC.
Ready to take your business to the next level?
Join the thousands of people making the switch to CINC today.
Originally posted on
October 28, 2021
and last edited on
March 18, 2022