Real estate professionals spend their time helping buyers secure homes and sellers maximize the value of their homes. But so often, after the transaction ends, it becomes difficult for the new homeowners to stay in contact with their agent.
The National Association of Realtors (NAR) reports that 90% of homebuyers claim they would use their agent again. That's an extremely high number, which doesn't result in actual repeat business when a 2022 NAR report states that only 16% of the typical Realtor business comes from repeat clients.
To help bridge the gap, CINC is excited to introduce HomePulse powered by Etta. This seller nurturing tool captures and nurtures homeowners without leaving your CINC site.
Be the first call when homeowners are ready to list
With the shifting economy and days on the market growing, the way agents nurture homeowners to generate future listings has historically been fragmented across multiple technology tools and traditional methods. HomePulse powered by Etta does the work for you and your homeowners while leveraging the data inside your CINC platform.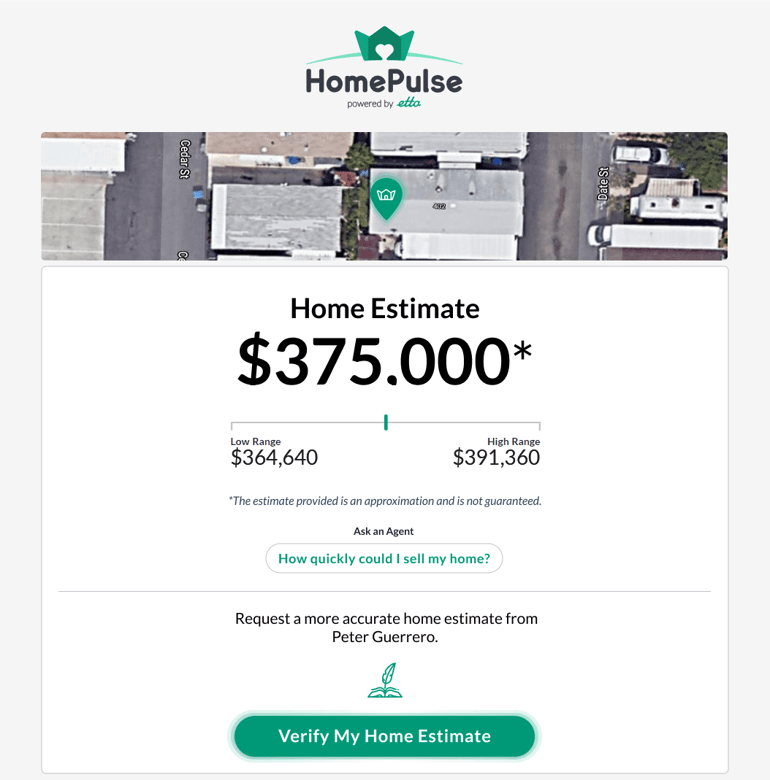 This report provides the following:
A home estimate range, powered by third-party data (estimate not currently available in Canada and nondisclosure states in the United States)
Recently sold comparable properties
Active and pending properties for sale nearby
National mortgage rate information
The ability to update the number of bedrooms and bathrooms, plus rate the condition of their home
Number of active buyers looking for similar homes within the area, powered by data from your CINC database
HomePulse begins a conversation between agents and homeowners. At every step, homeowners receive value and are prompted to take the next step to verify and receive an accurate home estimate from a real estate professional. When the homeowner sees the HomePulse report, at least 20% request more information, like asking to receive a home estimate or connect with a listing agent. Agents receive a notification in their CINC platform whenever a lead requests more information in the HomePulse report.
Today is just the first step of many for HomePulse. Contact us for a demo, and if you're currently a CINC client, reach out to your account manager for more information.
Ready to take your business to the next level?
Join the thousands of people making the switch to CINC today.
Originally posted on
August 8, 2022
and last edited on
August 9, 2022