After a 10 year career in the wine industry, Tom Nickley made the switch to real estate in 2013. 2 years later he took the leap into building a real estate team and has not looked back since. His team has since grown to become the #1 Keller Williams team in Florida. As a long-time CINC client, Tom recently sat down with us to tell us how he leveraged CINC to build and grow his business.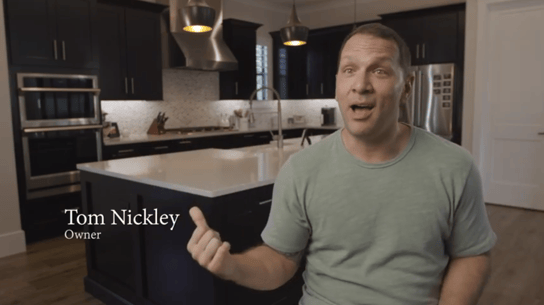 Question: Tell us a little bit about your business your team why you started using CINC?
Tom Nickley: I am a believer in CINC through and through. I myself started in real estate in 2013 with the intention of starting and growing a team. In my first year, I actually used another lead generation and conversion platform. However, when I formed a team in 2015, I decided to make the switch to CINC to use as the platform to build my eventual sales team. I did a lot of research in late 2014 but eventually concluded that I had everything and more than I would need to start a team with CINC. In our first year when I started the team, I took myself out of production, and we literally built our team on CINC. We started off with 5 agents on the platform, and we didn't even have an admin at that time; it was literally like day one of the team. We moved over around 700 leads from my old lead generation and conversion platform and started from scratch. We did pay-per-click advertising at a really high level. Back then, we thought it was a really high level as we were probably spending around $1,500 a month. We trained, grew, and built our team on CINC. We really built from the ground up thanks in large part to CINC. Fast forward to today, and we'll do about $300 million this year and we're on pace to do 1,000 transactions this year. We've got 30 agents currently on the team. We're with Keller Williams, but we have our own standalone office space. We run our own independent office, and we're spending upwards of $1,000,000 a year on advertising and leads. So from early on, all the way through today, we have every single agent or sales person on our team work out of CINC exclusively. To this day, when we on board new hires, we are focusing on those same fundamentals.
Question: Of those 5 agents that started with you back in 2015 do you still have some of them that are part of your team today?
Answer: All of them except one are still on the team today. And the only reason he departed was to change industries. We've been blessed that we have super high retention from day 1. We've only ever lost 2 people. 1 moved to another country, and 1 changed industries. We attribute our high retention rate to our culture. We make sure all our hires are a culture fit and that they adhere to our core values that we take very seriously. It's really just a culture thing, and we're very intentional in our hiring process. We really do have a great work environment where we are big on agent support including coaching and training. Our whole team is in the office every single day working together..
Question: What I'd love to know a little bit more is how your agents are using CINC. Walk me through the feature set of CINC outside of the lead generation that your team uses on a daily basis.
Answer: We use a lot of the base level foundational features at a high level, like labels. It sounds weird but it helps us operate our databases of around 50,000 people. They are being completely managed by only 30 agents using CINC. It's very important to be able to have some type of organization where CINC really helps. We love the really boring stuff like the follow-up features that we manage religiously with lead after lead. We use AutoTracks and are very intentional about using AutoTracks at a high level as a team. We told our agents to use your labels. You have to do your notes in the database. You have to have a follow-up reminder on every single lead. You have to have a search set up. We just coached and trained with those features in focus. However, within the last six months, we realized that we have to move to the 21st century and fill in all these gaps in our practices with the AutoTracks and the automation. This came about because we realized where our agents used to do the things they were supposed to do 100% of the time, now they're doing it about 20% of the time. We realize that the automation of the AutoTracks allows us to be a lot more consistent with a lot of things and not have to depend on the agents as much.
Question: What throughout your career do you think has been your biggest accomplishment and what are you most proud of about your team?
Answer: I mean honestly, it's really kind of been everything because we like literally started from nothing. So each step to where we are at now, I'm very proud of. But I think it is just following through with all our sought-after goals. The same time we started with CINC we talked about building this big team and we talked about building this culture. We talked about selling a thousand homes and being world class and, really, it all came down to like really trying to create a world-class experience for everybody we interact with, from our clients to our own team. I'm also very proud that we've been able to maintain the integrity of our core values. They are the same today as they were on day 1. Also, I'm proud to say that our principles and our processes and what we look for in new agents are the same today as they were on day 1.
Ready to take your business to the next level?
Join the thousands of people making the switch to CINC today.
Originally posted on
November 17, 2021
and last edited on
March 21, 2022