Earlier this week,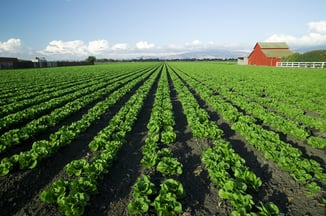 we talked about how to market for leads using social media advertising. If you missed it, you can read our tips and tricks here. Farming for leads is another great marketing tool to have in your toolbox. It takes a lot of work, but it can really pay off.
So, what is farming anyway? Farming is a marketing approach in which real estate teams tailor their methods and tactics to target a specific area or community. Still not clear about what it is? Take a look at our "How-To Guide" below for some concrete examples.
How to Farm for Leads
To be successful at farming, teams must aggressively implement – on steroids – a variety of marketing tactics (i.e. social media advertising, etc.). In addition, teams must:
Be proactive. Find the area that you want to farm and begin farming before other teams can. But before anything, make sure you have completed thorough market research.
Become THE source of info for the area in which you are trying to farm. Again, remember the emphasis on education in our social media post? On top of this, begin building out content including blogs, upcoming events and more to showcase commitment and expertise in the area.
Create landing pages and dedicated websites for your market. For example, AlpharettaHomes.com could be used for a landing page that has specific information about that neighborhood and your expertise. This is the perfect opportunity to utilize your keyword research and improve your SEO.
Establish a committed sound. Just like on social media, make sure you establish a tone and stick with it across all of your marketing collateral.
Build Relationships. Start attending those corporate and community events to get to know the "it" people in the community.
Get in front of your audience. While these tactics may seem a little more 'old school,' farming requires an investment in hard collateral like mailers and traditional advertising like benches, buses and billboards. For example, leading up to the 4th of July, pass out an American flag for each home to put on their mailbox, and have your business card included.
Incentivize. Incentives are always a good way to build awareness, create relationships and drive leads. Host a contest or giveaway. You can do this on your own or even by being a sponsor of a local event, organization or festival.
Keep Communicating: Do you send out a newsletter to keep your leads updated on what's happening in your community? No? You should. It keeps you top of mind and, with the right content, can position you as an expert on your market. In addition, add in other types of communications like drip campaigns, holiday cards, and cards to clients on the anniversary of buying their home. A task/workflow manager tool (like the CINC Plans feature) can help keep this organized.
Attend Community Events: In order to be the exclusive realtor in the community, the residents of your area need to know who you are and know your face. Attend as many community events as possible and promote them on your website and social channels.
Now you know how to farm for leads, but what does it take to truly be successful at it? Stay tuned for our upcoming playbook where we highlight specific marketing tactics and provide a case study so you can see farming in action.
Ready to take your business to the next level?
Join the thousands of people making the switch to CINC today.
Originally posted on
July 14, 2016
and last edited on
March 21, 2022