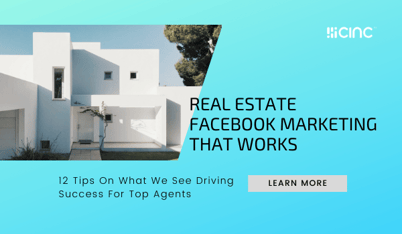 Facebook still dominates the social media space with 1.85 billion people logging in every day (a 16% increase from 2020). Even as networks like Instagram (which is owned by Facebook), Snapchat, and TikTok continue to draw new users - Facebook still owns 60% of all social logins across the internet.
At this point, the need for a Facebook presence is a no-brainer, but keeping up with all the intricacies of the social behemoth (which changes features more often than a toddler changes outfits) is a full-time job, especially when you're trying to run a real estate business at the same time.
To help you look like a pro for your clients, we've compiled this handy-dandy list of 12 Facebook marketing tips and tricks to streamline the process. For your reading pleasure (and ease!) we've broken the list into 3 sections:
Business Page Tips

Connecting With Fans Tips

Advertising Tips
Business Page Tips
1. Use a Facebook Business Page - NOT a Personal Page
OK - let's start at the beginning. If you are using Facebook as a tool for your business, you need to create and use a Business Page. Your brand's Business Page is meant to be the official Facebook presence of your brand, allows you to collect "followers" instead of "friends", and provides you with connection and analytics tools that are not available with a personal page.
If you haven't already, you can follow the steps shown here to create your Facebook Business Page. If you've already created a Business Page you get a gold star (which has absolutely no monetary value).
2. Focus on Page Images
Use the visual spaces of your page wisely as this will be front-and-center when someone lands on your Business Page.

Choose an original cover image that captures attention and helps visitors understand what you do. Be sure to view your page in both desktop and mobile. Recent data suggests that 98.3% of all Facebook Users access Facebook via the mobile app.
Your profile image should be a recognizable symbol of your business. Many times, your logo makes the most sense here.
Ideal image sizing:
Profile Photo: 360 x 360
Cover Photo: 820 x 312
3. Optimize the 'About' Section
Your page's 'About' section lets visitors know who you are and what you do and also shows in Google searches.

Take some time to fill this out appropriately. Consider utilizing long-tail keywords in your 'About' section as this is searchable. Long-tail keywords are simply longer, more specific phrases people may use to find information. Think about how you would search for your business to find it, and include terms like these (for example Atlanta real estate agent or Atlanta real estate agent specializing in VA-approved home sales instead of just real estate agent).
Lenny Johnson showed the impact of using appropriate long-tail keywords in the 'About' section of your page in this article by doing three separate searches on Facebook: one for the broad term 'nutrition', one for the long tail term "vegetarian nutrition" and one for the even longer-term of "vegetarian nutrition for athletes". Here were the results.
Search Term: Nutrition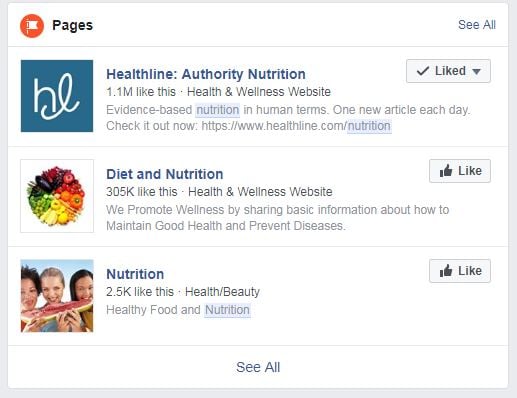 Search Term: Vegetarian Nutrition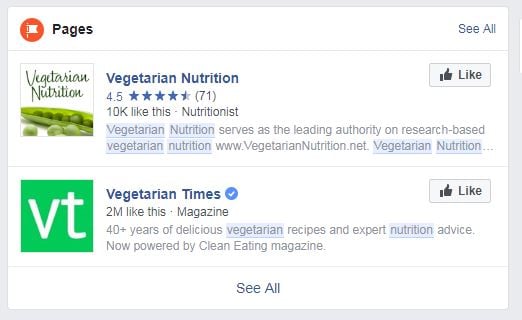 Search Term: Vegetarian Nutrition for Athletes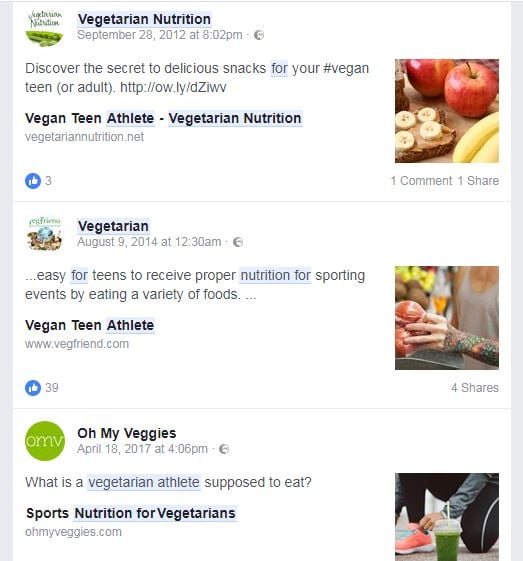 Similar to home searches - the more specific someone is in their search (for instance, searching for a specific neighborhood versus a major market area) the more intent there is on the part of the searcher. Including longer tail keywords in your page's 'About' section can help you rank higher in relevant searches and can help show your page to more people who are interested in what you do - creating a high-performing audience of followers on your Facebook Page which will in turn drive more results.
4. Choose a Call-to-Action Button
At the top of your Business Page, you can add a call-to-action button that directs your Page's visitors to take an action. Utilize this as another avenue for someone to contact you.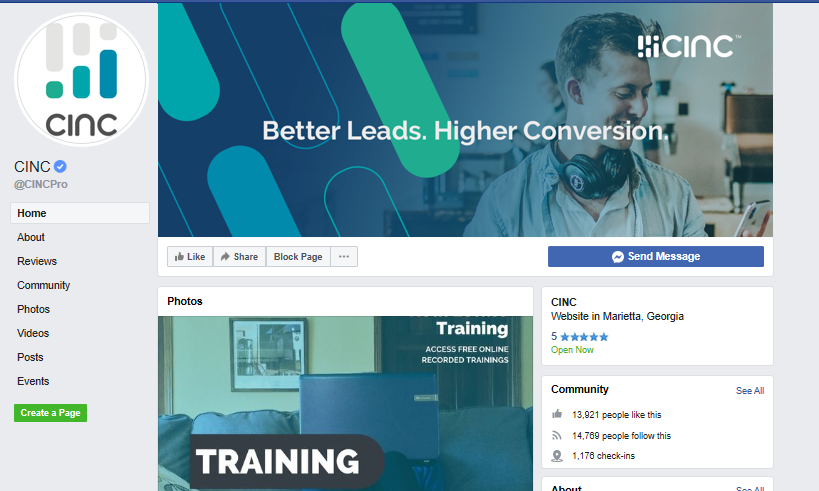 You can explore these on your own page, but some of my favorites for real estate are Book Now, Call Now, Contact Us, Learn More, Send Email and Send Message.
At CINC we're continuing to expand into Facebook's Messaging options (for ourselves and our clients) so I really like the Send Message option. This is a great way to let someone who is interested in your service, but maybe not yet ready to provide their contact information on a form, reach out to you for more information. Give this one a spin on your page and let us know how it works in the comments section of this post.
Tips to Connect with Potential Clients on Facebook
1. Earn the 'Very Responsive to Messages' Badge
One-to-one interactions are the holy grail of any social media strategy for business. Getting a potential client to the point of conversation is where the magic happens.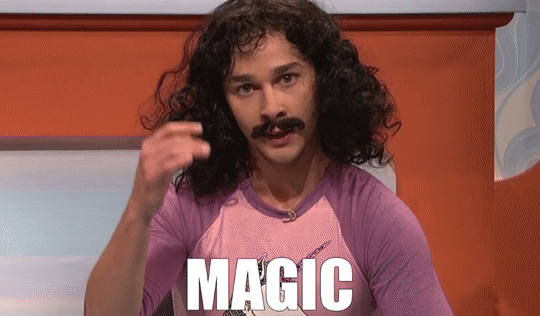 Try to respond to messages quickly when they're received. If you are able to reply to 90% of your messages within 15 minutes over a 7-day time frame, you'll earn the 'Very Responsive to Messages' badge on your Facebook Business Page. Even if you can't reply to all of your messages within 15 minutes, do your best to reply as quickly as possible. Being seen as responsive to Facebook messages could lead more users to message you, plus it's just good manners.
2. Invite People Who Like Your Posts to Like Your Page
Be sure to monitor your posts for opportunity to grow your following. One of the best ways to do this is to invite people who have liked your Facebook posts to like your page as well. This will grow your following and make it more likely for these people to see your future content.
From the Notifications Tab of your page, you can view activity on your posts. Here you can invite people who liked your post to like your page as well. Once invited, they will receive a notification that they have been invited to like your page.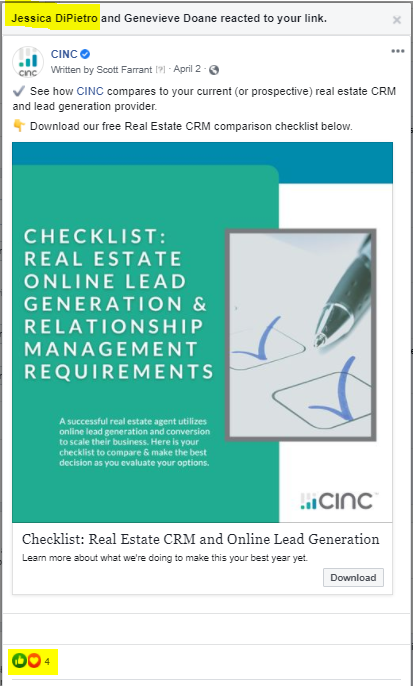 Select the notification and click the Likes icons at the bottom of the post.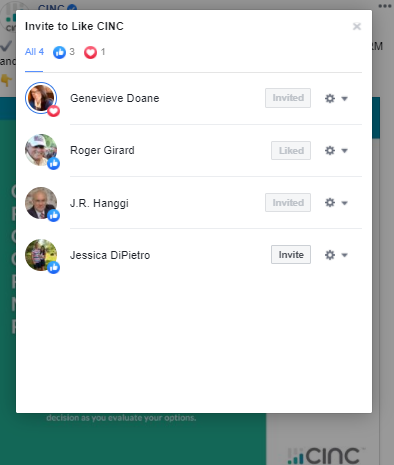 Select 'Invite' next to the person you would like to invite to like your Page.
3. Manage Post Comments
Post comments can be a glimpse into the dark side of humanity - no doubt.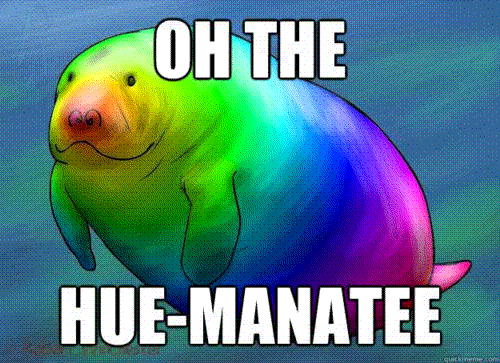 But they can also be a gold mine of opportunity. If you can reply to a comment you should. You can even privately message someone who comments on your Facebook post from your Business Page for up to 7 days after they've commented. This is a great opportunity to engage potential prospects (and sometimes trolls for fun) in a one-on-one conversation. Be informative and entertaining. Don't take yourself too seriously - people enjoy a good smiley face emoji once in a while 😀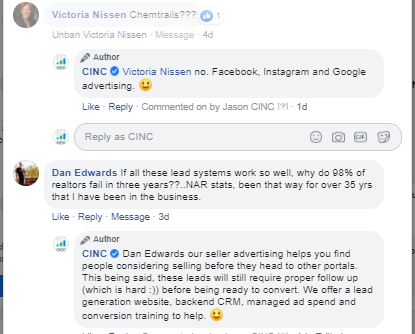 Don't feel like you can never delete a comment either (the grayed-out one in the screenshot above is a hidden comment - which means it is only visible to the poster and their friends). If someone is trolling you or being non-constructive - get them outta there! If they keep coming back then break out the Ban Hammer!

4. Use Facebook Stories
I LOVE Facebook and Instagram Stories. Your goal when posting in News Feed is to grab someone's attention. Stories are a full-screen posting option that gives you that attention because the Facebook User is actively cycling through their stories.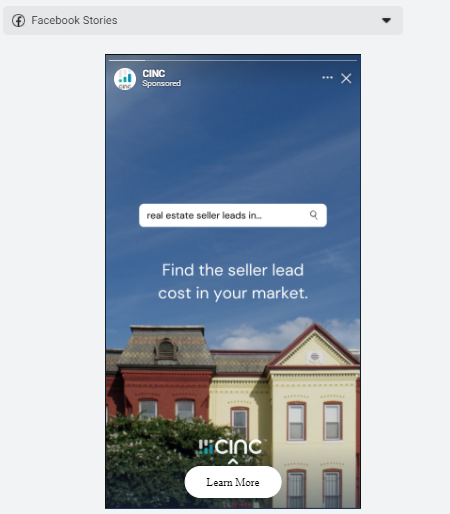 You may need to do a little bit of light design work for stories placements (use Canva.com) as this is a mobile-oriented experience that is designed to fit perfectly on a smartphone and won't be accompanied by any post text. We typically design our posts for Instagram and Facebook News Feeds first and then adjust them in Canva for Stories placements.
Stories Image Dimensions
Let us know how you use Stories in the comments section of this post!
Advertising Tips
1. Set Up Facebook Business Manager
If you're going to run ads on Facebook, you should start by creating your Business Page and then setting up Facebook's Business Manager. Facebook Business Manager creates one place to manage all your Facebook marketing efforts.
You can use Business Manager to: run and track ads, manage assets such as pages, audiences, and ad accounts, and add marketing partners to help manage your Facebook advertising (like CINC 👍).
Learn more about Business Manager and set yours up if you haven't already here.
2. Utilize Facebook Custom Audiences
Custom audiences allow you to create audiences of people who have taken specific actions that are important to you - both on and off Facebook.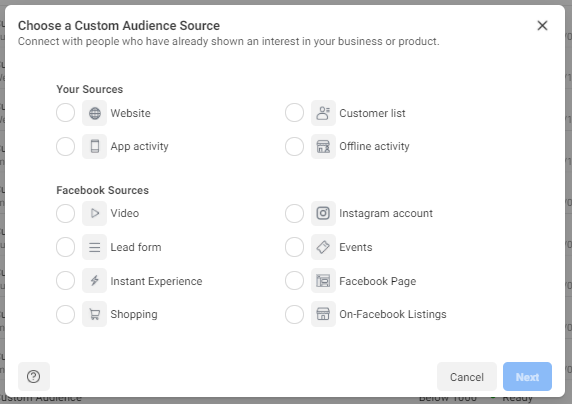 Using Custom Audiences, you can create audiences of people who have done things like:
Signed up on your website or mailing list
Visited certain pages of your website
Interacted with your Facebook or Instagram Business Profiles
Expressed interest in events posted on your Facebook Business Page
Previously watched videos
and more.
Get in there and get creative! Once you identify high-performing audiences, create Special Ad Audiences (formerly known as Lookalike Audiences) to find more people similar to those in your audience who may be interested in what you have to offer.
3. Use Boosted Posts to Test Ad Ideas
I may be one of the few telling you this, but there is a place for Boosted Posts in today's Facebook Marketing World.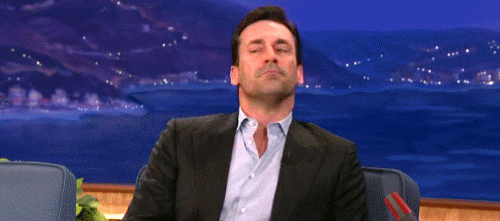 It shouldn't be your end-all-be-all, though. You can use Boosted Posts to test which of your posts resonate most with your audience by adding a small boost ($5-$10 per post) to your page posts. This will increase the exposure of your post to a lightly targeted segment you've defined on Facebook. Then, monitor which posts see the highest engagement and promote that post to a more defined segment using Facebook's Ads Manager.
4. Remarket, Remarket, Remarket
Facebook's proactive targeting makes it a great option to introduce yourself and your service to potential clients, however, buying a home is not an impulse decision. In fact it is a decision that typically takes many months to make. This make's Facebook's ad targeting options extremely powerful in both introducing yourself to potential clients and staying top of mind with those clients as they move down the purchase funnel. Use Facebook's Custom Audiences (shown above) to create defined remarketing lists and show relevant ads to them as they continue to search for homes.
Questions? comments? Want to know more about CINC? Something we missed? Just want to troll us? Leave a comment on this post or send us a message on Facebook - we'd love to chat!
Ready to take your business to the next level?
Join the thousands of people making the switch to CINC today.
Originally posted on
April 21, 2021
and last edited on
March 18, 2022