You've done the work to generate online leads and fill your pipeline, but now it's time to start and keep the conversation going. Having an effective script in place that you're confident in is critically important in the initial conversation with a prospective buyer or seller.
The CINC Community Training Team has trained over 9,000 real estate agents since 2018 on how to convert online leads into real opportunities. "70 percent of objections come from your opening line," John Marrone, CINC Community Training Team's Business Advisor said in a February 2022 webinar.
With that in mind, our in-person, three-day CINC University has trained thousands of real estate professionals using a conversion-focused script. With this script, we've seen a 33 percent conversion rate from a contact in the agent's CRM to setting an appointment.
Now, we're dropping the curtain on the opening line and explaining why it works. Get ready to crush your next conversations and fill your calendar with appointments!
The opening line when calling real estate leads
Once you've set your appointment goal for the day, and you're in a good state to start your dials, consider this opener: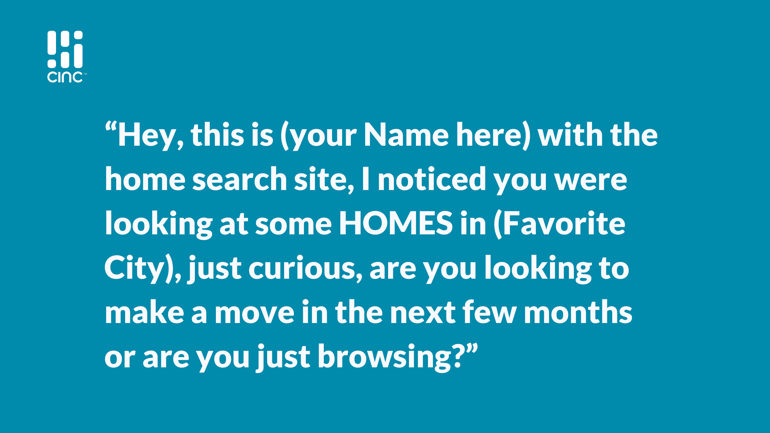 Why this opening line works
You've introduced yourself to instantly start building rapport. Then, mention home search site rather than your website, Zillow, realtor.com, or any site that the lead could have negative thoughts or preconceived notions about. You should also mention a specific city for familiarity.
Pay close attention to word choice. In this example, we use "homes", not "houses." A home is personal. Use homes when speaking to home buyers. By changing this word alone, you create emotion in the process. On the other hand, use houses, not homes, when speaking to sellers to disconnect the seller and take the emotion out of the process.
When you deliver your question, be genuinely interested in their response whether they're looking to make a move or really just browsing. When you use casual everyday speech like "just browsing," you're not only speaking to the lead just like you would any friend, you're also acknowledging this as a possibility and covering what will likely be the reply in a majority of the conversations anyway. That takes the pressure off the lead right away and helps their walls go down.
Avoid easy landmines
Most agents without a script are stepping on easy landmines the minute the line is picked up. It's easy to do — most of these examples are counterintuitive and don't seem like they'd make or break a conversation at all. Here are a few things to catch and avoid before you start dialing:
Don't say their name

Don't ask "How are you doing?"

Avoid reminding them that they registered on your site

Don't say you're a real estate agent right away
But why? John reminds you to consider the potential unfortunate perception of real estate agents— It's not always positive. If you say you're an agent, the individual on the other end may feel like they're going to be sold and immediately have some fear. As humans, when we feel fear, we make any excuse to get out of the situation. The lead's way out is any excuse — "No, this isn't Jane. No, I didn't register on your site." Don't give them a reason to run before you show them how you can add value.
End with "just browsing"
People are hesitant to reveal too much information right away on a call, which leads to the biggest landmine during a real estate agent's first call with a lead. "I'm just browsing," the lead tells the agent. And just like that, the conversation can come to a screeching halt.
"Most people will say, 'John, my number one objection is 'just browsing.' That is not an objection if you use this script. Because it's actually a great entry point to build rapport," says Marrone.
When Marrone presented the opening line in the webinar, he ended with the words "just browsing" in a pleasant, calming voice and low tone. He did that to ease the lead into answering the question with "just browsing," so that he could continue the conversation in a non-threatening way.
3 next steps to help you win more

client

s
Now you have a winning opening line that's helped thousands of agents convert online buyer leads, but you can take it a few steps further for easy success:
Practice it every single morning for ten minutes to build confidence in your delivery and decrease your chances of losing the prospect right out of the gate.

Make it your own. Use the words that are most comfortable and natural to you.

Set a specific intention before you even start making calls. How many appointments are you going to schedule that day?
Don't let your online leads go unworked. For more on John's high converting conversation talk track, and quick tips on how to win the game before you even start, watch the full video.
Ready to take your business to the next level?
Join the thousands of people making the switch to CINC today.
Originally posted on
March 17, 2022
and last edited on
May 12, 2023