Real estate team leaders and agents face a variety of problems in scaling up. Robust automation solves this problem and allows agents to multiple their output and increase their business. CINC AutoTracks combine automation, communication, and drip follow-up into one feature. Doug Forester, Director of Product: CRM, and Mike Davis, CINC Trainer hosted a webinar exploring these problems and how CINC AutoTracks solves them.
Common Lead Handling Problems
Problem #1: Leads aren't immediately engaged
A key piece of success with new leads is being able to contact them within 5 minutes or less. Often that is best with a phone call, but sometimes you can't make that call within 5 minutes. It's still essential to reach out to leads immediately. Emails or text messages sent automatically at the point of registration allow you to make an introduction and drive value. Your initial touch enables you to deliver information on the technology you offer and communicate how your website will help them find their next home.
Problem #2: Inconsistent lead handling
New agents (and even seasoned agents) can find processes challenging, and automation helps make that easier. Recently the CINC Product Team researched database activity to learn how agents tracked leads and opportunities. Surprisingly tracking was done manually through editing notes, manually adding labels, and more. This is a missed opportunity for agents. Automations are key in multiplying your activity and growing your team.
Problem #3: Leads are never contacted again after the first day
As an agent, you are laser-focused on what's ahead of you and the tasks that need to take place. You don't have the time to review your database constantly. Automation helps you nurture past clients or leads who are not NOW buyers or sellers.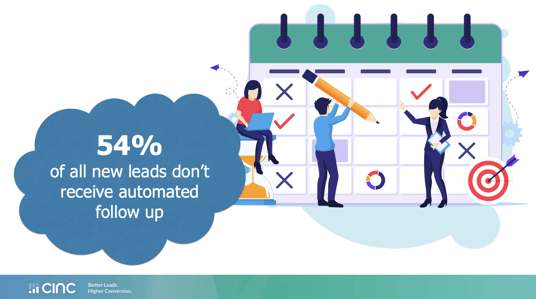 How does CINC AutoTracks help solve these problems?
AutoTracks is an automation feature included with the CINC platform that allows you to create (or use out-of-the-box templates) to automatically engage, nurture, and manage leads. You can do this based on source, type of lead, what pipeline they're in, and more.
Leads added to your database are entered into a series of predefined tasks and messages. The goal of this communication is to ensure you connect with the lead. At this point, many of the leads will still be early stage. AutoTracks helps you develop rapport, learn more about their home preferences, and customize their search criteria.
AutoTracks Communication
New lead communication is vital. You want to get in touch with the lead within the first few minutes of the creation on the site. As an agent, you can't always be available in those first 5 minutes, so you want to make sure the lead is hearing from you no matter what. AutoTracks helps you ensure you get in touch and create a personal connection right away.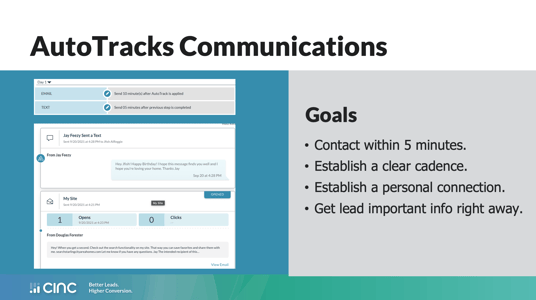 Repeatable Process
As you grow your business, you may also be adding agents to your team, and then the challenge multiplies. It's not just about how you automate the process with your leads. How do you replicate the process and know that all agents follow your best relationship-building practices with hundreds of new leads registering? It can get chaotic, and a lot will start falling through the cracks without an effective automation program in place. That's where AutoTracks can come into play. Using the tools in AutoTracks, your team will deliver a consistent approach and be accountable.
With AutoTracks, you can create nurture campaigns to deliver a straightforward, consistent approach, add to-do items or reminders so your team follows up promptly. Sometimes it can be easy to rely on automation and not take ownership of a lead; that's where blocking reminders can come into play. AutoTracks have features designed not to continue unless an agent completes a specific action or call.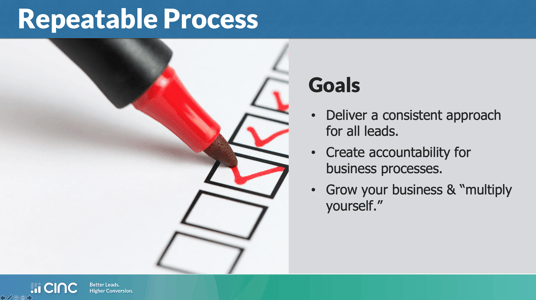 Lead Nurture
How often have you seen a lead receive an initial call and then nothing else? Do you ever find yourself on Facebook seeing birthday notifications and thinking, "I forgot it was John Doe's birthday." As a business owner, you are juggling a lot. Sometimes you need help to make sure you're following up with those leads after initial contact to get them back to the site. You never know when the info you provide on a follow-up will be the deciding factor between the lead choosing you or someone else. With all you're juggling, those longer-term clients or leads often fall through the cracks by you not following up or reaching out on an important date. AutoTracks fills in the gap for you and helps multiply your efforts.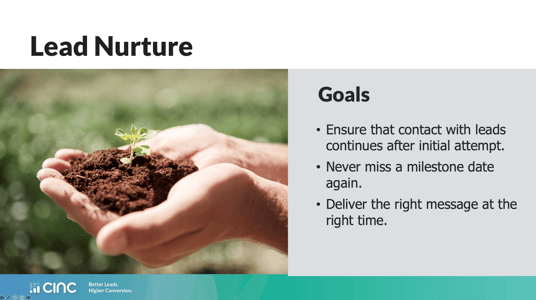 With AutoTracks, you can ensure communication occurs beyond the initial call by setting up new lead AutoTracks that communicate with the lead until they reply or contact the lead. Consistently delivering information to the lead allows you to showcase your market expertise. Automating key follow-up dates will enable the relationship to grow and secure the long-term business.
Ready to take your business to the next level?
Join the thousands of people making the switch to CINC today.
Originally posted on
September 23, 2021
and last edited on
December 9, 2021