One of the biggest decisions top-producing real estate agents face is choosing the right technology partner to invest in to grow their business. Cody Tritter, the Managing Partner at Real Estate Partners with RE/MAX First in Calgary, Alberta, was no exception. After experiencing limitations and costly growth with BoomTown, Cody Tritter and his team began to search for a new scalable technology partner that wouldn't cost his team an arm and a leg. With BoomTown, his platform cost began to skyrocket as the team grew to 6 agents.
And while they found the CRM to be beneficial, there were pain points emerging from their rapid growth and projected costs associated with them. The lack of features BoomTown offered partnered with the climbing costs was the final straw in leading Cody to make a change. Cody's team needed a CRM that was a well-oiled machine, easy to implement and able to scale with their booming business.
The Switch from BoomTown to CINC
Once the team sat down and compared CINC, BoomTown, and other CRM platforms, they knew the only option to continue growing their business was to leave BoomTown and join the CINC Community. It was evident that CINC already powered thousands of elite real estate teams like his, and it was time to make the switch. The next step was the scariest part of making the leap - transferring their thousands of leads. "CINC was the only platform that could facilitate all the nuances of transferring over our drips, data, statuses, and so on. There was a lot to the switch, including laws," he recalls.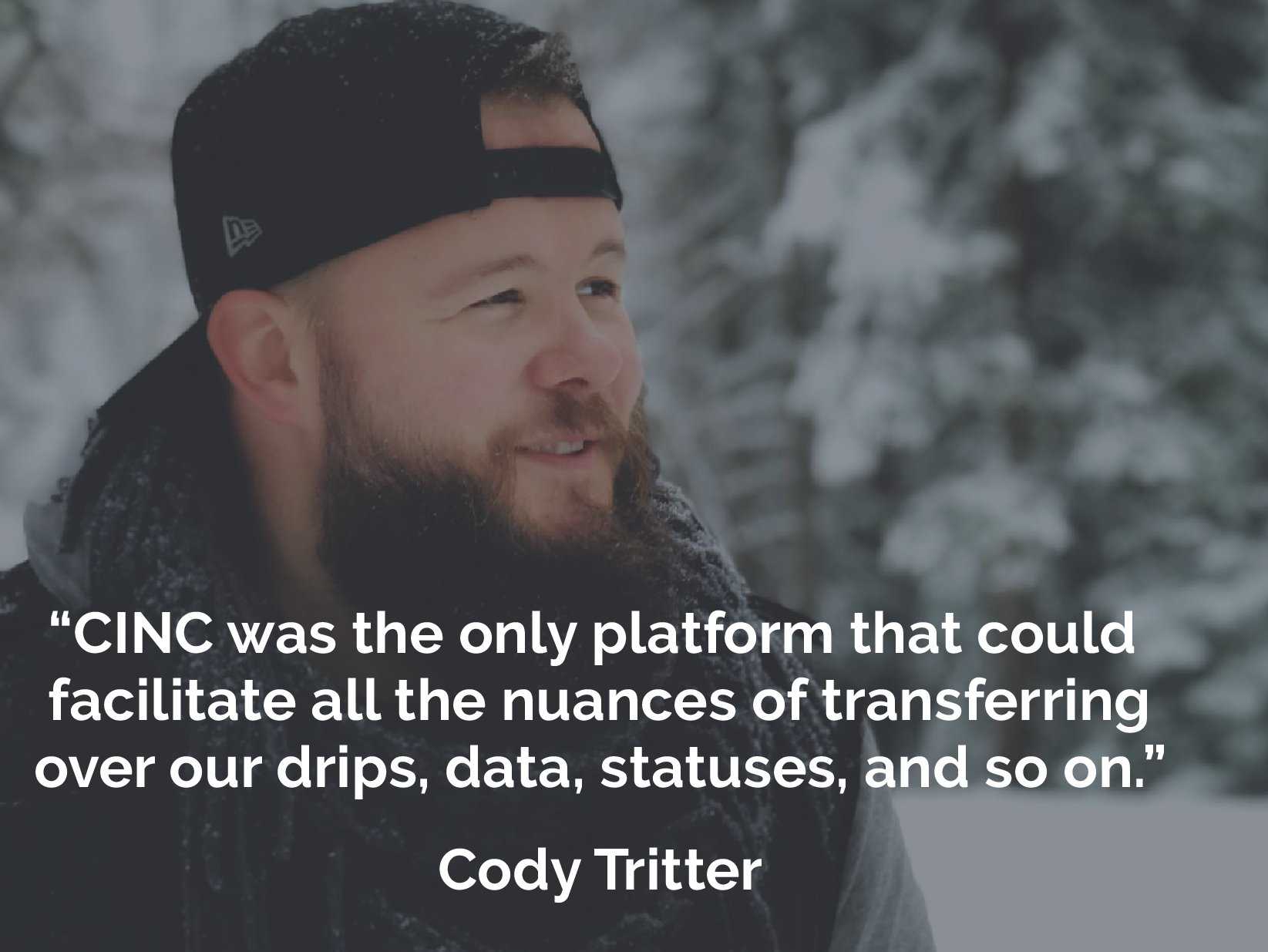 The Perfect Tech Partner to Grow Their Business
After leaving BoomTown, Cody found that CINC, hands down, was easier to manage his business. From the user navigation to deploying drip campaigns, to having a dedicated CINC account manager, the experience all around improved. "CINC helped us move the needle when we needed it, whereas BoomTown did not. We no longer felt like we were being up-sold by a salesperson."
For this Alberta-based team, everything circles back to their CINC CRM, which is the heartbeat of their business. The CINC platform allows them to easily manage their team along with tracking the activity of all of their leads. "Our CRM is the reporting and the measurement tool that makes it so simple for us to grow the team and focus on other efforts, instead of getting into the weeds with each person."
Game-Changing PPC Campaigns
Cody's team opted to diversify their PPC portfolio by managing some campaigns themselves and also leveraging CINC's in-house industry-leading marketing team. The Cost-Per-Lead quoted to them was almost too good to be true. As a Google Premier Partner, CINC provides clients a 24% lower cost per lead. With the CINC marketing team, Cody's team expects 30-50 leads generated per day. The team loves that they can generate thousands of leads a month to then be teamed with their customer-centric agents that can convert easily.
A Seamless Expansion in a Declining Market
Cody envisions continued expansion for their company, even in the declining market. Their CRM and proven drip campaigns have laid down the foundation to generate and nurture leads. Soon they will be expanding into new markets and will implement their seamless plug and play methods powered by the CINC platform.