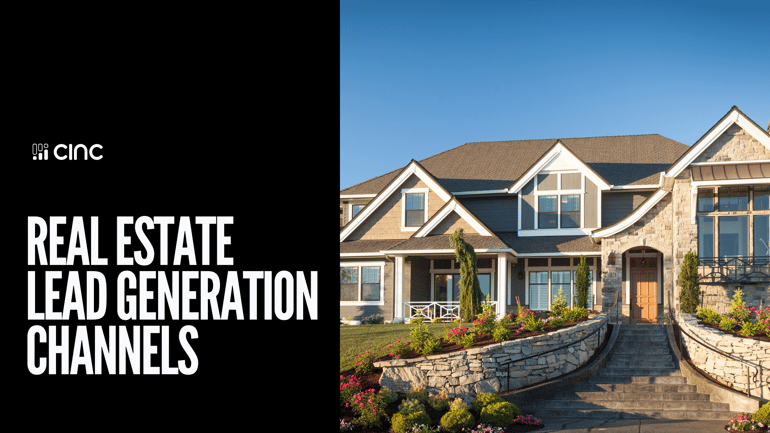 When it comes to real estate lead generation, we continue to see that real estate teams and agents that find the right balance of diversifying their lead generation channels routinely outperform their peers.
In our experience working with over 50,000 top-performing teams and agents across the country on lead generation, we've seen a lot.
As such, we wanted to share our observations on channels that teams sometimes can be too reliant on. And in addition, we wanted to share with you two channels that we see many real estate teams and agents underutilize.
When Closings from Sphere of Influence and Referrals Are Not Growing Fast Enough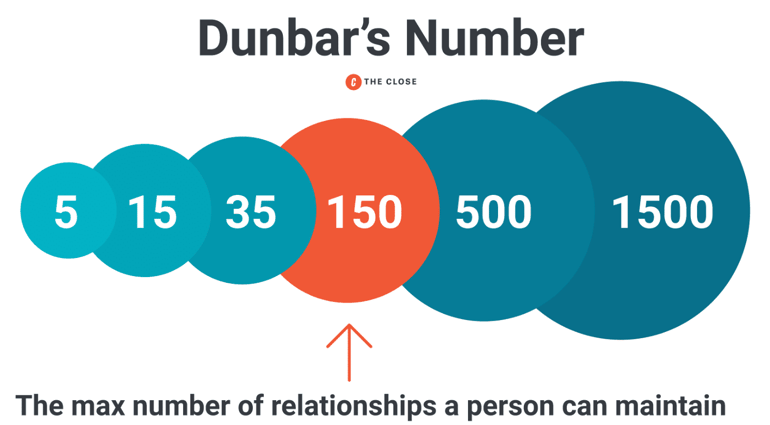 Source: The Close
A sophisticated sphere of influence and referral strategy is core and essential to any successful real estate business.

The challenge comes when you need to grow faster and more consistently than your sphere can organically.
Emile L'Eplattenier from The Close argues that it becomes very challenging for a realtor to manage much more than 150 relationships in a sphere and referral strategy based on Dunbar's Number.

For established agents, the peaks and valleys of sphere create challenges in finding interested clients on a regular basis. In addition, growing 10-20% in a year with sphere is one thing but rapidly growing your business in less than 12 months becomes much more challenging with just sphere.

For newer agents and teams recruiting new agents, the potential to create immediate action in the sales funnel and generate revenue in the short-term is much more difficult with the natural rate of growth of sphere. Read more from Jed Carlson from Forbes Councils Member here.
Furthermore, home buyers and sellers are spending a greater percentage of their time in the home buying/selling journey online before ever reaching out to an agent. Agents overly reliant on sphere and referrals, are completely in the dark and invisible to buyers/sellers in this stage leaving them open to lose ground to competitors earlier in the process. Eman Hamed from Mashvisor discusses more here.
When Closings From Home Buyer Portal Sites Like Zillow, Trulia, and Realtor.com Are Not Growing Fast Enough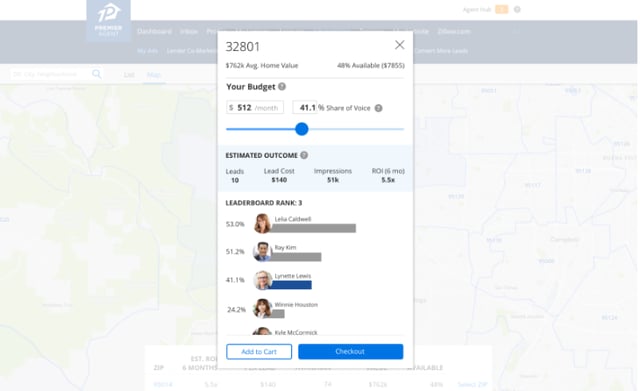 Source: Zillow Premier Agent
Zillow, Trulia, Realtor.com, etc. are the first sites that many potential homebuyers start their search. It make sense that many realtors start their paid lead generation efforts here.

However, there are significant risks in overreliance in these home listing sites.

The cost per lead on these sites has dramatically increased in recent years. And to further exasperate the problem, the leads agents are sent are not exclusive. Agents are sent leads that are also sent to other agents for them to compete over.

Realtors have also objected to Zillow selling agents positions on its website next to listed homes. This redirects some buyer inquiries away from listing agents to agents who pay Zillow. Realtors say this damages their sellers because buyers get information from agents who have never seen the home.

In sum, Zillow and site like it may be appealing to potential buyers and sellers, but they do not foster longer-term relationships between realtors and prospects.

Kevin Sagers from the "Today I'm Home" discusses these challenges in more detail here.
Chris Linsell from the Close as well as Gina Baker from Fit Small Business have helpful perspectives as well.
In fact, Chris recently went into more detail about the new Zillow Flex option where realtors just pay a percentage of commission, up to 35%, if deal closes. Realtors need to be very careful about how expensive the leads are and the risks of Zillow continuing to consolidating more control over the industry.
When Closings From Old School Real Estate Marketing Channels Are Not Growing Fast Enough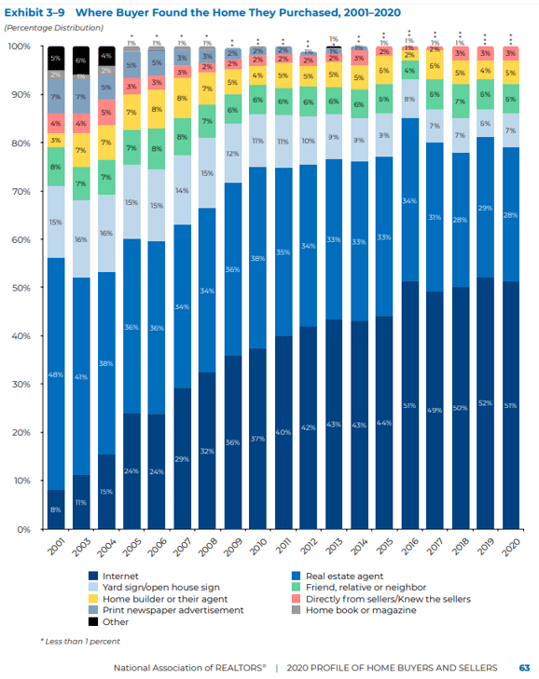 Before social media and online lead generation blew up, there was primarily door knocking, open houses, local even sponsorships, direct mail, print ads, etc. Sure, those things all still have their place, but their effectiveness is waning.

In 2000, yard/open house signs & print advertisements where how buyers found the home they purchased nearly one-quarter of the time according to the National Association of Realtors (NAR). By 2020, this number dropped to 7%.

Coach Tom Ferry makes this point further, "Relics of lead generation past, like cold calling and knocking on doors, are not as successful as they once were. Most people won't even answer the phone or open their door to someone they don't know. These methods of generating free leads are tired."
These more traditional lead generation channels still have their place for many teams and agents. However, for teams overly reliant here, diversifying their lead generation channels has never been more important.
When Closings From Other Online Real Estate Marketing Strategies Are Not Growing Fast Enough
Separating the good from the bad when it comes to online real estate lead generation is hard.

The unfortunate reality is that many teams and agents have been burned by oversold online lead generation packages and strategies that don't pan out for a variety of reasons.

There is risk of paying too much money to generate the wrong leads is very real when you go at it alone or with the wrong lead gen partner. Jacqueline Kyo Thomas from the Freedom Trail Realty School highlights this by saying, "Remember that you get what you pay for. If you go with the cheapest package from the cheapest lead gen company, you're not going to get premium leads."

On the other hand, even if you generate the right leads online, follow up will make or break your success in this channel. A consistent, high volume of new online leads creates new (albeit good) problems in terms of complexity in following up in the immediate term (speed-to-lead) and the longer-term (nurture). Those agents who try to go at alone or leverage dated follow up technology often experience a rude awakening when diving into higher-volume online lead generation that typically requires more complex, modern follow-up strategies.
Many Real Estate Teams and Agents Underutilize Google Advertising Lead Generation Channel
Search is the largest component of CINC's advertising portfolio in the United States. We annually spend $25 million on Google advertising alone each year. (We use Bing on a limited basis.)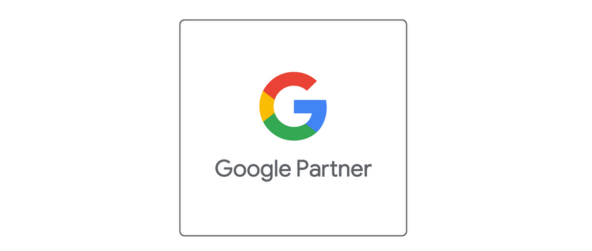 Google search advertising is a great way to reach home buyers and sellers in the United States at the moment they are thinking about making a real estate move.
Search advertising is also very customizable. CINC uses a hyper-local strategy in America which allows you to target just the areas where you want to get leads.
And we don't force you to take particular markets, unlike some competitors who require you to focus on specific zip codes.
The cornerstones of the hyper-local strategy are niche marketing and submarkets.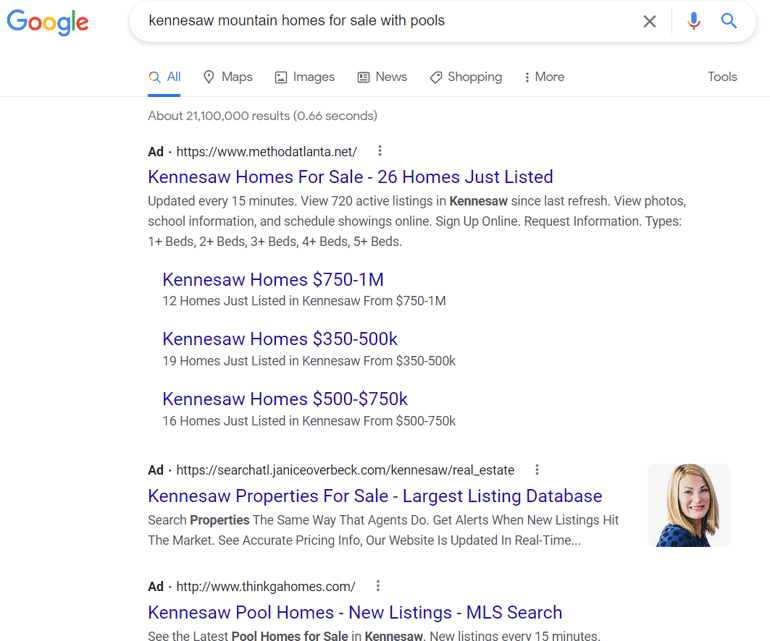 Many Real Estate Teams and Agents Underutilize Facebook & Instagram Advertising Lead Generation Channel
Social media advertising - mostly Facebook & Instagram - is the other cornerstone lead type in the United States. We generally recommend clients start with a combination of multiple ad types, diversifying the lead flow.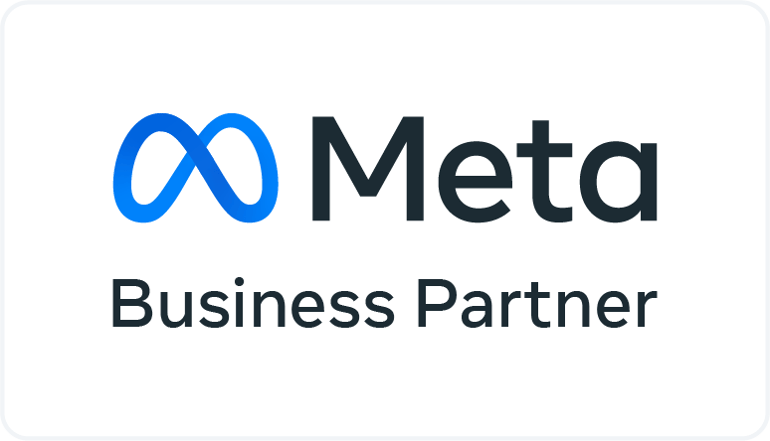 Leads from social media typically have a lower cost per lead than search leads in America - giving your pipeline a boost. The quality of the data is also superior to search because the registration data is pulled directly from the home seeker's social media profile, so it is almost 100% accurate.
CINC also recommends social media as the primary method to promote your listings in the United States.
We can advertise specific properties that you have listed from your branded Facebook Business Page (promoting your brand and your listing to interested home seekers in your area at the same time).
Facebook allows us to create advertisements in non-English languages and target the ads to speakers of those languages.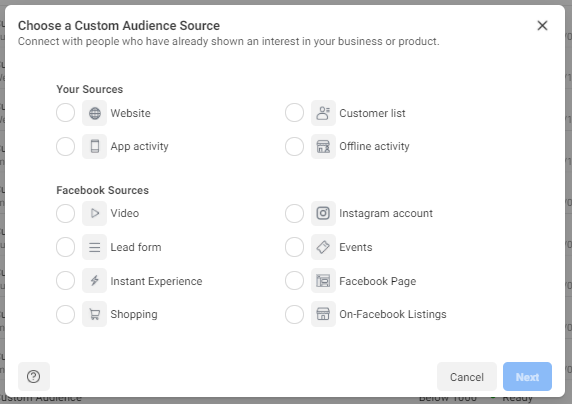 Ready to take your business to the next level?
Join the thousands of people making the switch to CINC today.
Originally posted on
September 27, 2022
and last edited on
September 29, 2022