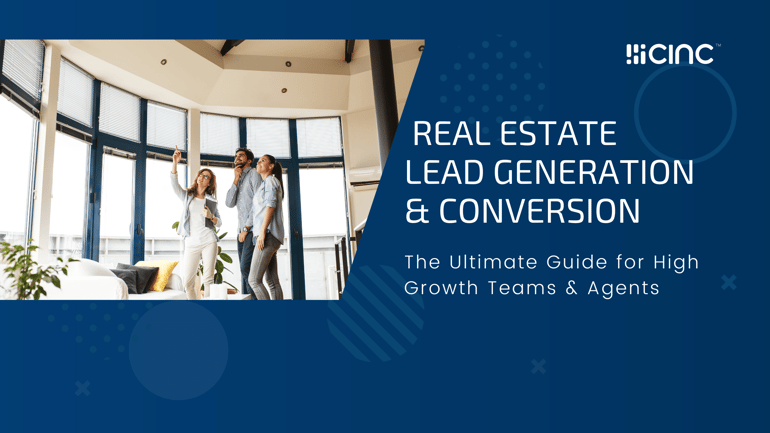 Overview (click below to jump directly to a section)
Real Estate Lead Generation Part 1 | The Problem | When Closings From Existing Real Estate Lead Gen Channels Are Not Growing Fast Enough
The path to steady, predictable growth for real estate teams and agents has been anything but straightforward lately.
Even with recent market shifts, the post-pandemic phenomenon of significantly lower inventory levels combined with explosive growth in the number of agents nationwide has continued to leave the market now with more realtors than there are homes for sale. Business models of elite teams and top producing individual agents have been completely warped due to this growing trend.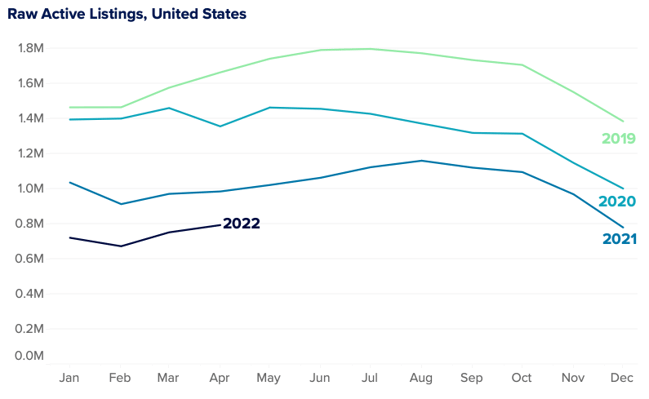 Source: Zillow
Steve Murray from RealTrends perfectly summed up the issue: "Industry productivity is down on a per-agent basis or rather a per-member basis, and there are all kinds of Realtors out there scrambling for a business pie that has not grown that much. The number of transactions done both in existing and new homes has not grown at the same rate that Realtor membership has for the past several years. And we don't expect it to going forward in the next few years."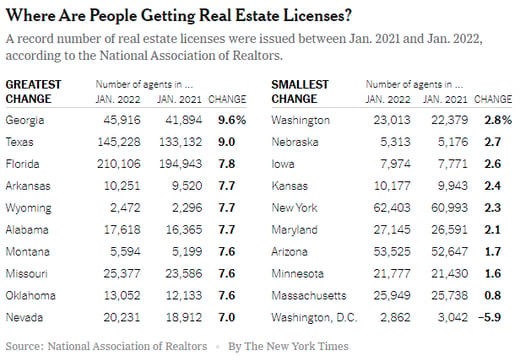 To make matters worse, more and more agents and teams are finding they are hitting a growth ceiling and have tapped out legacy lead generation channels.
Countless real estate teams and individual producers are back at the drawing board trying to figure out where consistent profitable, growth will come from in the coming years.
When Closings from Sphere of Influence and Referrals Are Not Growing Fast Enough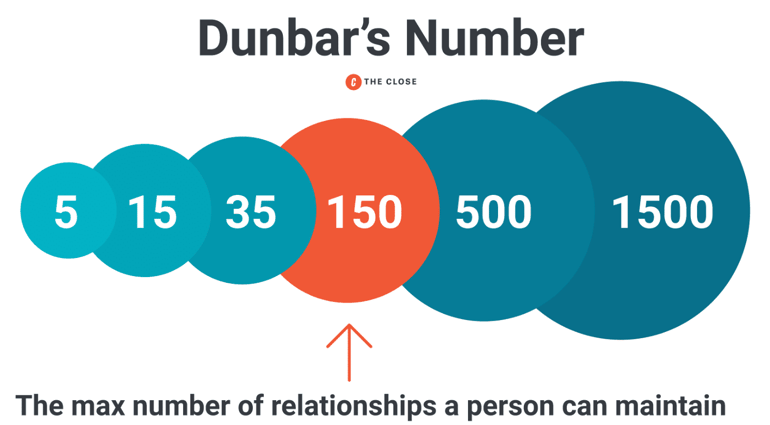 Source: The Close
A sophisticated sphere of influence and referral strategy is core and essential to any successful real estate business.

The challenge comes when you need to grow faster and more consistently than your sphere can organically.
Emile L'Eplattenier from The Close argues that it becomes very challenging for a realtor to manage much more than 150 relationships in a sphere and referral strategy based on Dunbar's Number.

For established agents, the peaks and valleys of sphere create challenges in finding interested clients on a regular basis. In addition, growing 10-20% in a year with sphere is one thing but rapidly growing your business in less than 12 months becomes much more challenging with just sphere.

For newer agents and teams recruiting new agents, the potential to create immediate action in the sales funnel and generate revenue in the short-term is much more difficult with the natural rate of growth of sphere. Read more from Jed Carlson from Forbes Councils Member here.
Furthermore, home buyers and sellers are spending a greater percentage of their time in the home buying/selling journey online before ever reaching out to an agent. Agents overly reliant on sphere and referrals, are completely in the dark and invisible to buyers/sellers in this stage leaving them open to lose ground to competitors earlier in the process. Eman Hamed from Mashvisor discusses more here.
When Closings From Home Buyer Portal Sites Like Zillow, Trulia, and Realtor.com Are Not Growing Fast Enough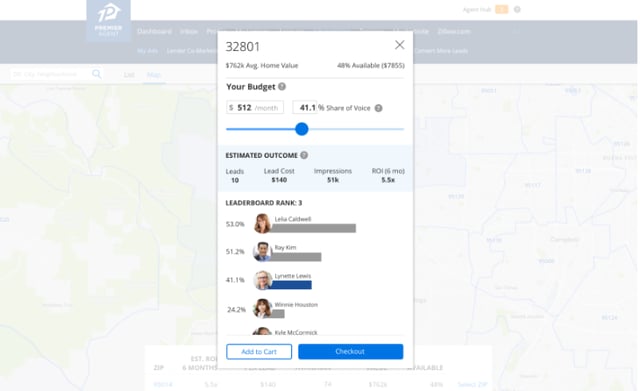 Source: Zillow Premier Agent
Zillow, Trulia, Realtor.com, etc. are the first sites that many potential homebuyers start their search. It make sense that many realtors start their paid lead generation efforts here.

However, there are significant risks in overreliance in these home listing sites.

The cost per lead on these sites has dramatically increased in recent years. And to further exasperate the problem, the leads agents are sent are not exclusive. Agents are sent leads that are also sent to other agents for them to compete over.

Realtors have also objected to Zillow selling agents positions on its website next to listed homes. This redirects some buyer inquiries away from listing agents to agents who pay Zillow. Realtors say this damages their sellers because buyers get information from agents who have never seen the home.

In sum, Zillow and site like it may be appealing to potential buyers and sellers, but they do not foster longer-term relationships between realtors and prospects.

Kevin Sagers from the "Today I'm Home" discusses these challenges in more detail here.
Chris Linsell from the Close as well as Gina Baker from Fit Small Business have helpful perspectives as well.
In fact, Chris recently went into more detail about the new Zillow Flex option where realtors just pay a percentage of commission, up to 35%, if deal closes. Realtors need to be very careful about how expensive the leads are and the risks of Zillow continuing to consolidating more control over the industry.
When Closings From Old School Real Estate Marketing Channels Are Not Growing Fast Enough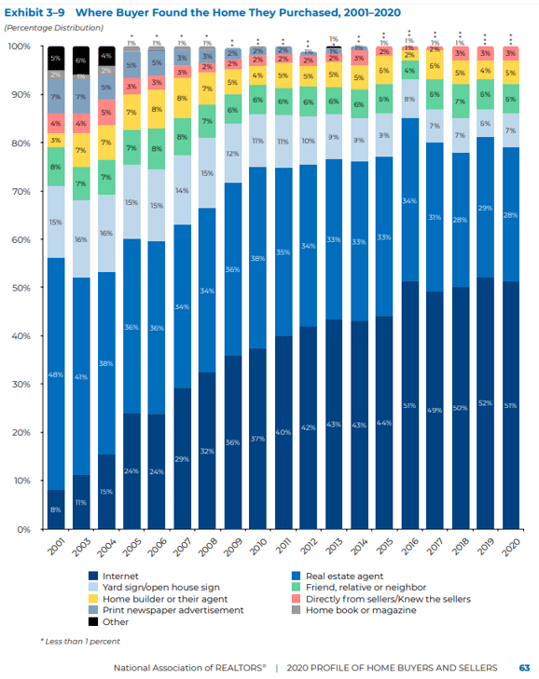 Before social media and online lead generation blew up, there was primarily door knocking, open houses, local even sponsorships, direct mail, print ads, etc. Sure, those things all still have their place, but their effectiveness is waning.

In 2000, yard/open house signs & print advertisements where how buyers found the home they purchased nearly one-quarter of the time according to the National Association of Realtors (NAR). By 2020, this number dropped to 7%.

Coach Tom Ferry makes this point further, "Relics of lead generation past, like cold calling and knocking on doors, are not as successful as they once were. Most people won't even answer the phone or open their door to someone they don't know. These methods of generating free leads are tired."
These more traditional lead generation channels still have their place for many teams and agents. However, for teams overly reliant here, diversifying their lead generation channels has never been more important.
When Closings From Other Online Real Estate Marketing Strategies Are Not Growing Fast Enough
Separating the good from the bad when it comes to online real estate lead generation is hard.

The unfortunate reality is that many teams and agents have been burned by oversold online lead generation packages and strategies that don't pan out for a variety of reasons.

There is risk of paying too much money to generate the wrong leads is very real when you go at it alone or with the wrong lead gen partner. Jacqueline Kyo Thomas from the Freedom Trail Realty School highlights this by saying, "Remember that you get what you pay for. If you go with the cheapest package from the cheapest lead gen company, you're not going to get premium leads."

On the other hand, even if you generate the right leads online, follow up will make or break your success in this channel. A consistent, high volume of new online leads creates new (albeit good) problems in terms of complexity in following up in the immediate term (speed-to-lead) and the longer-term (nurture). Those agents who try to go at alone or leverage dated follow up technology often experience a rude awakening when diving into higher-volume online lead generation that typically requires more complex, modern follow-up strategies.
Real Estate Lead Generation Part 2 | The Opportunity | How High-Growth Real Estate Teams & Agents Have Adapted Their Lead Gen Strategies to Increase Closings

The good news is that there is a tried and true path of modern online real estate lead generation that is both scalable and profitable.

A recent analysis of the Top 500 brokerages by Real Trends shows that the average agent at one of these elite brokerages closes over 2X as many transactions per year compared to the average agent nationwide.

At nearly all of these brokerages, you will find they are executing a very sophisticated, profitable, high volume online lead generation strategy that is directly contributing to greater per agent productivity compared to the average agent in the market.
As an example of this, Brooke Sines, a Workman Success Systems Coach who works with high-preforming teams across the United States, shares some more detail here on what she is seeing working .
Here is our observation on what is separating these top performers from their peers.
Real Estate Lead Generation: Capturing New Opportunity
Cutting to the Front of Line Before Other Agents as Buyers/Sellers Begin Their Search
The stakes of being the first agent to connect with a buyer during their home search have never been higher.

In the current market, the vast majority (73% according to NAR) of buyers interview only one agent during their home search.



Agents with world-class online presences have an enormous advantage on this front. The average home buying search lasts less than 2 months now according to NAR. And the average buyer spends nearly half of the time (3 weeks) searching online before contacting an agent.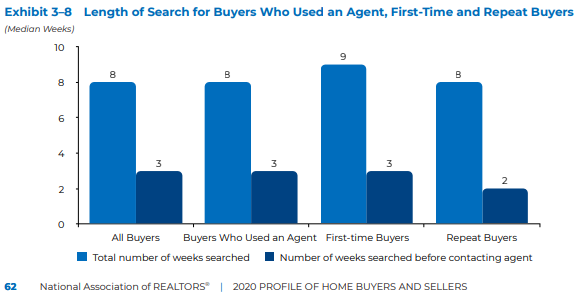 Online lead generation done right allows top agents to cut in front of the line over peers (overly reliant on sphere and other legacy channels) to be the first to connect with buyers and sellers right as they begin their home buying/selling search.
Consistent, Predictable Monthly Flow of New Leads to Complement Sphere, Referrals, and Other Sources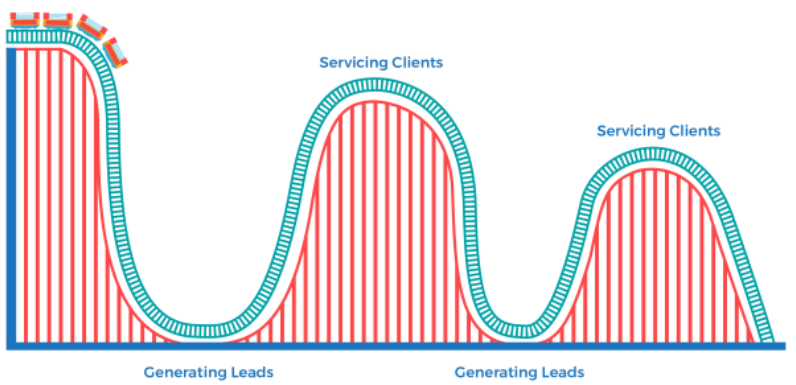 Source: SmartAlto
The peaks and valleys of real estate are challenging. You need to have predictability in terms of new leads to work and database growth on a monthly basis.
Scott Melny from 360 Media Consulting says, "The idea is to get as many decent leads into your pipeline as possible with a good follow-up process in place. Then its only a matter of time before those leads start turning into contracts. And the longer you build up these leads, the more filled up your pipeline becomes, and the easier it will be to start generating sales down the line."
More organic channels are great but are notoriously finnicky from month-to-month. A top online lead generation strategy is a great compliment to your organic lead gen strategy by helping smooth out the peaks and valleys and providing more reliable, consistent growth.
Real Estate Lead Management: Identifying Database Potential of CRM

Source: Sample Weekly Call Metrics from CINC Client John Mikesh's EXP team in Charlotte
The elite agents that we work with routinely find they need to make 200-300+ dials per week, if not more (at least at the beginning). (One of our clients, John Mikesh, who leads a $75MM EXP team in Charlotte breaks down his suggested call success metrics and more for his team here) .
The question then becomes where are those hundred plus weekly dials going to come from?
Active Hand Raisers | All About Speed-to-Lead
Source: Velocify Infographic via Xoombi
These are leads that are actively reaching out to you.
The speed of follow up is remarkably important here for these active hand raisers. In fact, a recent Velocify study shows that following up via phone in the first minute leads to a 391% improvement on lead conversion rates. The improvement benefit rapidly goes away with calls made in first 3 minutes being 98% improvement in lead conversion rate and calls made in the first 24 hours only having a 17% improvement in lead conversion rates.
For maximizing conversion amongst these active hand raisers, it is critical agents and teams have the proper technology and strategy in place to alert agents immediately of the hand raisers so they can prioritize calling/texting within the first few minutes.
Prioritizing the Right Passive Leads

In

Your Database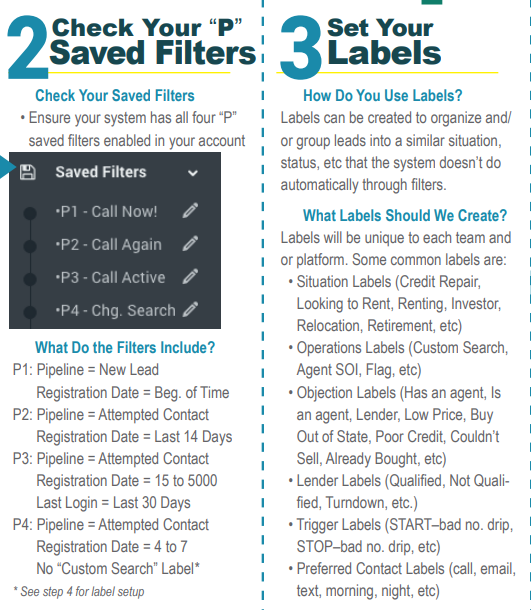 Source: Example of how some top-performing CINC clients prioritize their databases
Beyond the active hand raisers, it becomes more complicated in figuring out where the other dials for the week need to come from.
When you get to the point where your database approaches one-thousand and well-beyond, it can become overwhelming to figure out who are the right leads to prioritize in your database.
First, it's most important to be able to combine all your different lead sources (sphere, referrals, Zillow, open houses, direct mail, etc.) alongside your high volume lead generation engine in one main database.
From there, we find that the top teams focus on two main areas.
The first area is to focus on individuals who have recently engaged with your site (recent login, "x" viewed homes, etc.). The challenge is finding a system that organizes this information in a way that allows you to prioritize the right leads in the category.
The next area is to focus on the individuals where you have relevant reason to follow up now (as opposed to a few weeks/months ago). Think individuals:
where they recently went through a job change
a family that was expecting a new child in a few months
a couple that recently got married
A couple that has now become empty nesters after their child's graduation
A potential first-time home buyer with an upcoming expiring lease
Etc.
Once again the challenge here is having all of this information organized and prioritized in one area.
Real Estate Lead Automation: Nurturing Leads Into Clients
Amplifying

Communication Efforts | Like Having More Hours in the Day to Follow Up
Teams and agents doing scalable online real estate lead generation well have an additional growing problem as their database grows. There are simply not enough hours in the day to stay in touch with all of the leads via manual outreach.
This is further complicated by the fact that the average buyer/seller goes 8 years between their home buying/selling search. That is a long-time to stay in touch with a lead.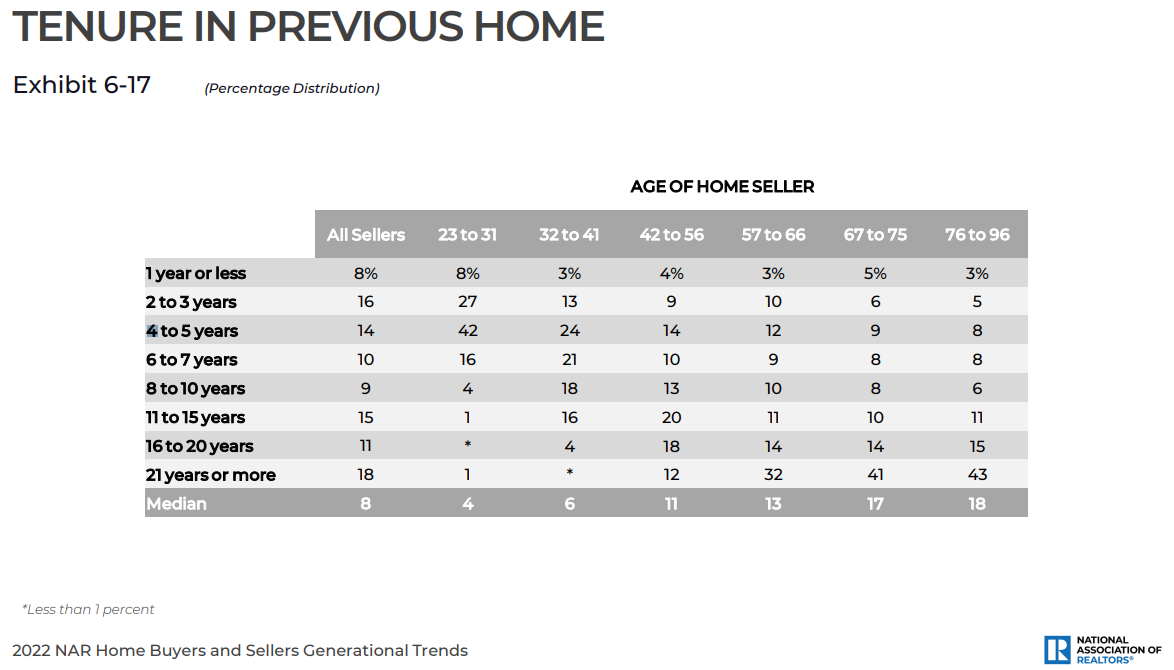 Automated lead nurturing at scale is absolutely critical in order to make online lead generation profitable. In fact, companies that excel at automated lead nurturing generate 50% more sales-ready leads at 33% lower cost according to a recent Scripted study.
It makes sense that if you've already done the hard work (or spent your hard earned money on front end) to generate the lead, you might as well not let it go to waste.
The best teams have a robust strategy and the technology to execute automated email and messaging campaigns to drive repeat behavior on their site and engagement with other offline events like open houses, customer appreciation events, etc from older clients/prospects as well as leads in active sales cycles.
It's all about how do you have the system work for you when either you are too busy or your prospects/past clients aren't ready for a conversation just yet.
Keeping Authentic, Human Connections with Automations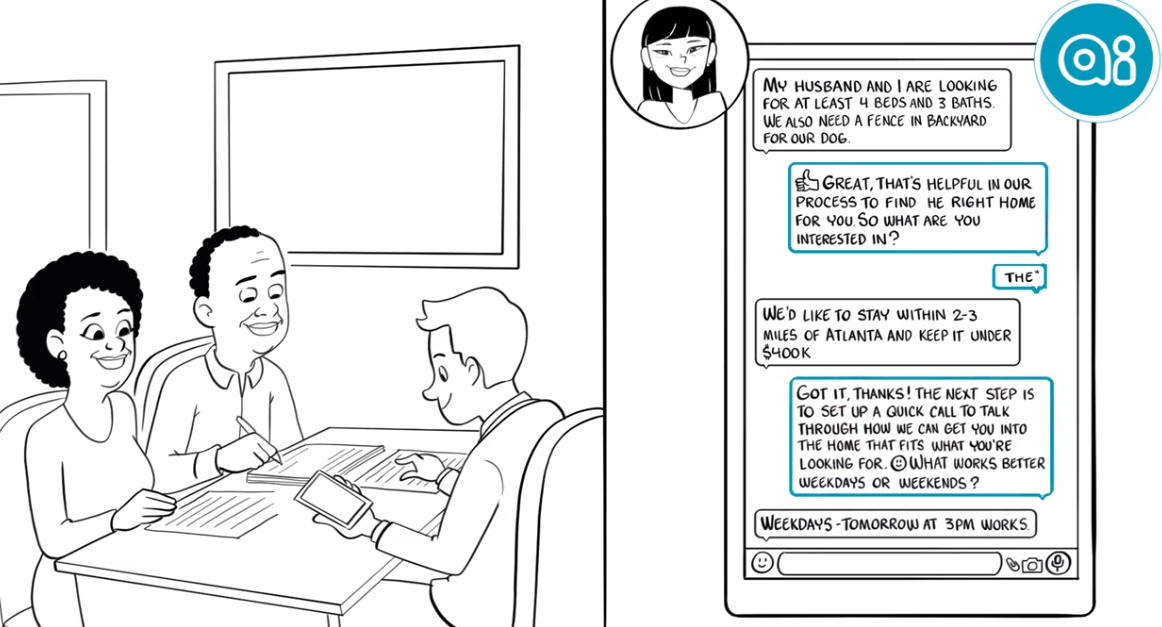 Source: Example of CINC AI tool that top teams/agents use that engages in personalized follow up while agent is too busy
In addition, it's also not just about sending generic messages to as many people as possible. The top elite real estate teams have very targeted approaches in their messaging automations.
In terms of recent engagement on your site, it is important to have multiple timely automated follow ups to complement manual follow up efforts. Even better, top-performing teams are utilizing smart AI virtual assistants that can engage in two-way conversations on a prospect's timetable when you are too busy or away.
It is also crucial to have automated messaging campaigns targeted to leads in different situations such as someone needing to repair credit, a first time homebuyer, empty nesters downsizing, divorce, etc.
On the other hand, it is also helpful to have automated messaging campaigns based off of various objections ranging from "has an agent" to "low price" to "buy out of state" to "couldn't sell" to "poor credit" and more.
All-in-One Real Estate Technology Platform: Converting to Close
Necessity of a Comprehensive Strategy | Don't Build a Frankenstein
Finding leads and starting a conversation is great. But ultimately, you've got to connect everything together to close them.
Too often, teams and agents take a "Frankenstein" approach. They have a bunch of ad hoc solutions. However, they typically don't all work well together or fit in with an overarching strategy.
McKissock recently cautioned real estate agents on thoughtlessly rolling out technology: "While you can't do your job without relying on real estate technology to some degree, you do have to be extra careful when you use it. Convenience often comes with a price."
The top-performing real estate agents and teams partner don't fall into this trap. They work with experts on the front-end to make sure all their individual solutions fit into a cohesive marketing strategy.
World-Class Execution from Agents
The right strategy and the right technology are crucial for success. However, the results are still only as good as the execution of individual agents.

NAR CEO Bob Goldberg highlighted this in a recent conversations with Barron's by saying, "The reality, however, is that modern technology is making agents and brokers more essential, not less."
Our experience is that the top-perfoming teams and agents separate themselves as well with individual tactical execution.
The individual agents make all the calls. They call the right leads at the right time. They use the right scripts for the right leads. They enroll the right leads in the right lists. The enroll leads in workflows at the right time. And on. And on.
This doesn't magically happen, though. The top-performing teams have infrastructure in place to provide proper training, support, and accountability as these lead generation and conversion systems become more sophisticated.
Real Estate Lead Generation Part 3 | What is Needed | The New Requirements for Profitable High Growth
Real Estate Lead Generation Requirements: Capturing New Opportunity
Attracting & Converting More Visitors to Leads with a Configurable, Optimized IDX Consumer Search Websites
In spite of all the digital advances over the past few years, far too many agents still have sites that are too focused on how great they are as an agent. While that's okay, it should not be the primary focus.
The top teams and agents are adopting more customer-centric home search sites primarily designed for consumers actively looking for homes in your market.
The sites are very clean, clear, crisp and focused. They are built with excellence.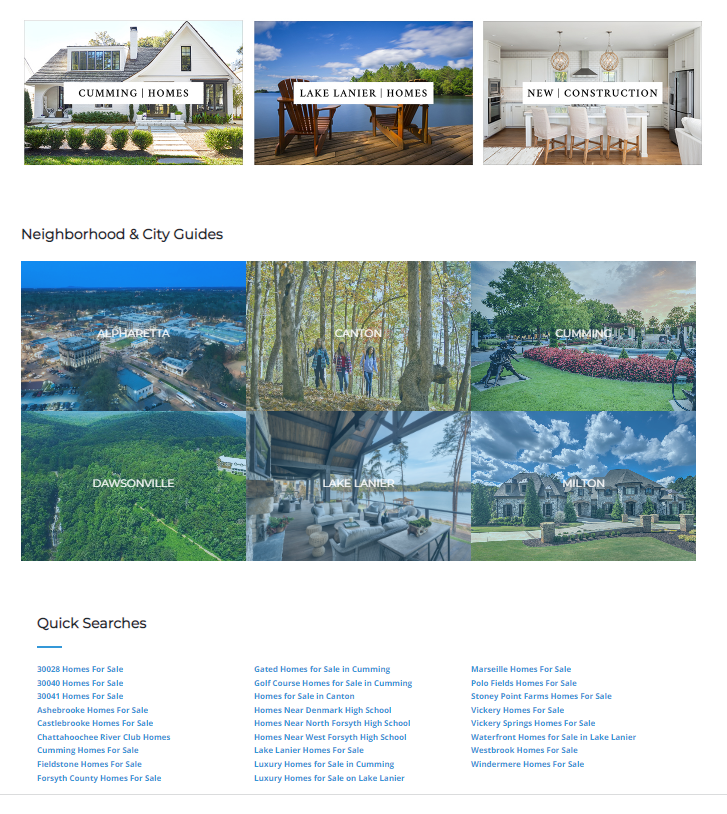 Example above of an IDX customer-centric home search site from a high-performing real estate team in the Atlanta, GA metro area. See full site here.
These hyperlocal lead generation websites are focused on very specific areas within your local market: neighborhoods, school districts, and other types of communities:
Gated communities

Luxury home communities

Waterfront home communities

Etc
The targeted landing pages on these sites go beyond zip codes and cities. Furthermore, they integrate directly with your MLS through and IX website and update every couple minutes so there are no out of date listings.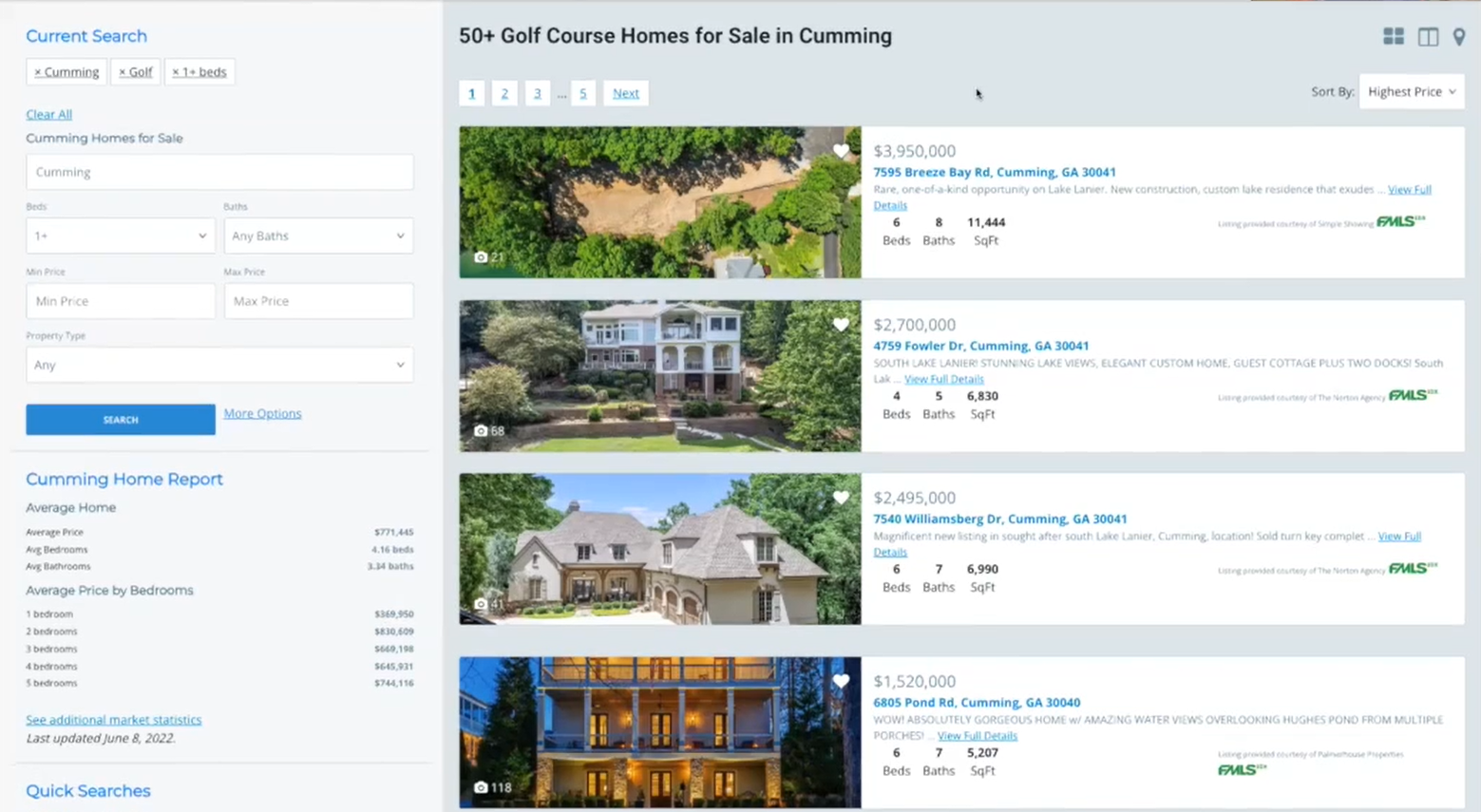 Example above of a targeted custom property search landing page. In this example, the landing page is targeted towards prospective buyers with a very targeted search of homes on golf courses in a specific city. See full site here.
The best sites have 20-25 landing pages for those specific geographic points of interest in your market that buyers are interested in.
By going beyond just city and zip code, you are targeting pages to the most educated homebuyers that have already driven around your market and identified where they want to live. This is a much higher quality type of lead.
Additional Resources:
There is more on best practices on what makes a great IDX consumer search website in our recent webinar "Accelerate the Lead-to-Close Cycle" here.
Expert Hyper-Local Real Estate Lead Generation on Google (and Facebook)
It's great to build these landing pages. The next question then is: how do you generate the right traffic to these pages?
We continue to observe that for the most part that people go to three main places when they start to look for homes online: Zillow, Reatlor,com, and Google. We still see that the lion share of these people start with a Google search.
The best teams are really good at intercepting active home searches on Google and driving them directly to their site. The idea here is to see what people are currently typing out right now to find homes in the desired market.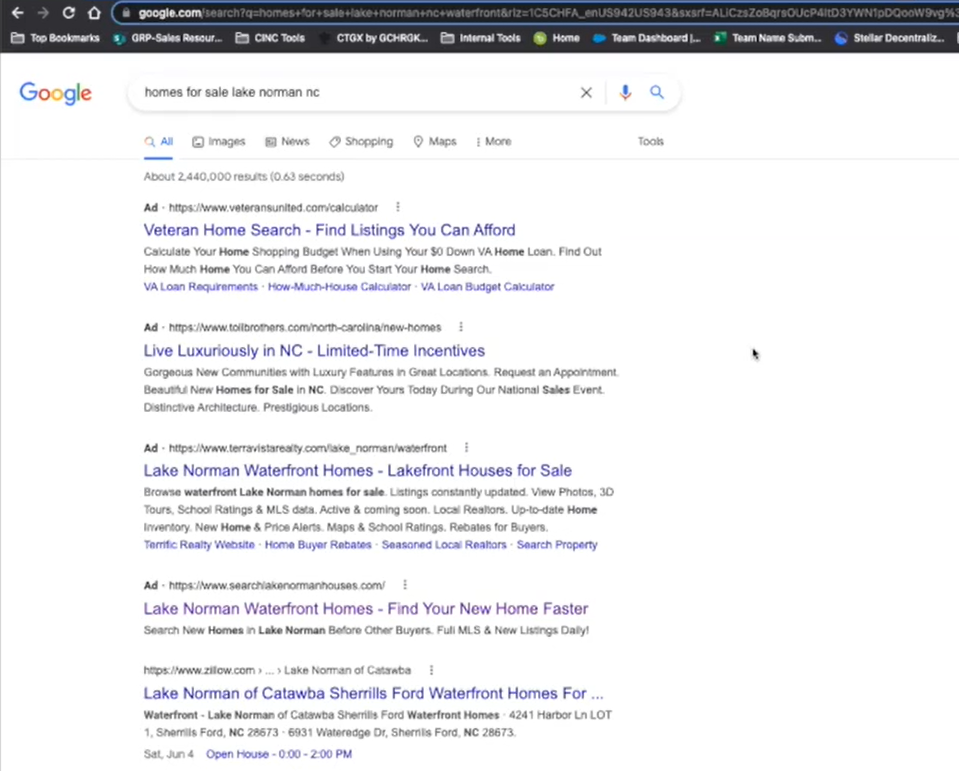 Example of a sample buyer home search on Google. Note that Google prioritizes paid search results over organic Zillow results.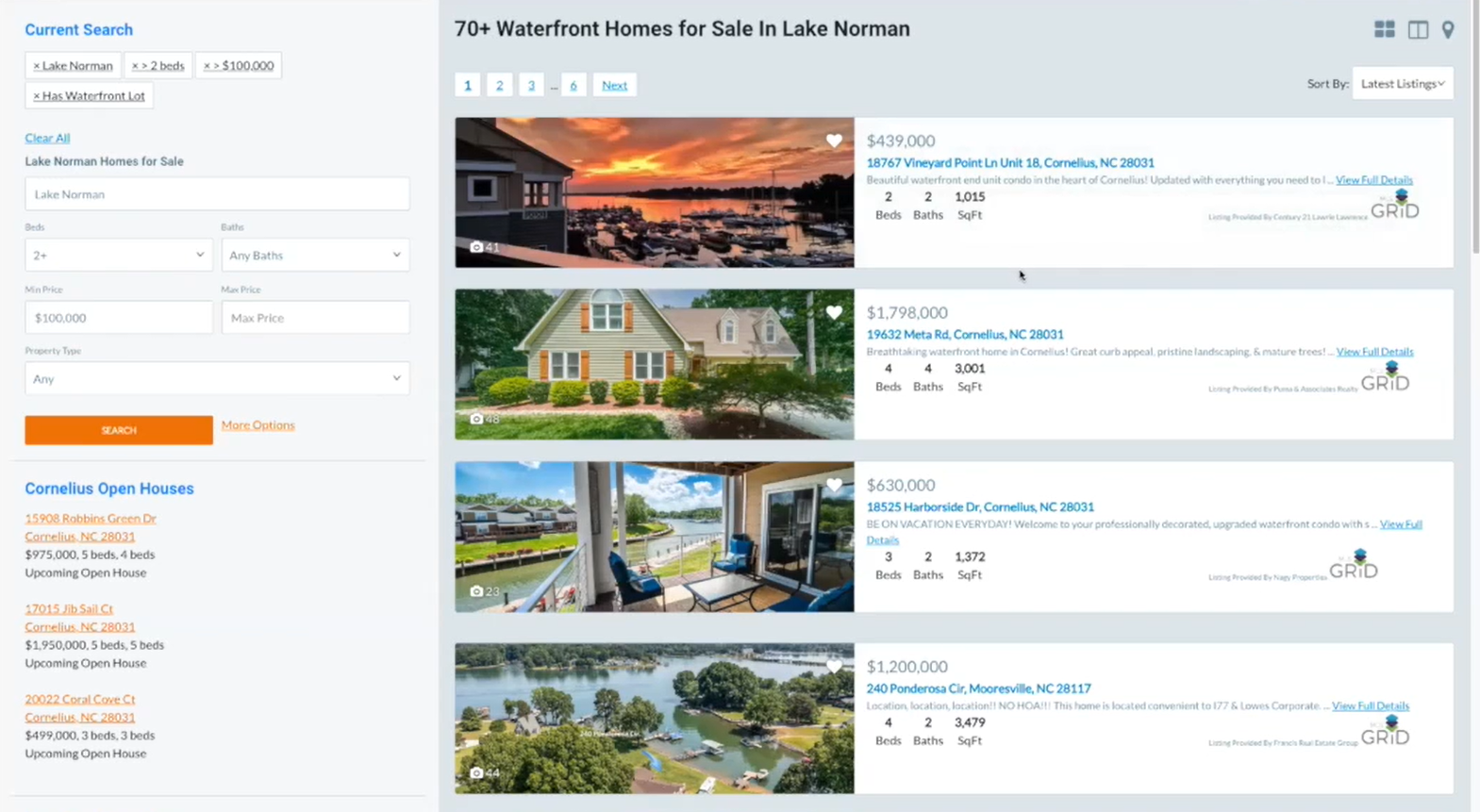 Example of a customized landing page tied to a Google Ad targeting geographic keyword of Lake Norman used in Google search above.
The idea here is to discover secret gold mines of hyperlocal leads. These areas may be in an agent or team's backyard but they might not even know they exist.
The data can often be surprising. Two seemingly similar nearby neighborhoods sometimes can produce very different results. Targeting one will fill pipelines with high intent leads. While the other might be a complete waste of money. Proper analysis on the front end will make all the difference when it comes to ROI and makes sure teams and agents are driving the right buyers and sellers to their sites.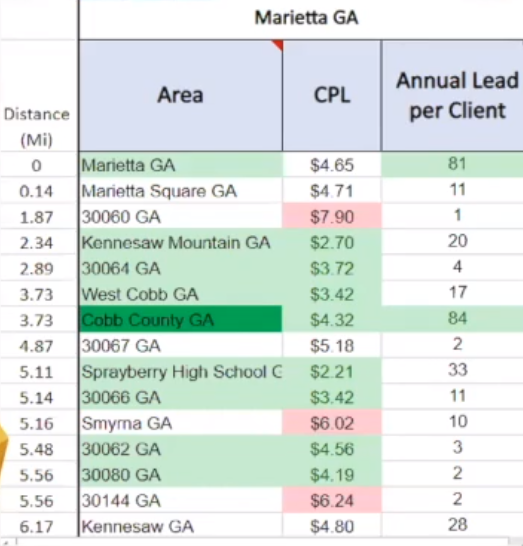 Example of Google Submarket Finder Tool for Real Estate Leads that top real estate teams use to find new local submarkets to target.
Once the buyer/seller makes it to one of these landing pages from Google, the job is not necessarily done. They are driven to a list of relevant homes based on their search query.
They typically want all the additional details of the pictures and other information on the relevant homes. The goal here is for them to find their dream home.
When they do that on the best performing real estate team sites, they go through a three step lead generation process. This filters out a lot of individuals. Typically, 85% of traffic is filtered out with the remaining 15% (the good stuff) going to the real estate team.
Not only does this help filter out the lower intent prospects, it also gathers critical contact information and details. The top teams know if the leads is a first time homebuyer, if they are pre-qualified, what their time frame to buy is, do they have a home for sale, and much more.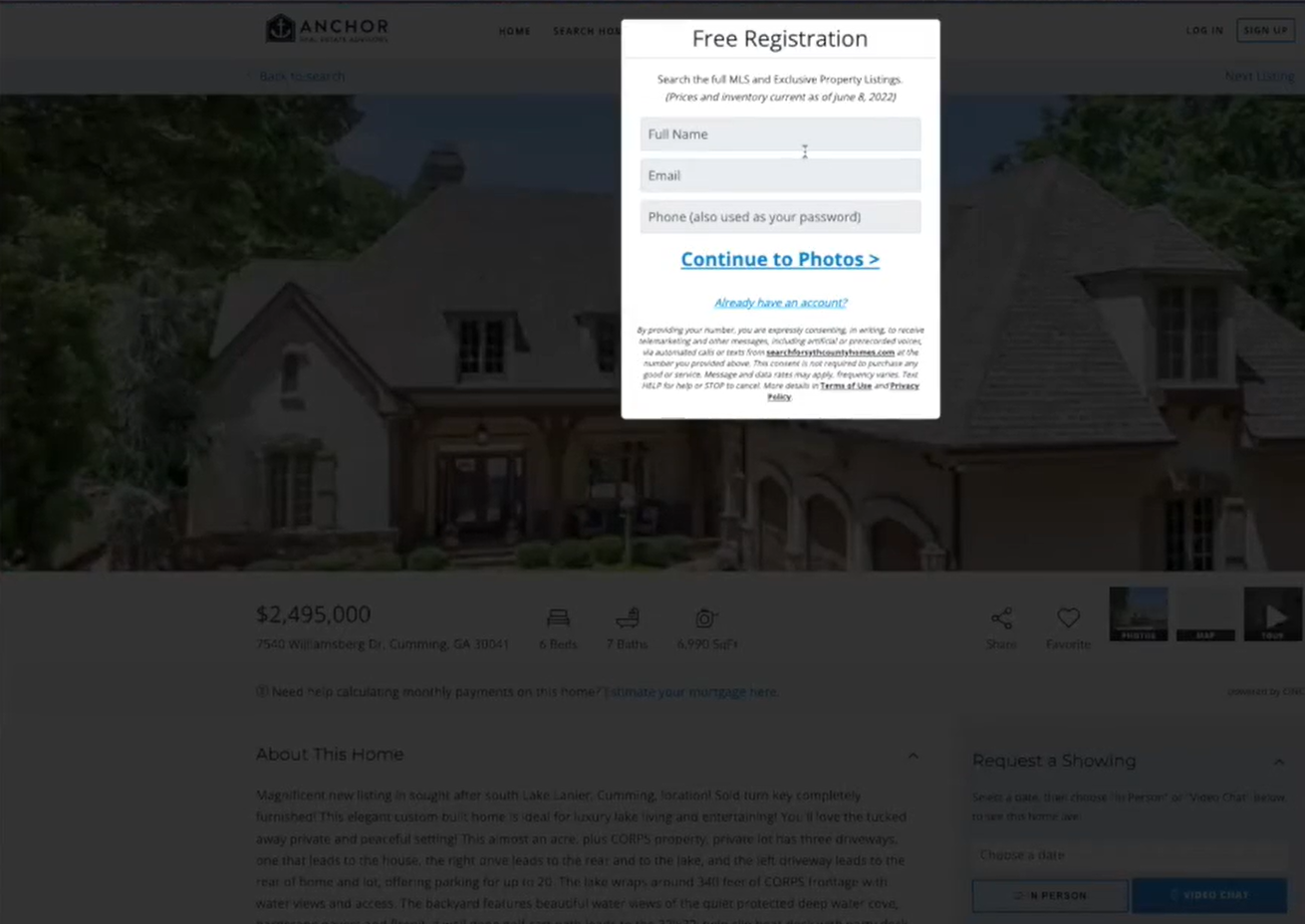 Example of form to convert a lead on an IDX consumer search website where a lead has expressed information in a property.
Doing all of this cost efficiently at scale is quite an undertaking for any one agent or even a decent sized team. The top teams and agents partner with the right third-party companies in order to take advantage of economies of scale and stay ahead of the curve of Google's never ending wave of updates.
As icing on the cake here, Facebook also becomes an incredibly powerful tool in augmenting both efforts on Google and leveraging an existing database. You can learn more about how the top real estate teams do so here.
Additional Google and Facebook Real Estate Lead Generation Resources:
-Google Ads for Real Estate Lead Generation | 2022 Guide
-You can find incredible, cost efficient new real estate lead opportunities in submarkets near you. Try our free Google targeting tool here to find hidden pockets of more cost effective hyper-local leads near you.
-Watch our on-demand lead gen webinar from July here where we discuss new trends for real estate teams and agents on Google Ads and Facebook Ads, including a deep dive on Google Local Service Ads (LSA's) for realtors.
-Q2 2022 Google Buyer Real Estate Lead Cost Report
-Q2 2022 Google Seller Real Estate Lead Cost Report
-Q2 2022 Google Real Estate Lead Value Index Report
Real Estate Lead Management Requirements: Identifying Database Potential of CRM
How do top teams and agents turn leads into commission dollars? They spend the right amount of time each day working the right leads at the right time.
In our experience, the best performing teams have their agents spending an hour a day on prospecting leads based on recent marketing/website activity and an hour a day following up on leads based on relevant past sales conversations. The teams and agents that do this the best have a sophisticated lead management system in place to prioritize the right leads to make the most of outreach activity in these categories on a daily basis.
Prioritizing Leads Based on Recent Marketing/Website Activity
When it comes to outreach to leads based on recent marketing and website activity, the best teams use systems that allow them to follow the following 5 step process for an hour on a daily basis. On a busy day, they may not get past the first few steps. On a lighter day they may work all the steps thoroughly. The key here is to have a way to easily prioritize.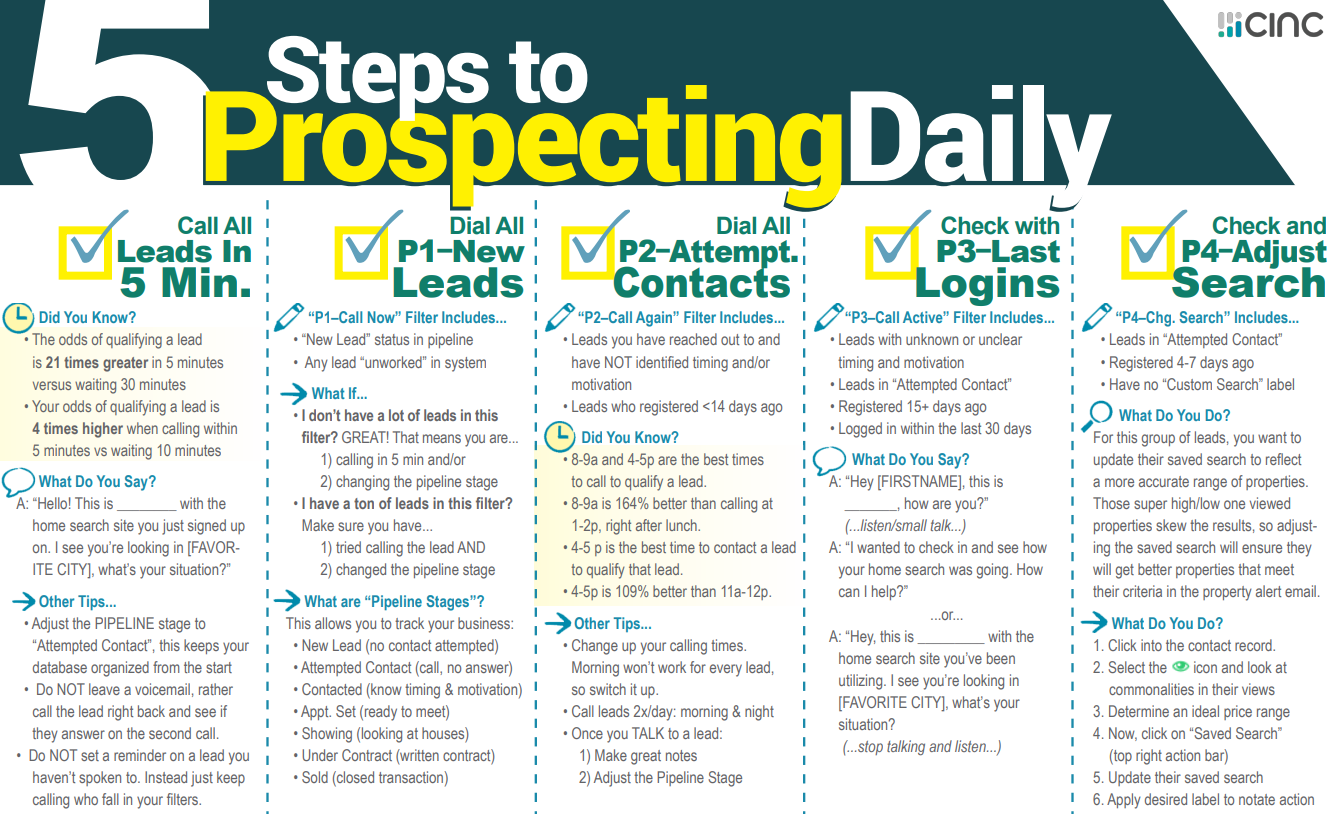 1. Call All New Leads in 5 Mins
It is absolutely critical that teams and agents have a system that has a way to alert agents of new leads to follow up with immediately. The odds of qualifying a lead is 21 times greater in 5 minutes versus waiting 30 minutes. Furthermore, the odds of qualifying a lead is 4 times higher when calling within 5 minutes versus waiting 10 minutes.
One of the best features for this is an automated call trigger that calls the assigned agent immediately upon the lead coming in. From there, all the agent has to is press a button on their phone which then triggers and immediate outbound call to that lead ensuring prompt speed-to-lead follow up. This feature is great for agents who are constantly on the go moving from appointments to showing to closings. Another feature that is great for teams is that if the assigned agent does not call the lead in the first 5 minutes the lead is re-routed to another agent ready to follow up sooner.
2. Clear All New Leads and Unworked Leads in System Out of Top Priority Queues
Any leads that can't be followed up in first 5 minutes (sometimes leads come in over night, everyone is busy, etc.) should then be prioritized. Being able to use statuses in lead management system of "New Lead" or marked "unworked" in system is enormously helpful here in prioritizing activity.
These are the pipeline stages we see the best performing teams use to manage prioritizing their leads:
New Lead (no contact attempted)

Attempted Contact (call, no answer)

Contacted (know timing & motivation)

Appt. Set (ready to meet)

Showing (looking at houses)

Under Contract (written contract)

Sold (closed transaction)
3. Dial All Recent Leads from Past 2 Weeks Without a Connection Yet
The next priority of leads that are focused on are ones that are in pipeline stage "Attempted Contact" (call, no answer) and registered as a lead within the past 14 days. It is important that the lead management system can filter leads by this marketing/website activity date of time since they became a lead. By being able to prioritize these leads in the system, agents have a better chance to connect with the lead while they are most interested by trying them multiple times instead of just giving up after the first call. It is crucial to have a system that can prioritize these leads so they don't fall through the cracks while they are still hot.
4. Call Older Leads That Have Recently Re-engaged on Your Website
Previously, we have discussed the importance of driving re-engagement with leads already in the database. The top teams and agents are all doing this. What really separates the most successful teams is they have a way to easily filter these older leads with recent website/marketing activity. The filter that we have seen work best for these teams is focusing on leads that are more than 15+ days olds but have logged or interacted with the team's/agent's website in the past month. The conversation rate on calls to these types of leads is so much higher than just randomly calling old leads in the database. Having a lead management database that can prioritize these makes a huge difference in making sure each agent is getting the most out of each dial.
5. Updating Database Information of New Unconnected Leads to Ensure They Receive Most Relevant Automation Workflows in the Future
While connecting with new leads as they come in the main priority, it is important to make sure unconnected leads are not wasted. The best way to do this is to make sure they are set up to receive the most customized automations for hyper-personalized nurture campaigns in the future. We'll go into more detail about property alerts. However, it is important to update their search perferences manually in the system for unconnected leads (based on their initial website activity) so they receive the most relevant property alerts for new properties that will be of most interest to them. That way agents are ensuring higher odds of the lead re-engaging when they are the first to present that future prospect with an update on the home of their dreams. As we have stressed throughout, the key is to have a system that combines both automations with the human touch. Making small manual changes (even when a lead is not connected with at the beginning) makes a huge impact down the road in augmenting the effectiveness of future automations.
Additional Resources:
-6 CRM Secrets of 190 Top-Performing Real Estate Teams
-Recent CINC Webinar for Realtors on "Who Do I Call Today? Prospect and Follow Up"
Prioritizing Leads Based on Relevant Sales Conversations
When it comes to outreach to leads based on relevant sales conversations, the best teams use systems that allow them to follow the following 7 step process for an hour on a daily basis. Similar to the prior section, on a busy day, they may not get past the first few steps. On a lighter day they may make it all the way through. As mentioned previously, it is all about prioritization.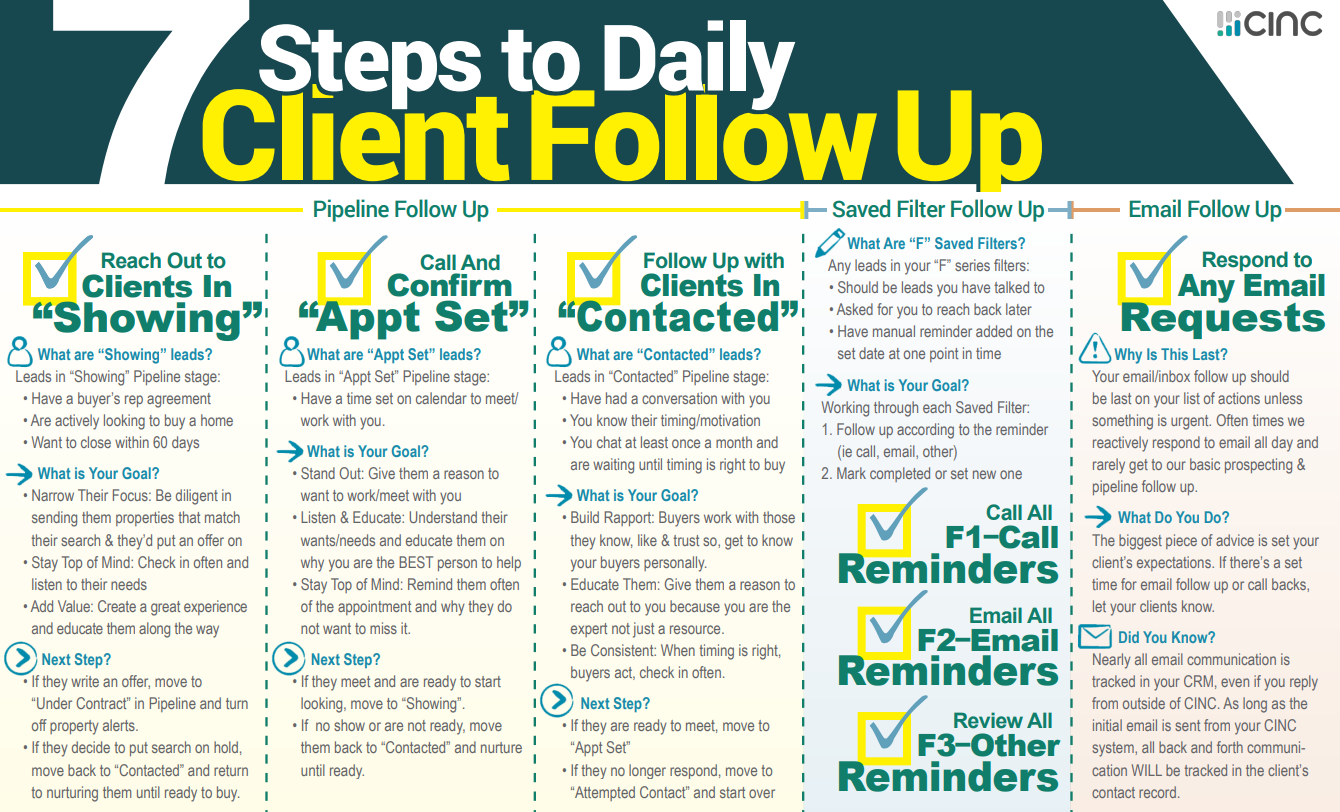 1. Reaching Out to Contacts in "Showing" Pipeline Stage
The top teams have way to categorize contacts in database as pipeline stage "Showing" when the lead has indicated any of the following in a live conversation with an agent:
Has a buyer's rep agreement
Is actively looking to buy a home
Wants to close within 60 days
Having the ability to filter these leads in their own separate category helps agents on top teams focus extra time on these leads to:
Be diligent in sending these contacts properties that match their search that they think they would put an offer on
Stay top of mind by checking in often and listening to their needs
Adding value by creating a world-class experience and educating them along the way
They key here is to also have a database that allows this stage to stay clean and updated. There needs to be a way to move the contacts in this stage to "Under Contract" in pipeline so turn property alerts are turned off (which obviously not make sense in that scenario).
Also, if the contact in this pipeline stage decides to put their search on hold, it is important to be able to easily move them to pipeline stage "Contacted" so they are de-prioritized in short-term but still are nurtured over long-term until they are ready to buy.
2. Calling and Confirming Contacts in "Appointment Set" Pipeline Stage
It is also important to have the ability to categorize contacts in "Appt Set" pipeline stage when they have a time set on an agent's calendar to meet/work with that agent.
This is critical because it is crucial that agents have a way to prioritized leads with existing meetings on the books over other agents they have connected with in past.
Being able to do so, enables top agents to spend extra time to:
Stand out by giving them a reason to want to meet and work with an agent
Understand their wants and needs to educate them on why that agent is the best person to help
Stay top of mind to remind them often of the appointment and why they do not want to miss it
If the meeting then ends up happening and the contact is ready to start looking, the lead should moved up to "Showing" so they are moved up to a higher priority.
If the lead ends up no showing or they are not ready, they should then be moved back to "Contacted" so they are de-prioritized and nurtured until they are ready.
3. Follow Up With Contacts in "Contacted"
Here it is important that there is a system that has an easy way to put leads in "Contacted" pipeline stage when either of the following have happened:
They have had a conversation with an agent
The agent knows their timing and/or motivation
The agent and the contact are chatting at least once a month and are waiting until timing is right to buy
The goal here is to allow agents to focus their limited time on:
Building rapport because buyers and sellers work with those they know, like, and trust (NOTE: the key here is getting to know the buyer and/or seller personally)
Educating the contact to give them a reason to reach to the agent because that agent has demonstrated themselves as the expert not just a resource
Being consistent in checking in often because when the timing is right, buyers and sellers act quickly
The next step for these leads is to either:
Move them to "Appt Set" pipeline stage if they are ready to meet so they are given more focuse
Move them to "Attempted Contact" pipeline stage if they no longer respond so they are de-prioritized to start over in the future
4,5, & 6. Following Up on Call, Email, & Other Reminders
Outside of prioritized lead stages based on marketing/website activity and/or relevant sales conversations, the top teams leverage their lead management systems to prioritize other leads in their systems that need follow up at specific time. It is helpful to be able to categorize these follow ups as either "Call Today", "Email Today", or "Do Today" (for other non-call/email follow ups needed).
These reminders are for leads where:
The agent has spoken to the buyer or seller before
The buyer or seller has asked the agent to reach back out in a specified time period
The agent has put a manual reminder in the lead management system on the set date at one point in time
It is important to keep these reminders fresh and up-to-date. As such it is important that it is easy for an agent to be able to quickly follow up according to the reminder and then have the ability to mark completed and/or set a new reminder if further follow up at a set date is warranted.
7. Responding to Any Email Requests
Often times, agents find it curious why we recommend following up with these last in the priority order.
Our experience is that the average agent reactively responds to email all day and rarely gets to their basic prospecting and pipeline follow up. We find that the best performing teams leave email/inbox follow up last on their list of actions (unless there is something urgent).
In order for this to be effective, the top teams set the expectations of their buyers and sellers of a set time frame for email follow or call backs.
Furthermore, for the email/inbox follow up here, it is important that this email communication is tracked in the CRM even if the reply is outside of the lead management system. The top teams leverage best-in-class technology to automate the storage of email communication with each lead regardless of where the email happens.
Additional Resources:
-A recent talk from CINC client and team leader of KW's top Michigan team, Jeff Glover, on "How to Use Your Database to Go From 100 to 400 Transactions"
-Geoff Adams, a consistent Top 1% performer of Realty One Group agents and CINC client, recent sat down to talk with us about "The Top 5 Money Makers in Your Database".
Real Estate Lead Automation Requirements: Nurturing Leads Into Clients
Leads come in at all different stages. There will be some that come in that ready to buy immediately. Many others will need to be nurtured. As top teams and agents pursue a higher volume strategy to better diversify their pipeline and to increase their opportunities and at-bats for success, it becomes much hard to manually follow up with all these leads on a continuous basis to get them ready. There just are not enough hours in a day to do so. This where automation becomes critical.
The top-performing teams have systems in place that take certain lead nurture steps off an indvidual agent's plate and replace them with automation. These are the top 4 activities that best teams stop doing manually by augmenting their efforts with automation:
Customized Property Alerts to Drive Leads Back to Your IDX Consumer Search Website
The best way top teams and agents stay front in center via automation is by leveraging technology that creates property alerts via email based off of properties the lead has taken interest in on an agent's site based off of:
Price point
What part of town they are looking in
Bedrooms and bathrooms
Square footage
And other specific features like screened in porch, master on main, pool, etc.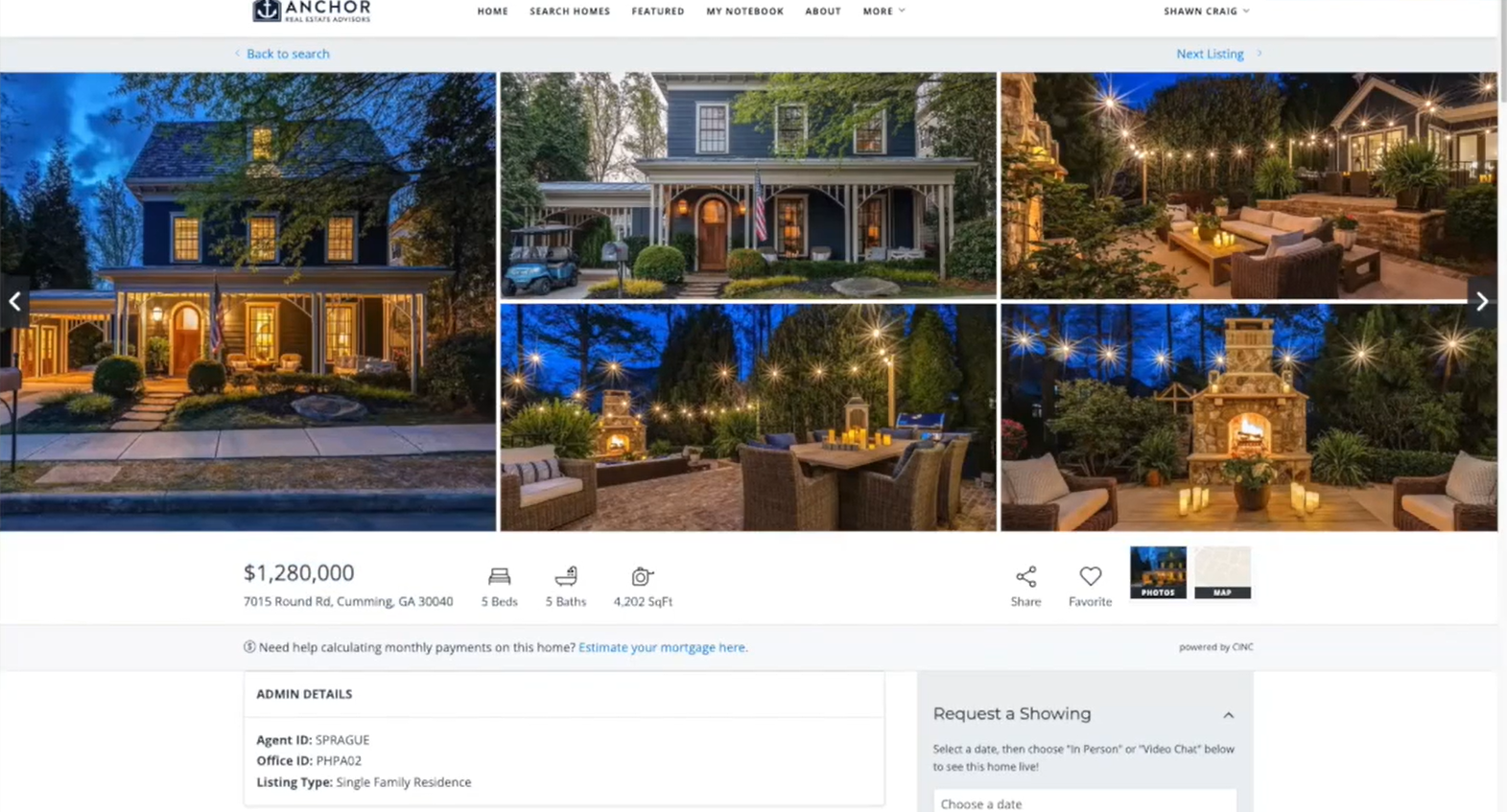 Example above of a listing on a home search site of CINC client in Georgia that uses automated technology to to send property alerts based on lead property search behavior.
Based on engagement, it will start hitting them as frequently as daily depending on behavior and types of homes they are interested in.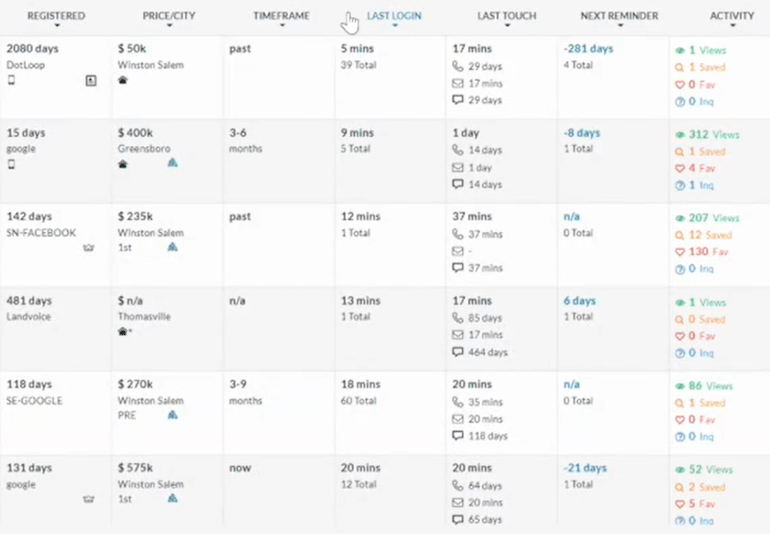 Example above of a old leads being re-engaged through property alerts by a CINC client in North Carolina. Note the frequent differences of 100+ days between registered dats (when the buyer/seller first became a lead) and when they last logged in (when they re-engaged on team/agent site with properties) demonstrating the value of automated nurturing via property alerts.
The best systems also do all of this based on timing as well. This is very critical. These systems identify what times individual leads open emails. It will settle on a specific time custom to each lead enabling the system to deliver these alerts at the most opportune time when a lead is actually opening up their emails. The system also need to be smart enough to determine whether they typically use their desktop or mobile device when they're opening email and optimize accordingly. When teams and agents get this right, it is not uncommon for us to see top-performing teams with average property alert open rates north of 75%.

Example above of an individual old leads being re-engaged through property alerts by a CINC client . Note an email open rate above 75% and peak email usage of 12pm (behavioral technology learning when individuals is most likely to open an email) and common device of desktop (behavioral technology learning they typically open emails on desktop).
It is also important that the platform is able to do this for all different types of lead sources from sphere to Google Ads to Facebook to Zillow and on and on (in cases where lead is from an offline source, the agent needs to manually update search criteria in the system for the lead).
Additional Resources:
-There is more on best practices when it comes to property alerts in our recent webinar "Accelerate the Lead-to-Close Cycle" here.
-There is also a great breakdown of how top realtors are using property alerts in this recent video from CINC training team on "Levels of Automation".
Professionally Designed Automated Drip Email/Text Campaigns for Real Estate Buyer and Seller Leads
When it comes to nurturing, the best teams and agents leverage systems with professionally built by top-performing real estate peers targeted specifically to buyer leads, seller leads, past clients, sphere of influence, referrals, and more. They do not try to recreate the wheel by leveraging best practices of peers. They leverage the ability of automation to augment their efforts. Finally, the understand that targeting email/text campaign follow up by persona makes all the difference in effectiveness.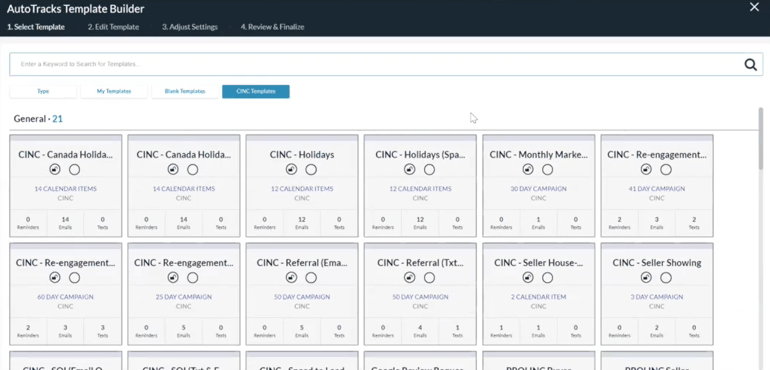 These campaigns are typically triggered based on a lead status or a label in a lead management system. The lead might be responding to something which can trigger enrollment. They key here is to remove as much manual work. The best part is these campaigns are already professionally created so agents do not have to go through trial and error that top teams have already gone through to find the best campaigns that work.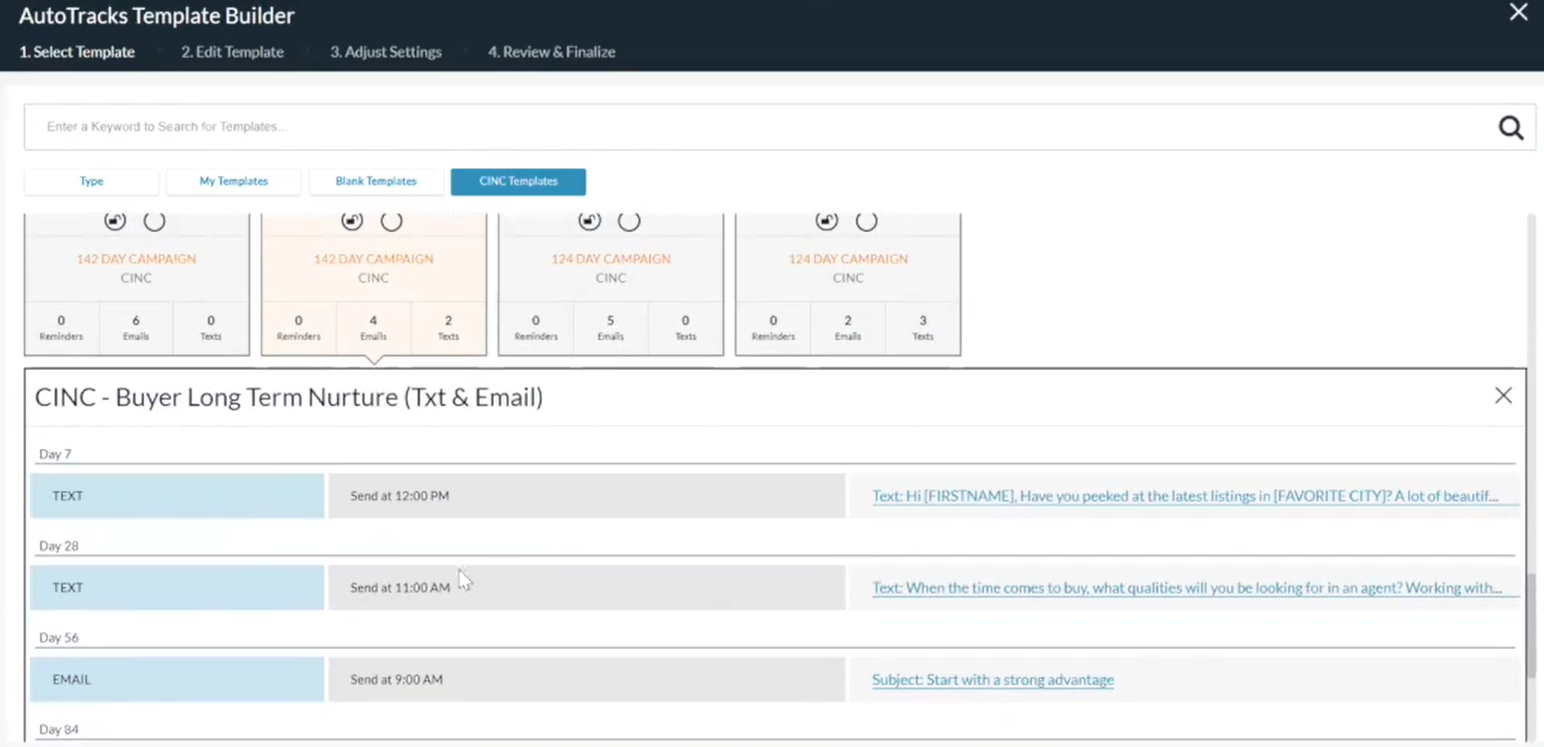 For teams, all agents that are brought in, do not have to start from scratch. They are given a playbook from beginning for success. The best systems also update these campaigns as buyer behavior, seller behavior, referral behavior, etc. changes in the market which helps accelerate learning curves for teams and agents that leverage top automation systems. At the same time, these systems also provide flexibility to customize and build from scratch campaigns to also fit their unique needs so they get the best of both worlds.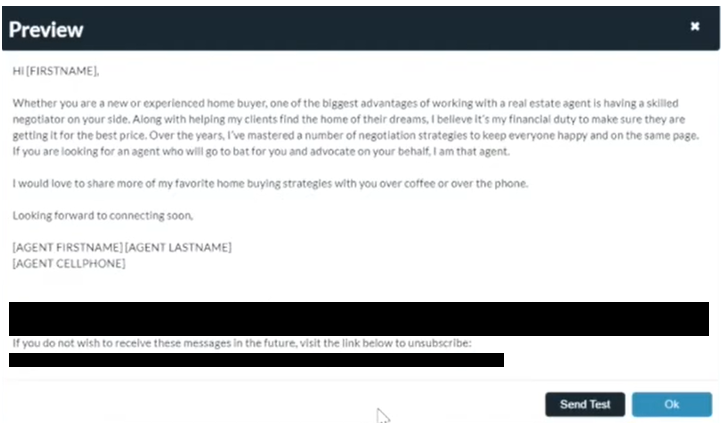 The beauty is that these email and text campaigns are full of dynamically generated fields that are auto-populated. That way all communication is hyper-personalized to the lead. All of the communication also flashes the individual agent's beautiful head shot. the relevant team/agent's logo, and all about the agent. It all goes back to the main point of keeping the agent top of mind so that when the buyer or seller is ready to move they know who to reach out to.
Additional Resources:
-There is more on best practices when it comes to drip email and text campaigns for nurturing real estate leads, particularly buyer leads in our recent blog post "How Can I Easily Nurture My Real Estate Leads?".
-There is more on specifically nurturing real estate seller leads in our recent blog post on "Real Estate Seller Lead Nurturing".
-On the advanced front, here is a recent blog post ("4 Ways for Realtors to Collect New Google Reviews Using Automated Drip Campaigns") on how you can leverage drip nurturing campaigns to drive more Google Reviews (which is becoming more and more important).
-Here is a deep dive from CINC on current practical ways realtors are successfully implements email/text drip campaigns: full video here.
Behavioral Text & Email Messaging
Behavioral text and email messaging is game changer. The best teams leverage technology that allows them to identify certain behaviors that show leads are interested. These are activities they never want to miss:
Lead submits a property inquiry
Lead views the same property 3 times within 5 days
Lead in the sold pipeline returns to site after a year or more
Lead hasn't logged in for 30 days and then logs back in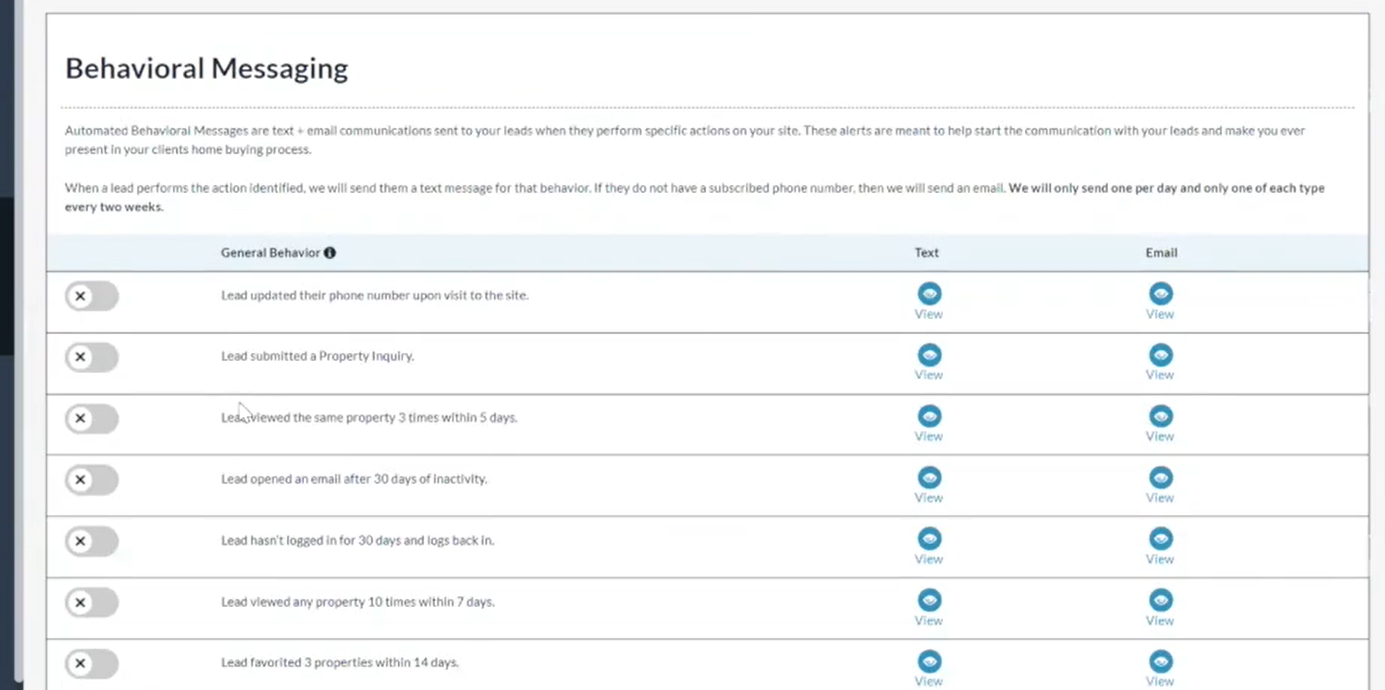 Often times these are opportunities to start a conversation with a lead where an agent has not been able to in the past. When one of these behaviors is triggered it can often be difficult for an agent to stay on top of the lead when the agent might be out selling properties, on vacation, spending time with family. Work and personal life get busy.
The good news is that the technology sees the behavior and sends a customized text and/or email giving the agent piece of mind knowing they are not letting leads fall through the cracks when they get busy.

Example above of a personalized behavioral text message sent when a lead submits a property inquiry on a CINC client site. Note that both lead info and agent info is dynamically generated to ensure the highest level of personalization.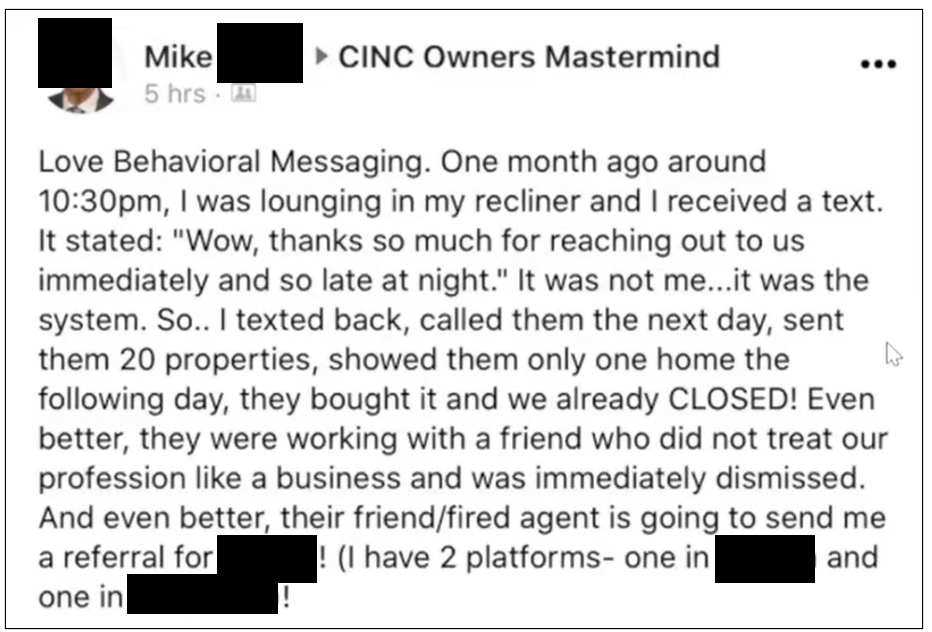 Example above of a Facebook testimonial from a broker CINC client who was able to start a conversation with a lead they had never spoken to before at 1030pm at night while he was lounging on his recliner. The broker showed the lead one house less than 48 hours later. That one showing resulted in a closed transaction and a referral.
Additional Resources:
-Here is a recent webinar from the CINC team on best practices of how top-performing teams are using behavioral messaging: full video here.
-Here is a training video from White Picket Realty, a CINC real estate team client in Houston, on how they successfully use behavioral messaging: full video here.
AI Sales Assistant Technology for Realtors
The job of AI sales assistant texting technology is to drive more at bats for agents while they are busy on the go. This technology goes even further than behavioral messaging in that the technology drives automated 2 way back and forth conversation (where behavioral messaging cannot engage in back and forth communication).
While an agent is out selling property or at a child's soccer game, the AI assistant is actively engaging in back-and-forth conversation without the agent doing a thing.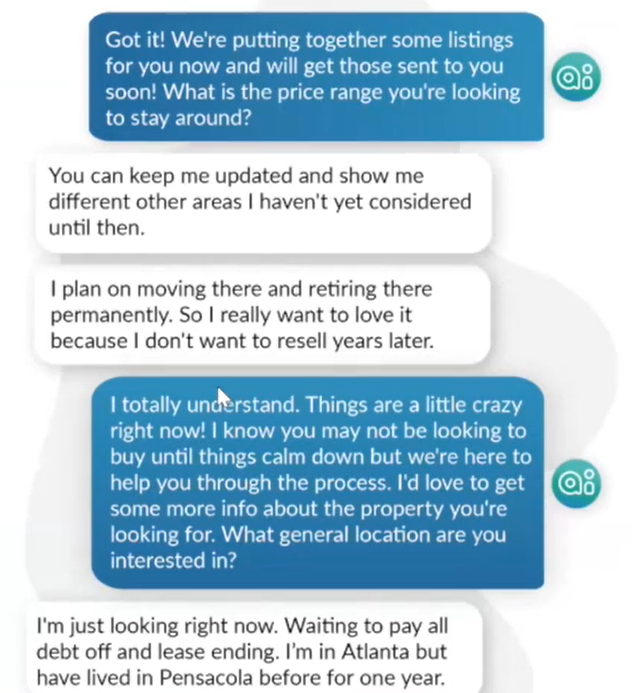 Example above of how CINC AI sales texting assistant engages in two-way conversations with leads.
As mentioned previously, the first agent a buyer or seller lead talks to is going to win the majority of the time. The AI assistant technology is just another way top teams and agents are engaging in active conversations with leads faster than their peers (including in the middle of the night and when they are on vacation).
The best AI assistants have created thousands of professional written that are constantly updated by real-time learnings based on scripts that are working for top peers across the country. By tapping into the power of continuously learning artificial intelligence, the top teams have been gaining a huge leg up on the competition in terms of getting to leads quicker than their peers and engaging in deep conversation sooner.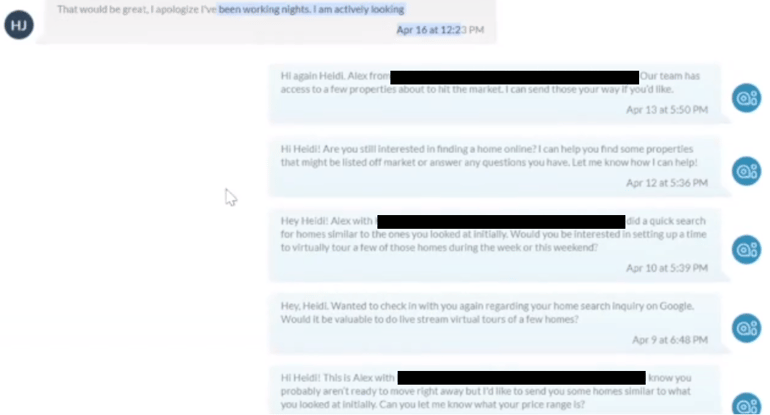 Example above of a CINC AI conversation where AI persists through 5 unreturned text messages to start a conversation with an active buyer over a week after first reaching out.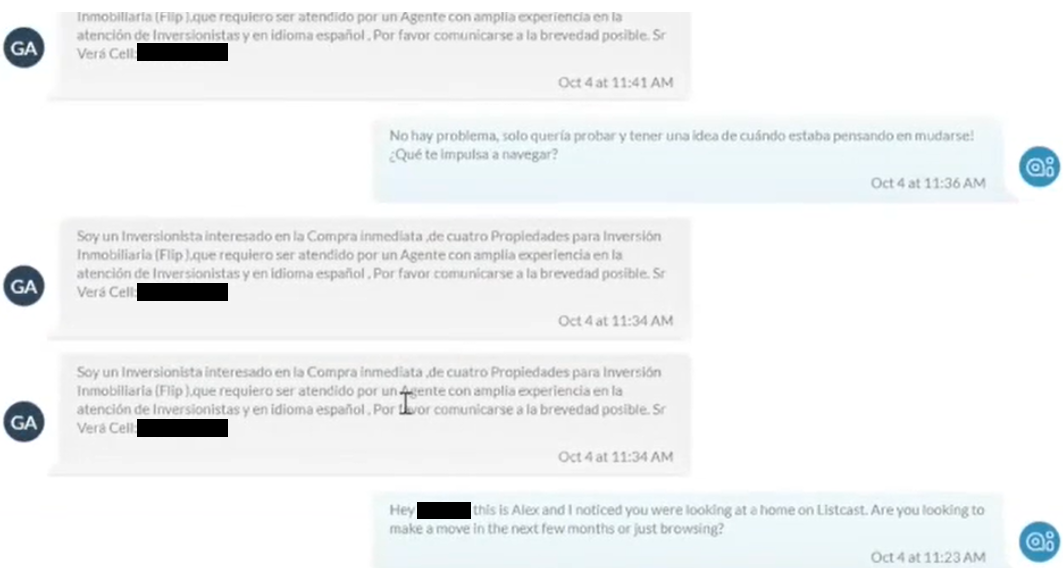 Example above of a CINC AI conversation where AI switches to texting in Spanish from English when the lead starts texting in English.
Example above of a CINC AI testimonial from a client who was able to work with an executive buying a $2 million home.
Additional Resources:
-Webinar on "How CINC AI Improves Scalable Lead Follow Up"
-Here is a recent article on Iman on "5 questions to ask when selecting an AI sales assistant".
-Here is a training video from CINC on sales assistant AI best practices for top real estate teams: full video here.
All-in-One Real Estate Platform Requirements: Converting to Close
Tightly Integrated Process & Technology Solution From Lead to Close
We have observed that the top-performing agents in the market a few years ago realized that they were wasting way too much time with highly fragmented processes and structures that did not work well together.
They got tired of a third party website not talking to third party lead generation which did not communicate with the CRM which didn't talk to any mobile apps. Teams and high volume agents could not efficiently scale in that environment with limited resources, support, and training.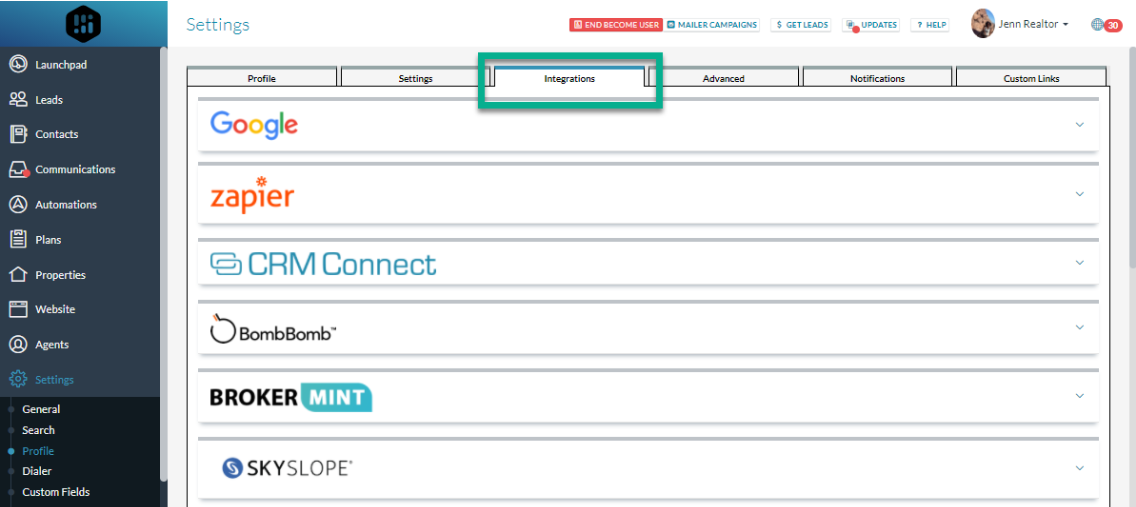 Examples above are other real estate lead generation, management, and technology platforms CINC integrates with so top teams and agents have one all-in-one platform they run their business out of.
The holy grail for them was to connect their lead generation, management, and automation solutions into cohesive overarching solution that could scale as the team or individual grew. The website has to understand how leads are driven. Then it has to tightly connect into the lead nurturing strategy and process. And it all needs to be baked into mobility and automation first because the best teams and agents are busy and always on the go.
Teams and agents have found that building a complicated mousetrap with disparate systems to find leads, keep them coming back, and closing them just turns into a giant headache and takes away from what they do best, helping individuals buy and sell homes.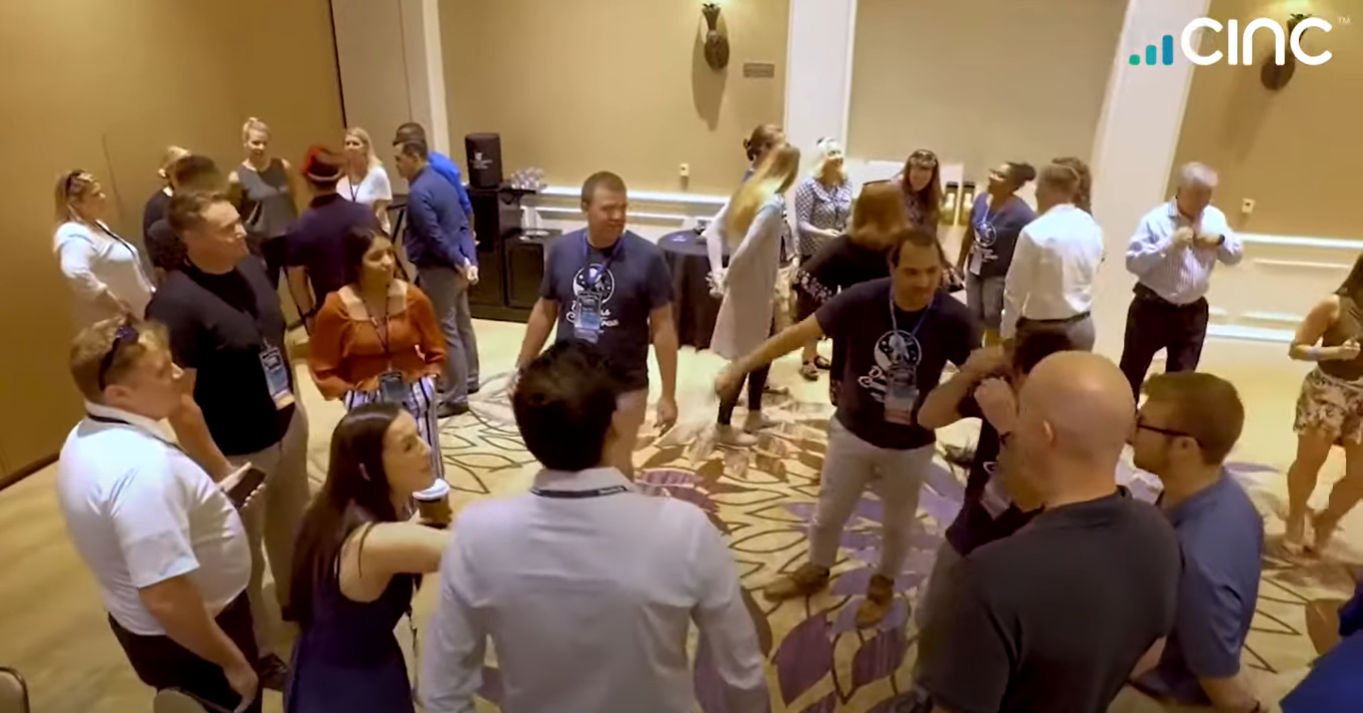 Example of a CINC training event where clients are receiving support on building the best process and technology solution for their businesses.
The top teams in the past few years have ditched the Frankenstein approach of trying to bolt on different tech solutions that don't really fit. As they've found integrated all-in-one real estate technology platforms, they have completely changed the growth trajectory of their business and been able to scale in a way that their peers cannot come close to.
Additional Resources:
-Here is a link to CINC Academy which is a comprehensive guide on how to best use an integrated all-in-one real estate platform.
-Here is a link to CINC's Community Team YouTube page which is full of in-depth webinars on best practices related to process in using an all-in-one real estate platform.
Best-In-Class Human Touch with Buyer and Seller Leads
Technology and process is vitally important. However, the only consistently high performing teams and agents we see are the ones who truly ace the human component.
Personal conversations still make all the difference. One, people actually need to pick up the phone and get out in the field. And two, agents need to be able to engaged in deep and meaningful conversations with buyers and sellers.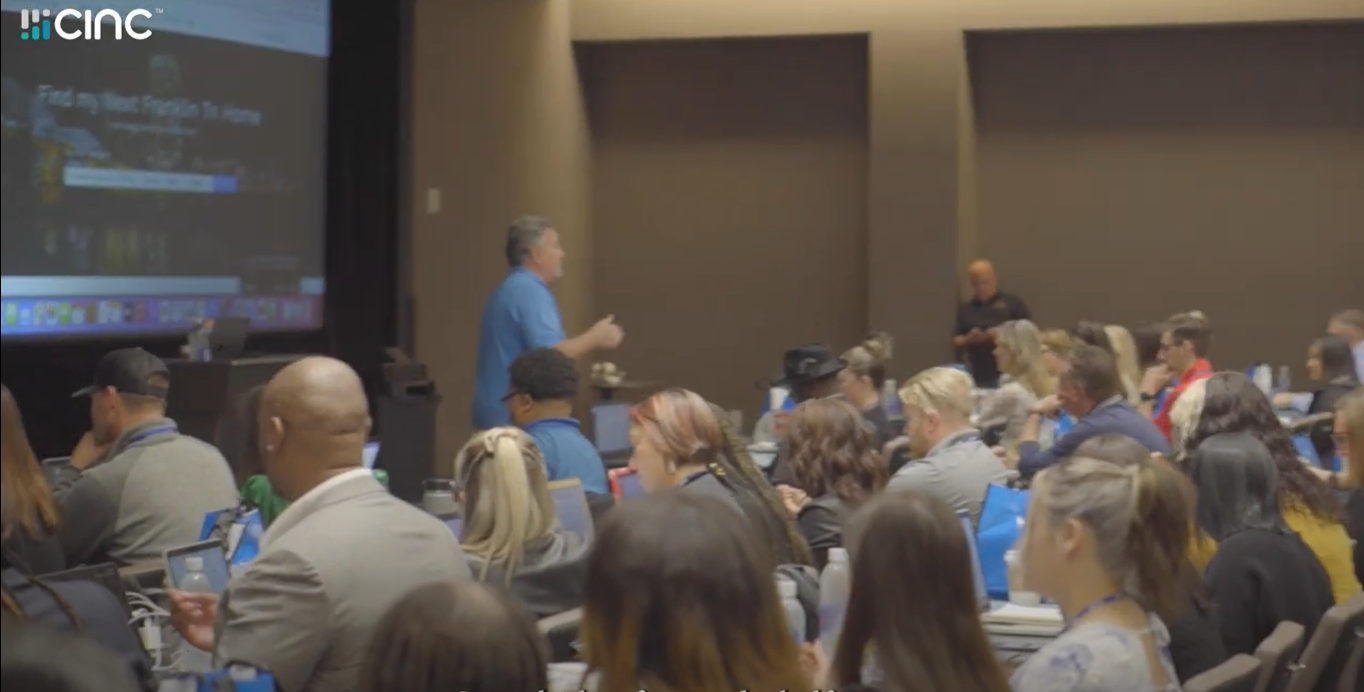 Example of a CINC University training event where agents and teams are learning best practices from top sales trainers.
The secret to the top-performing teams is that they don't try to figure out how to excel at selling on their own.
They engage with best-in-class sales trainers who have produced results out in the field as an individual agent. In particular, they are engaging with trainers who have developed a specific expertise for approaching online leads. Dealing with a high volume of online leads and moving them to meaningful conversations is very different than just dealing with sphere or referral sourced leads. They don't try to recreate the wheel from scratch they learn from a pro.
The second thing we consistently see the top performing teams do is they join up with a tribe of other top agents and peers from other markets who also walking down the high volume lead generation path. They frequently engage with them in-person on an annual basis. In addition, they stay in touch with these communities throughout the year via virtual groups online. It's important they don't walk the path online and can learn quicker through the group than having to learn the hard way all on their own.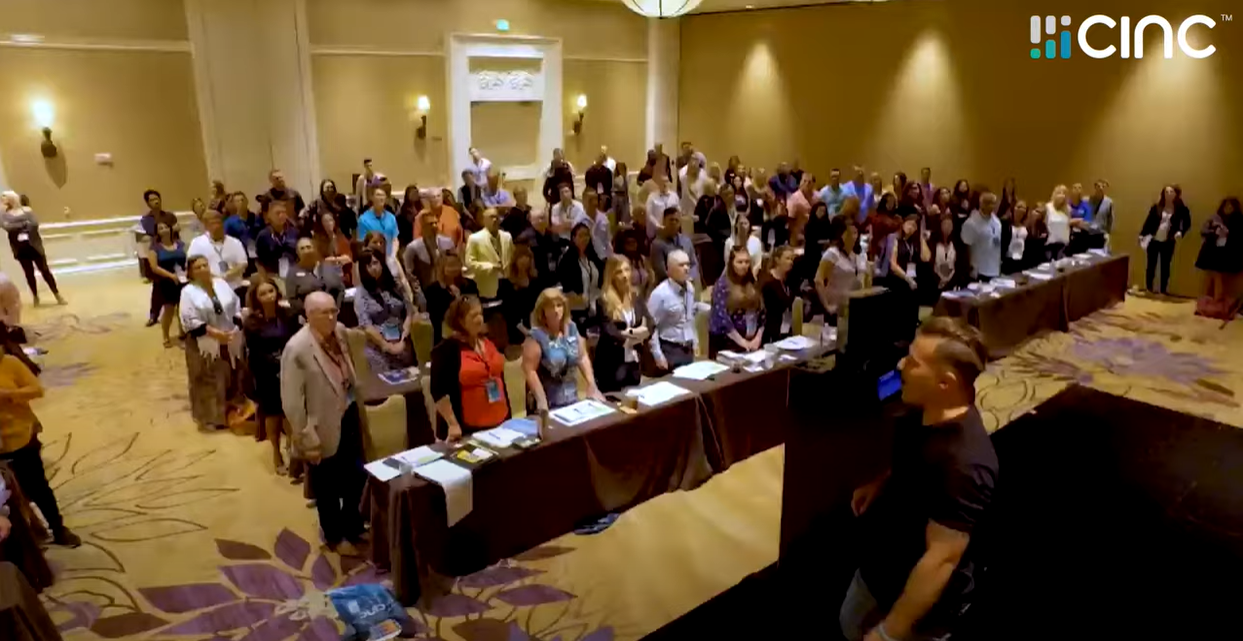 Example of a CINC Summit training event where top teams and agents are learning from other top-performing peers in other markets.
Additional Resources:
-Here is a link to an overview and video of a webinar where our training discussed best practices that lead real estate teams to see a 33% appointment conversion rate with this opening line.
-Here is a link to CINC's Community Team YouTube page which is full of in-depth webinars on best practices related to process in using an all-in-one real estate platform.
More High Growth Real Estate Lead Generation Success Stories for further reading:
-"How #1 KW Team in FL Built Business on an All-In-One Real Estate Lead Generation Platform"
-"From 0 to 30 Sold Homes in Year 1"
-"How I Grew from 6 Agents to 170 in 4 Years"
-"Seller Secrets of an A&E Reality TV Host Running Maryland's #1 KW Team"
-"Ditching Corporate Rat Race to Start a Successful Real Estate Business"
Ready to take your business to the next level?
Join the thousands of people making the switch to CINC today.
Originally posted on
August 18, 2022
and last edited on
May 4, 2023