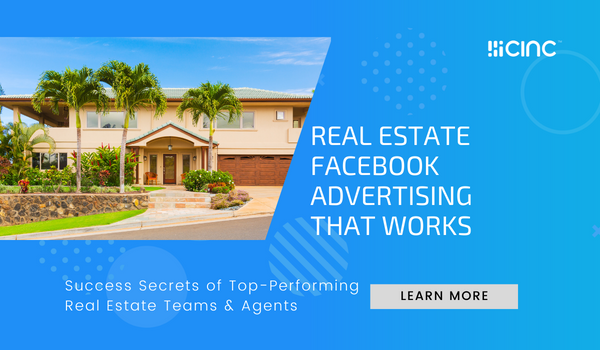 Facebook & Instagram Advertising for Real Estate Teams & Agents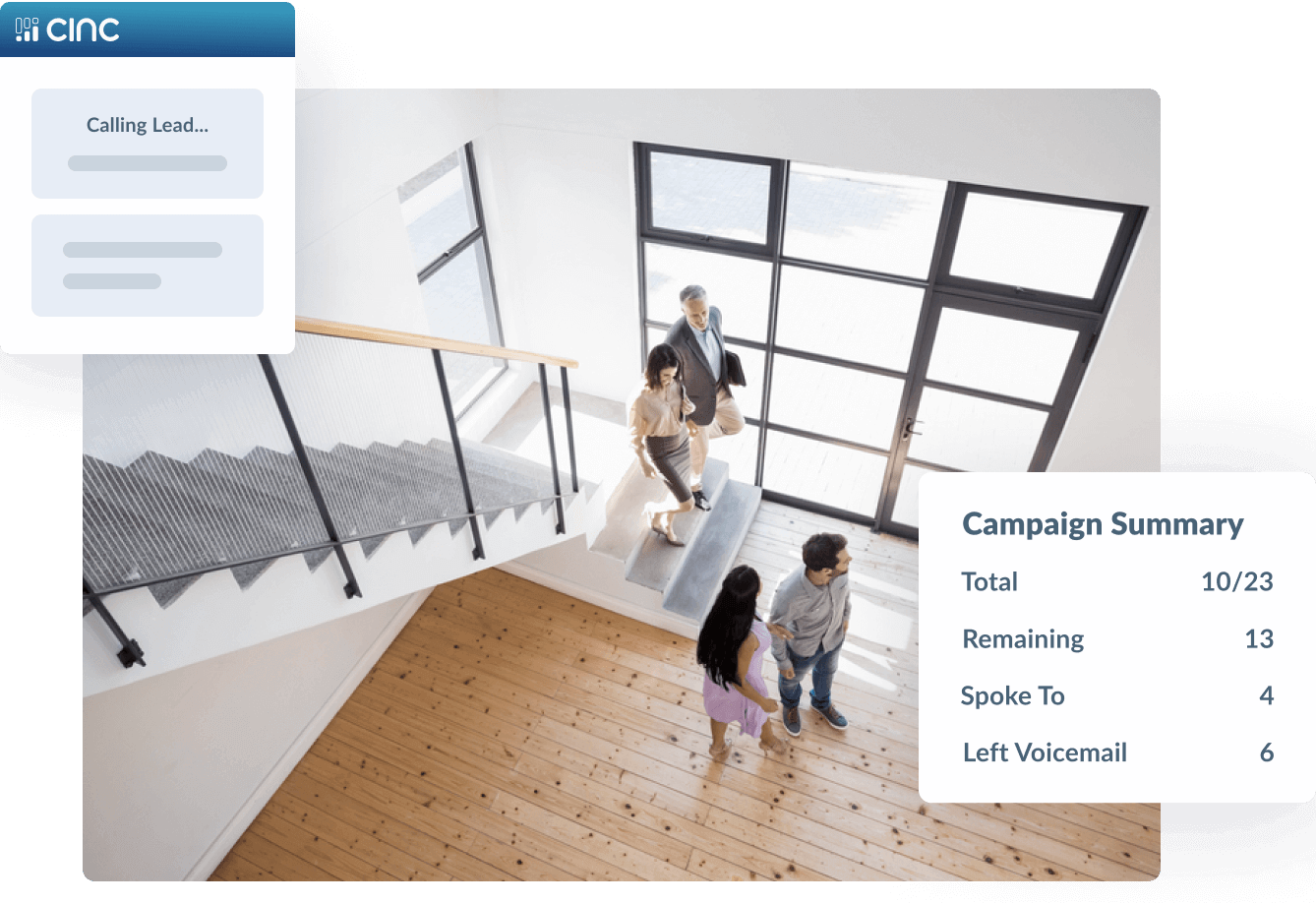 CINC has been the American leader in online real estate lead generation for more than 10 years. We are a Meta/Facebook Business Partner in addition to our leadership in real estate in other online channels. Over the years, we've generated more than 30 million leads for our clients - an amount larger than the population of Texas. Our ads have been seen more than 5 billion times and our sites have been visited more than 200 million times.
Over that period, our performance has improved dramatically and our lead price has steadily lowered. The standard buyer cost per lead is less than half of what it was when we started.
How has CINC been able to help real estate teams and agents dramatically improve their lead generation performance on Facebook & Instagram?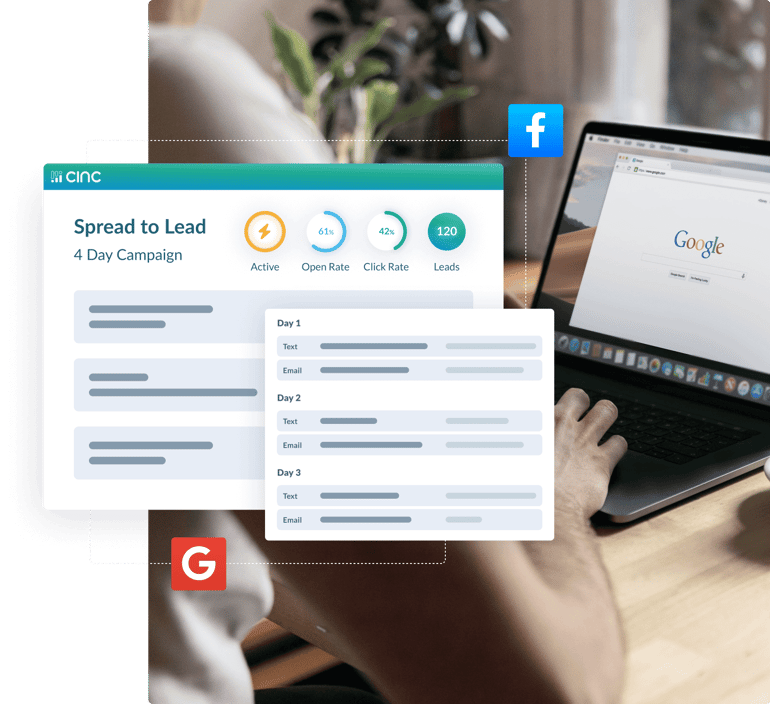 We've invested millions of dollars in building the best-in-class lead generation and conversion technology platform which is optimized to generating high quality leads at the lowest cost on Facebook and Instagram.
Unlike other providers who offer a do-it-yourself solution on Facebook, we've assembled the most experienced team in online Facebook real estate lead generation who are skilled in improving performance at an individual account and portfolio-wide scale.
Success breeds success. Because of our industry-leading client portfolio, we've assembled the most data in real estate lead generation on Facebook and Instagram and have been able to use that to continually refine our process, and generate more and better leads.
Want the best real estate leads from Facebook and Instagram?
Request a demo to learn how our all-in-one real estate lead generation and conversion platform connects teams and agents with serious home buyers and sellers on Facebook.
Paid Social Advertising with Facebook and Instagram for Real Estate Lead Generation
Social media advertising - mostly Facebook & Instagram - is a cornerstone lead type. We generally recommend clients start with a combination of multiple ad types, diversifying the lead flow.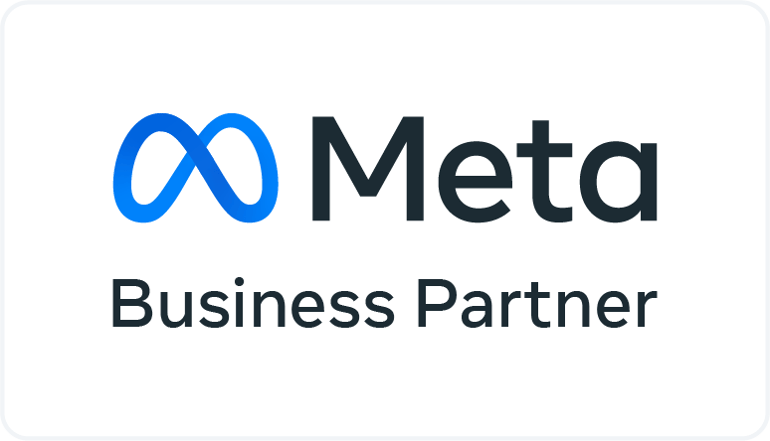 Leads from social media typically have a lower cost per lead than search leads - giving your pipeline a boost. The quality of the data is also superior to search because the registration data is pulled directly from the home seeker's social media profile, so it is almost 100% accurate.
CINC also recommends social media as the primary method to promote your listings.
We can advertise specific properties that you have listed from your branded Facebook Business Page (promoting your brand and your listing to interested home seekers in your area at the same time).
Facebook allows us to create advertisements in non-English languages and target the ads to speakers of those languages.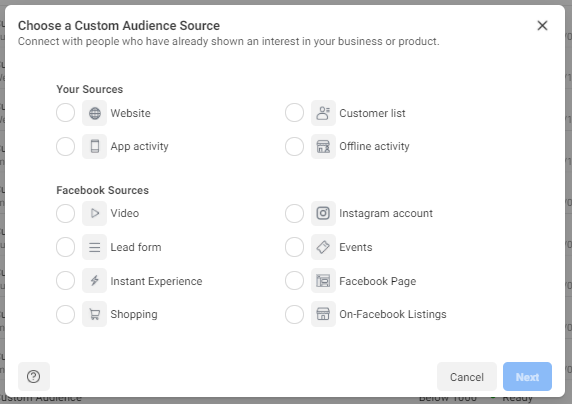 Additional Facebook & Instagram Display Advertising for Real Estate Lead Generation
The best, and lowest cost, source for new leads, CINC's proprietary, AI-enabled ListCast is an exclusive advertising option that takes property alerts to the next level.

ListCast dynamically creates and displays custom, hyper-targeted home search property ads to your current leads, your old leads, and site visitors who are not-yet leads based on their individual home search history – bringing leads who visit your site but don't register back and re-energizing old leads with ultra-relevant property ads based on that lead's specific search.

The ads are shown on both Facebook and Instagram in addition to other online channels.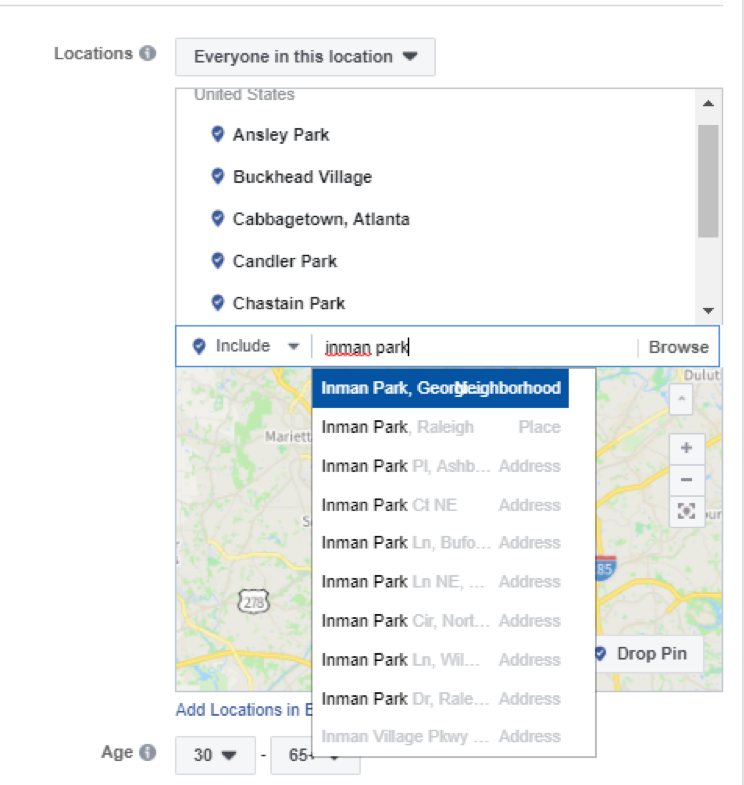 Real Estate Team Listing Ads on Facebook & Instagram for Real Estate Lead Generation
Spun off from ListCast, team listing ads are another great way to generate leads off of property listings. Unlike ListCast which uses a proprietary remarketing algorithm, team property ads are dynamically created property ads on Facebook and Instagram that show your team's current listings.
The properties update daily based on what is now in the MLS – meaning the ads always display your most up-to-date inventory.
This is a great option to show value to your current sellers, gain visibility for your brand and your inventory to interested home seekers in your area, and generate high-quality listing leads at an effective price point on Facebook and Instagram.
During the lead registration process, leads are provided with an option to request a showing directly from the ad, helping you identify the most ready now leads for follow up.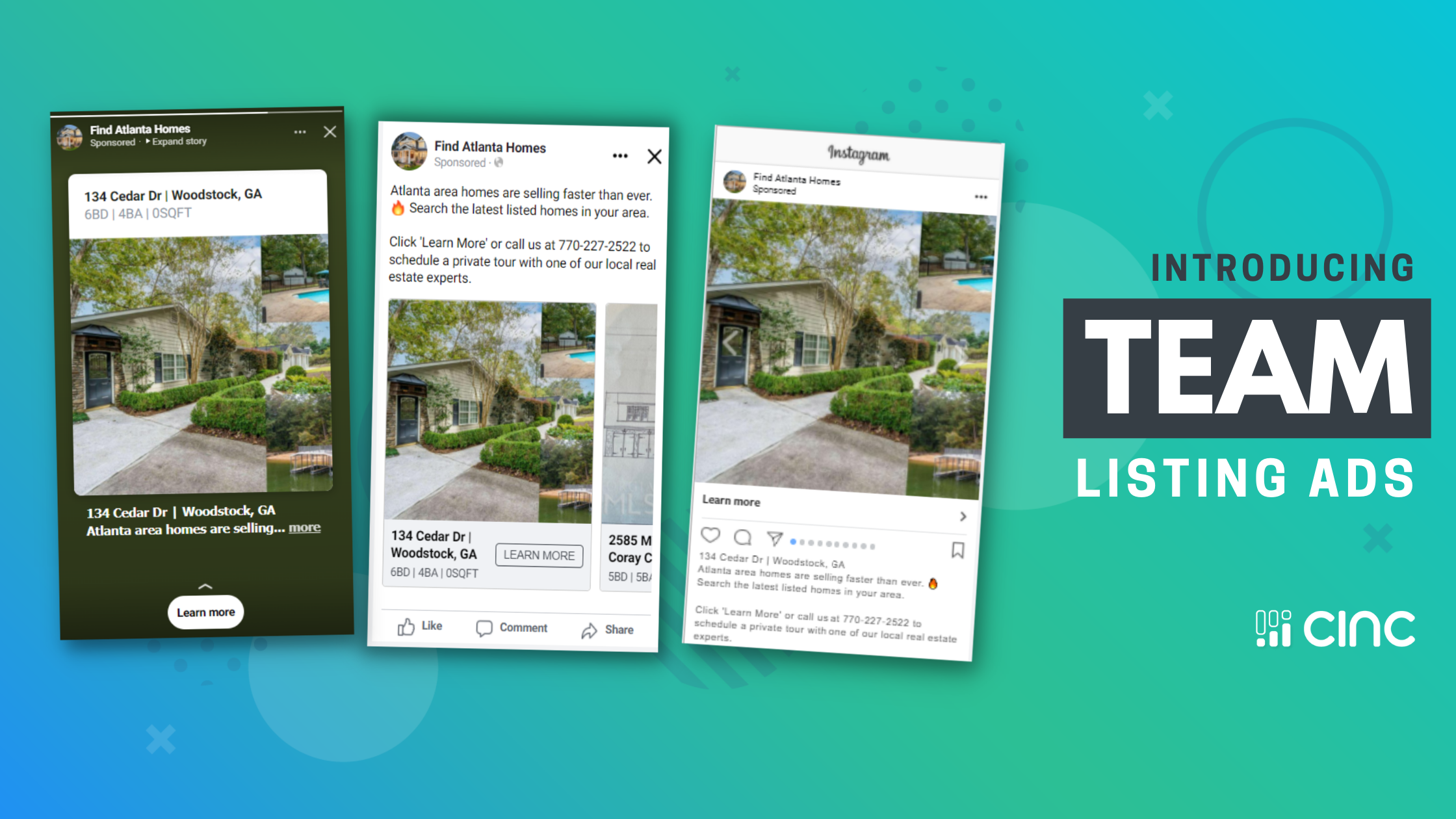 Seller Cash Offer Advertising on Facebook & Instagram for Real Estate Lead Generation
This is a great way to find highly motivated seller leads on Facebook. CINC's Cash Offer advertising specifically targets homeowners in your market who are interested in receiving an all-cash offer for their home.
As part of the lead registration process, the prospective home seller answers 15 questions about their property (everything from address to paint colors to garage type) so you have and extensive lead profile to use in follow up.

This is a great option to explore if you are looking to generate more down-funnel seller leads on Facebook and Instagram.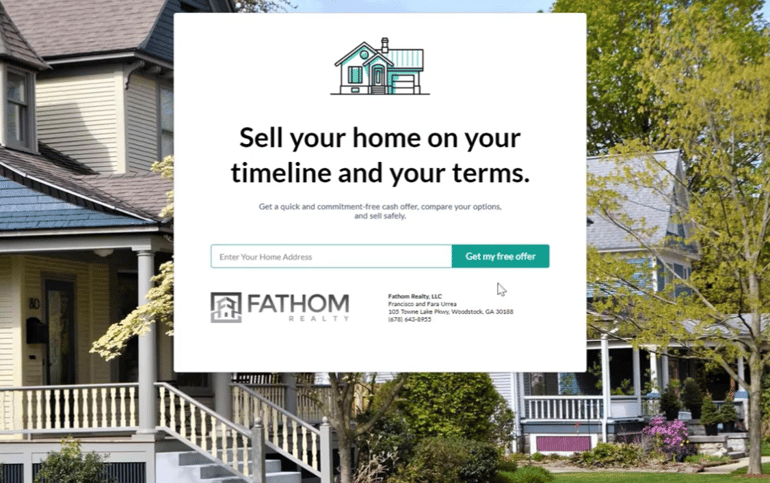 Real Estate Brand Advertising on Facebook
Branded display advertising is a great way to improve your brand awareness and keep in touch with both current clients and new leads for realtors on Facebook.
The ads increase the likelihood your leads will call you back, because they will have seen your attractive, hyper-targeted, dynamic brand messaging through the internet.

Shown on Facebook, the ads are created by a CINC designer and feature dynamic animated rich media in a wide variety of sizes.

Utilizing Technology to Improve Real Estate Lead Generation on Facebook & Instagram
Because of the complexity of real estate advertising on Facebook and Instagram you need more than a team and data - you need tools and automation to deliver the lowest cost per lead.
Our niche advertising strategy on Facebook and Instagram is only possible because automation we created allows us to analyze and implement a complete niche program in minutes - rather than days. And we can continue to refine it after it is created.
CINC has invested in the most robust suite of automation tools for advertising on Facebook and Instagram in the real estate industry to help supercharge the efforts of the optimization team.
This allows us to make more than 40,000 changes a month for client accounts across Facebook and our other online marketing channels - maximizing the impact from daily performance and spending trends, time-of-day performance differences, keyword match types and device variances. This would not be possible without the custom CINC account management software for Facebook.
Using Third-Party Support to Improve Real Estate Lead Generation in the United States
The CINC Client Marketing Team for Facebook and other online marketing channels has been providing outstanding service and industry-leading results for more than a decade. All told, our team of experts has over 120 years of experience in digital advertising, with most of this experience in the real estate space specifically.
Unlike other companies focused on marketing on Facebook which are largely self-serve or staffed by generalists, CINC's team of experts is US-based and available to clients. Each year the CINC Client Marketing Team manages more than $30 million of ad spend on behalf of our clients, making CINC one of North America's largest online advertisers – and the largest real estate advertising portfolio representing real estate agents and teams.
Every Pro and Ramp CINC client in the United States gets a dedicated advertising account manager to oversee their advertising program. We will advise you on the best budget allocation for your specific campaign, based on your goals, your market, and your account performance. We make Facebook and Instagram advertising easier and "done-for-you" but still giving the option for control.
In addition to working on accounts, our experienced Facebook advertising team analyzes to determine best practices, which we use to improve all accounts. This includes determining the best ads, keywords, registration forms, and more.
Ready to start receiving high-quality real estate leads on Facebook and Instagram?
Request a demo and see the difference between CINC and… well, everyone else.
Additional Resources:
-Facebook Ads for Real Estate: HEC Targeting Enforcement. More info here.
Ready to take your business to the next level?
Join the thousands of people making the switch to CINC today.
Originally posted on
September 27, 2022
and last edited on
September 29, 2022