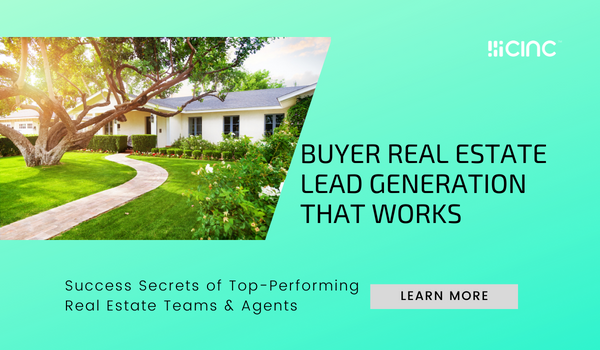 At CINC, we work with over 50,000 of the top-performing real estate teams and agents across the United States and Canada. One of the main reasons they come to us is to help us to improve and/or scale their buyer lead generation efforts.
As such, we have a unique vantage point into the pain points and success stories for some of the top teams and realtors in North America.
Buyer Real Estate Lead Generation Problems
For buyer leads, if you are not first, you are last
Your success as a real estate agent depends on your ability to be the first agent to connect with buyers during their home search. According to NAR, roughly 75% of home buyers interview JUST ONE realtor during their entire home buying search!



In order to be the first agent to connect with buyers, you need to be where they are looking. Additional NAR research shows that the average home buying search lasts just around two months these days. And almost half of that time is spent searching online before they ever reach out to a real estate agent.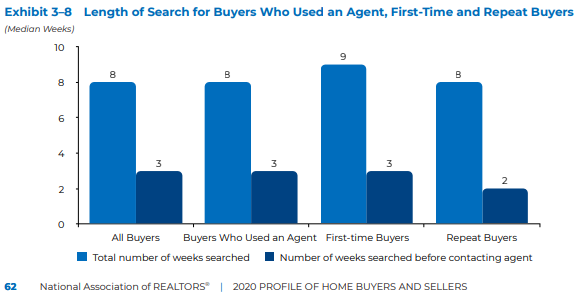 This means you need to be where buyers are spending their time online.
The efficiency of online buyer lead generation platforms has leveled the playing field for real estate teams and agents. Regardless of whether an agent is just starting out or has been in the business for many years running a team, new online buyer lead generation opportunities are creating new avenues to gain market share from more complacent real estate peers.
The beauty of online lead generation is that agents can connect with potential buyers right when they start getting serious about buying a home. This is much earlier in the home buying process than when agents typically connect with potential clients through their sphere of influence or other legacy channels.
This early connection allows agents to build trust and rapport with buyers, which the data shows puts the agent in the dominant position of locking out the competition and ultimately securing the transaction at the end of the process.
Lack of Diversification Outside of Sphere of Influence and Referral Channels Kills Pipeline Consistency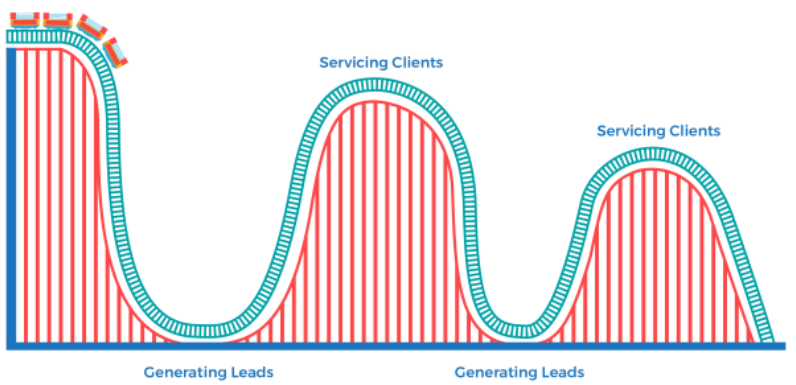 Source: SmartAlto
The ups and downs of real estate are tough.
An organic lead generation strategy based on your sphere and referrals can be extremely effective. And more often than not it is absolutely critical to success. However, it can also be wildly unpredictable and inconsistent. You may experience periods of explosive growth, followed by long periods of little or no growth.
In order to generate predictable buyer leads, you need to have a disciplined real lead generation system in place. This system should include a regular flow of new buyer leads coming in.
Scott Melny from 360 Media Consulting says, "The idea is to get as many decent leads into your pipeline as possible with a good follow-up process in place. Then its only a matter of time before those leads start turning into contracts. And the longer you build up these leads, the more filled up your pipeline becomes, and the easier it will be to start generating sales down the line."
It is critical to have a consistent high-volume buyer lead generation channel strategy to compliment your more organic buyer lead generation channels.
Home Buyer Portal Site Drawbacks (Zillow, Realtor.com, Trulia)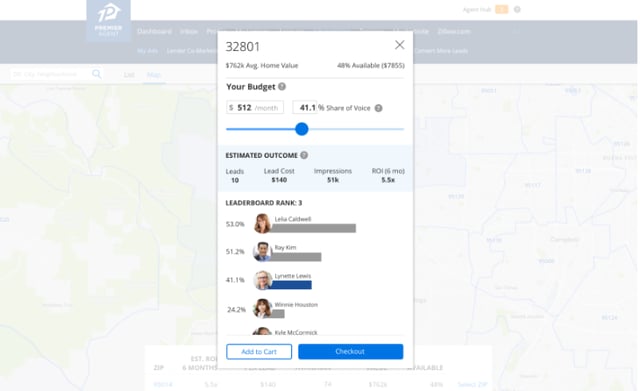 Source: Zillow Premier Agent
Zillow, Realtor.com, Trulia and other home buyer sites are often the first sites that prospective buyers start their search. It makes sense that many agents and teams start their paid lead generation efforts here.
Unfortunately, this also means that there is a lot of competition for leads.
And furthermore, there are downsides to becoming too reliant in these sites.
The first and most significant risk is that the leads you purchase are not necessarily exclusive. In other words, the potential homebuyers you are paying for may have also contacted other realtors.
This means that you are not getting the best leads possible and are essentially paying a premium for leads that may not be as interested in working with you.
The second risk is that the leads you purchase may not be high quality. This means that you may be wasting your time contacting potential homebuyers who are not actually interested in buying a home.
Finally, the most significant risk is that the home listing sites may change their algorithms or pricing model which could decrease the quality or quantity of leads you receive. This could have a significant impact on your ability to generate leads and close sales.

Kevin Sagers from the "Today I'm Home" discusses these challenges in more detail here.
Chris Linsell from the Close as well as Gina Baker from Fit Small Business have helpful perspectives as well.
In fact, Chris recently went into more detail about the new Zillow Flex option where realtors just pay a percentage of commission, up to 35%, if deal closes. Realtors need to be very careful about how expensive the leads are and the risks of Zillow continuing to consolidating more control over the industry.
While there is certainly a place for paid lead generation using home listing sites, it is important to be aware of the risks and use these sites in conjunction with other lead generation methods.
Old School Traditional Real Estate Marketing Channel Drawbacks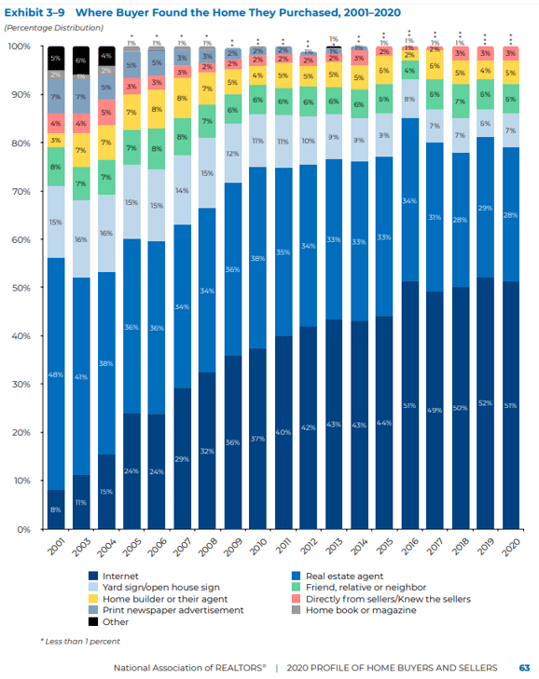 Before some other newer online real estate lead generation channels blew up, there was primarily open houses, door knocking, direct mail, local event sponsorships, print ads, etc.
Some agents are still successful using these methods, but it is less common now for this to be the dominant part of their growth strategy.
Two decades ago, open house and yard signs along with print ads where how home buyers found the house they purchased almost 25% of the time according to the National Association of Realtors (NAR). Recently, this number has dropped to 7%.
Coach Tom Ferry makes this point further, "Relics of lead generation past, like cold calling and knocking on doors, are not as successful as they once were. Most people won't even answer the phone or open their door to someone they don't know. These methods of generating free leads are tired."
Instead, modern-day real estate agents need to make sure they are placing a large enough focus on generating buyer leads through the right online channels. By targeting potential customers online, agents can reach a larger audience and generate more leads.
Other Online Buyer Lead Generation Channels Can Be Challenging Too
The difference between great and not good when it comes to generating buyer leads online is a big one.
The unfortunate reality is that many realtors and teams have had poor experiences online that have not produced results for a variety of reasons.
There is risk of paying too much money to generate the wrong leads is very real when you go at it alone or with the wrong buyer lead gen partner. Jacqueline Kyo Thomas from the Freedom Trail Realty School highlights this by saying, "Remember that you get what you pay for. If you go with the cheapest package from the cheapest lead gen company, you're not going to get premium leads."

Even when you start to get down finding the right buyer leads online, follow up will make or break your success in this channel.
A predictable, high volume of new online buyer leads creates new (albeit good) challenges in terms of complexity in following up in the short-term (speed-to-lead) and the long run (nurture).
Those real estate agents and teams who try to go at online buyer lead generation alone or leverage dated follow up tech often experience a rude awakening when delving into higher volume online buyer lead generation that typically requires more complex, modern follow-up tactics and strategies.
Buyer Real Estate Lead Generation Keys to Success
The good news is that there is a tried and true modern buyer lead generation strategy that is driving growth and results for the top teams.
Very simply, it's all about having the right website tailored specifically to very targeted buyer lead generation. And then, leveraging Google to drive the right hyper-local traffic to your site at the right time in the home buying search.
Convert More Buyer Real Estate Leads with a Lead Generation Optimized IDX Consumer Search Website
Too many realtors still have websites that focus more on how great they are as a realtor. While that's fine in the right context, it should not be the main focus.

The best real estate teams and agents are moving towards more buyer-centric home search sites primarily designed for buyers actively looking for homes in your area.

The sites are focused on providing an excellent and exceptional targeted experience for buyers active in a high intent home search process.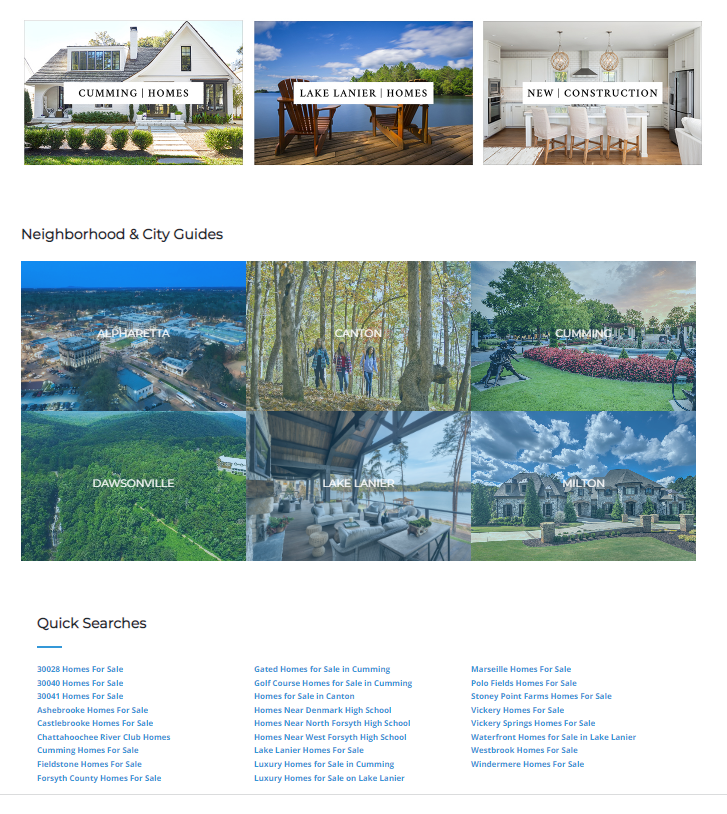 Example above of an IDX customer-centric home search site from a high-performing real estate team in the Atlanta, GA metro area. See full site here.
These hyperlocal buyer lead generation websites are focused on very specific areas within your local market: neighborhoods, school districts, and other types of communities:
Gated communities

Luxury home communities

Waterfront home communities

Etc
The targeted landing pages on these consumer search sites go beyond zip codes and cities. They integrate directly with the local MLS through and IDX website and are updated constantly so there are no expired listings.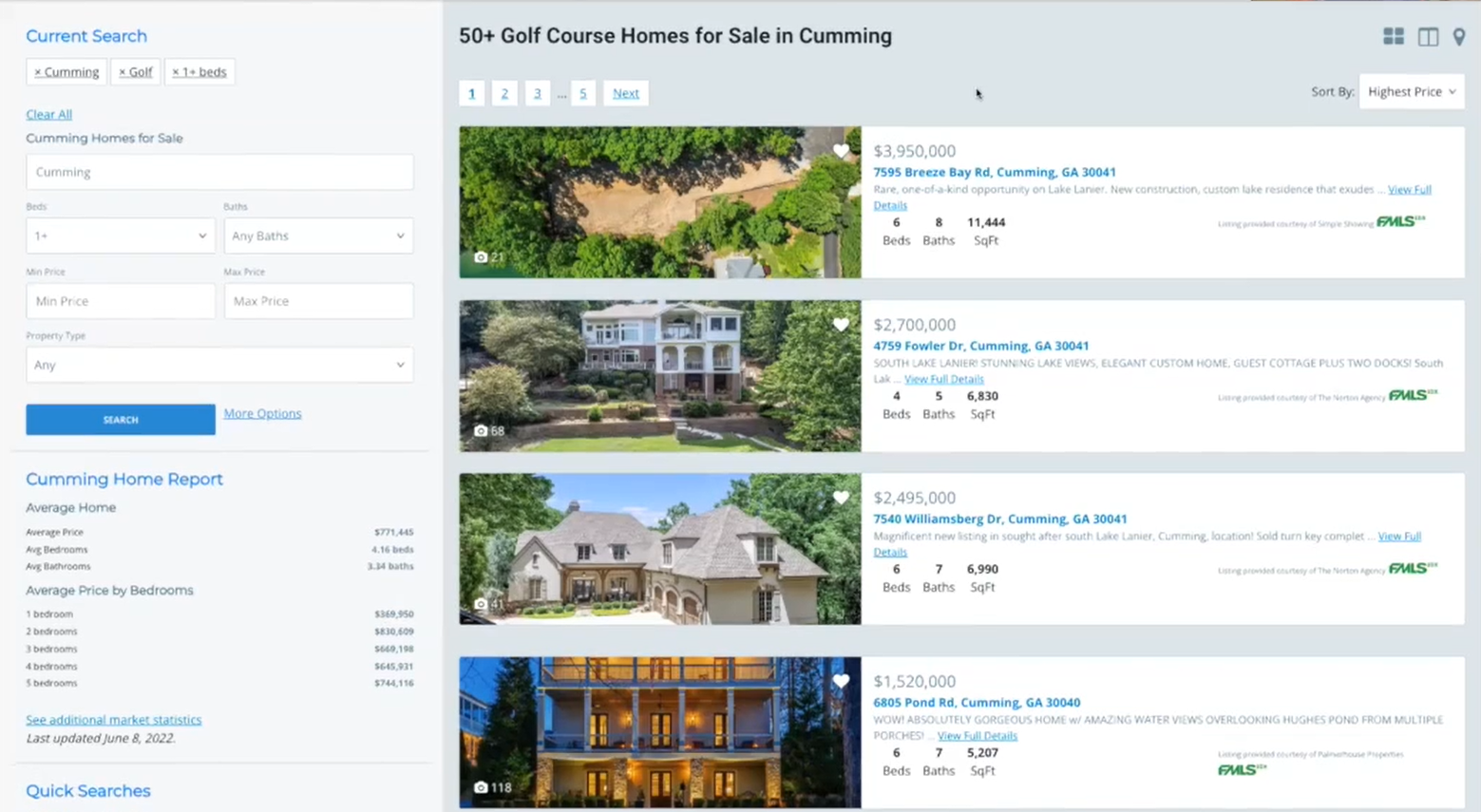 Example above of a targeted custom property search landing page. In this example, the landing page is targeted towards prospective buyers with a very targeted search of homes on golf courses in a specific city. See full site here.
The best sites have 15-30 custom landing pages (you can find more detail in this recent webinar here) for those specific geographic points of interest in your local market that buyers are interested in.

By going beyond just city and zip code, you are targeting landing pages to the most educated and advanced home buyers that have already driven around your local real estate market and have already figured out where they want to live. These leads to a much higher quality lead that converts on these sites.
Targeted Local Buyer Real Estate Lead Generation via Google Ads
Building the right website with the right landing pages is one thing. The next critical component for success is driving the right targeted local buyer traffic to these pages.

Our experience continues to be that buyers go to three main places online when they start to look for homes: Zillow, Realtor.com, and Google. We are still seeing that the vast majority of these online buyers start with a search on Google.
The top real estate teams and agents are exceptional at intercepting active home buyer searches on Google and driving them to targeted landing pages on their IDX website. The objective here is to determine what local buyers are currently searching right now to find homes in your market.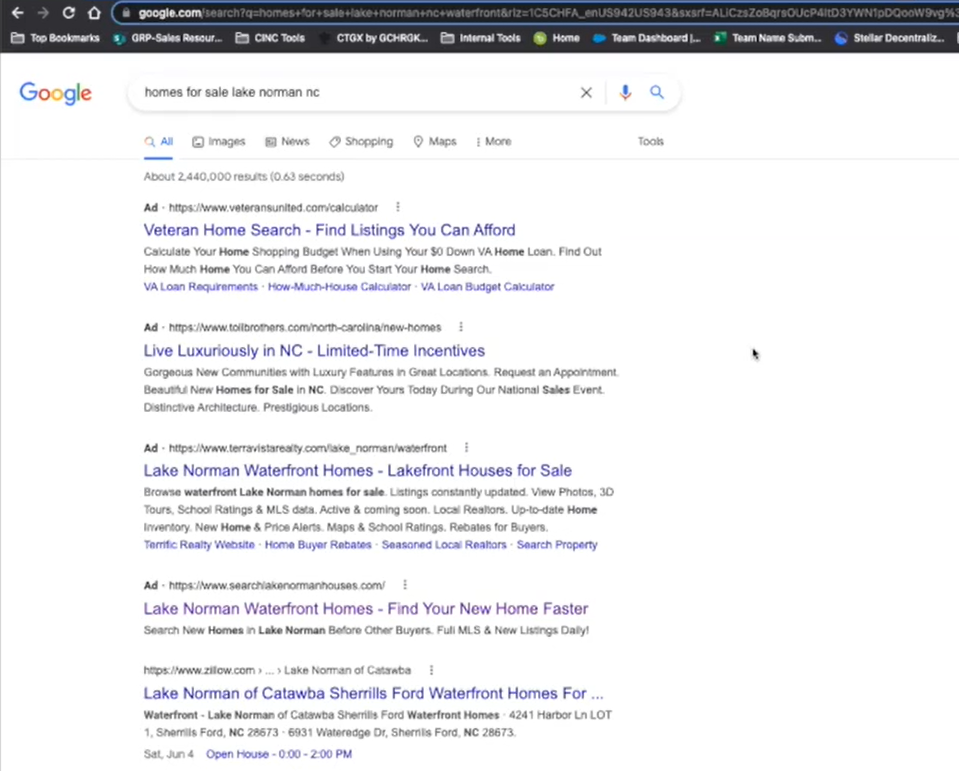 Example of a sample buyer home search on Google. Note that Google prioritizes paid search results over organic Zillow results.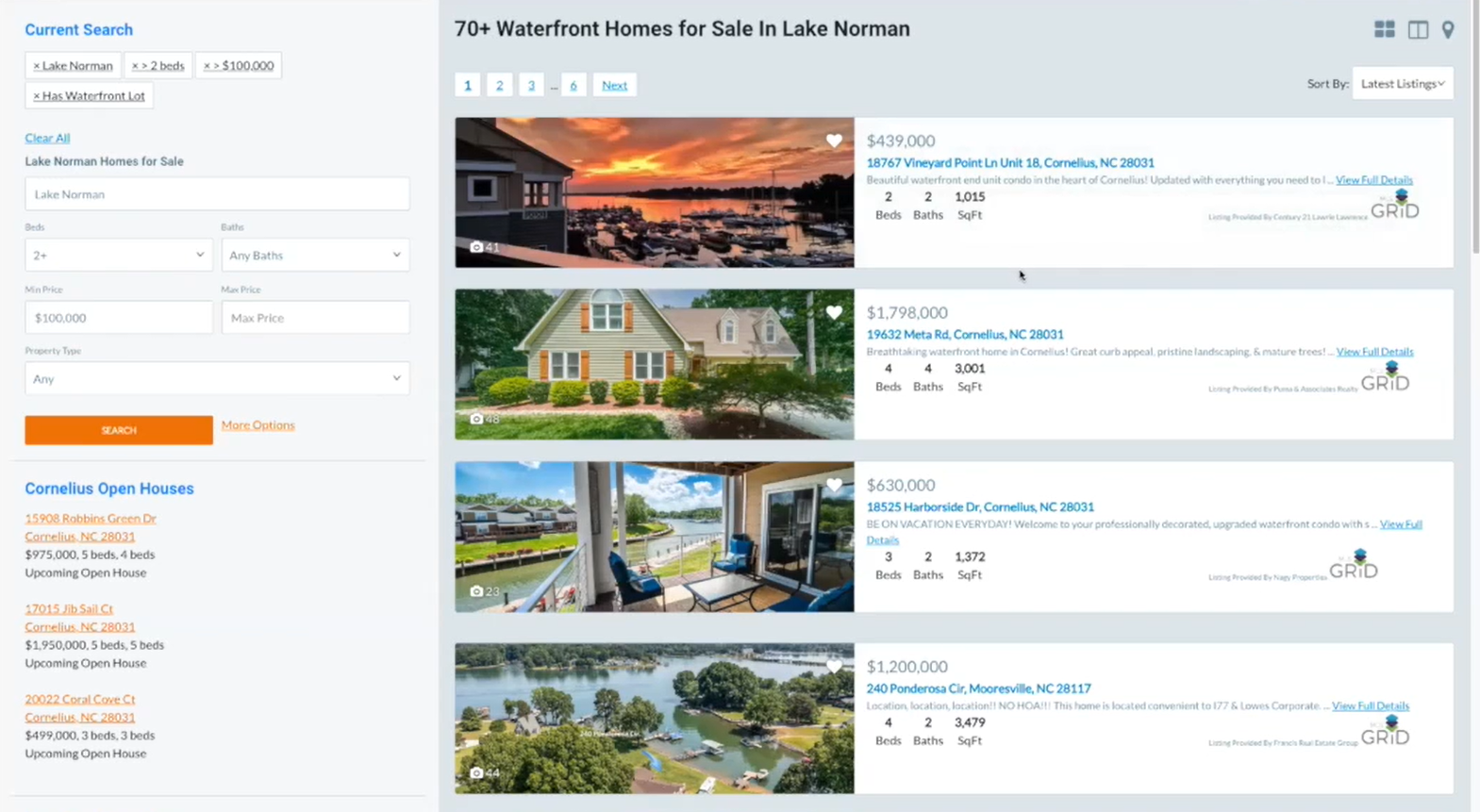 Example of a customized landing page tied to a Google Ad targeting geographic keyword of Lake Norman used in Google search above.
The idea here is to find hidden submarkets of hyperlocal leads that other realtor peers in your market are missing. These hidden areas may be in a real estate agent or team's backyard but they might not even know they exist.
The data on the right submarkets to target on Google can often be surprising. Two seemingly similar nearby neighborhoods sometimes can produce very different results.
Targeting one of these neighborhoods will fill your pipeline with a nice volume of cost effective high intent buyer leads. While the other neighborhood might turn out to be complete waste of time, money, and resources.
Proper analysis of Google search and past performance data on the front end is critical. It makes all the difference when it comes to driving the right targeted buyers to a site in order to drive the right ROI for real estate teams and agents.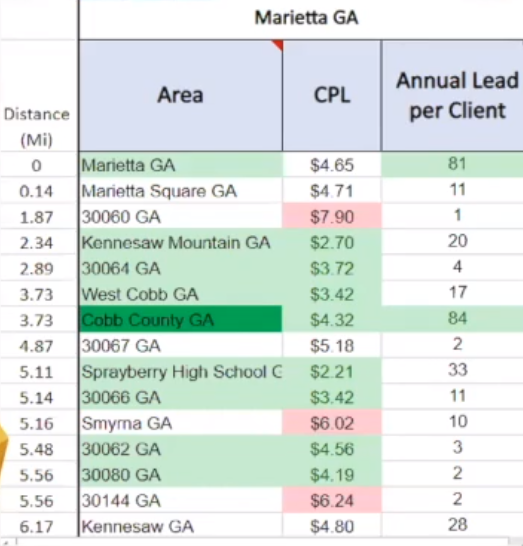 Example of Google Submarket Finder Tool for Real Estate Leads that top real estate teams use to find new local submarkets to target.
Once the buyer makes it to one of these landing pages from Google, the job is still note done. It's not just about driving the right traffic. They still need to be converted to a lead.
When the buyer is driven from Google, they are taken to a landing page with a list of relevant homes based on their search query in Google.
The buyer will typically want all the additional details of the teaser picture and other information on the relevant homes on the targeting landing page. The goal here on these landing pages is for them to find the perfect home of their dreams.
When the buyer does find the right home that piques their interest, they go through a three step process. This is actually a good thing because it filters out a lot of the buyers who may are still a ways out from starting the process of buying a new home.
Typically, we see that 85% of buyer traffic is filtered out at this point with the remaining 15% of traffic (the high quality buyer traffic) converting on the website as a new lead for the realtor and/or their real estate team.

This process not only helps filter out the lower intent buyer prospects, it also gathers critical contact information and details of the high intent buyer leads. The top real estate teams know if the buyer lead is pre-qualified, if they are a first time homebuyer, what their time frame to purchase a home is, do they own another house they will need to sale, and much more.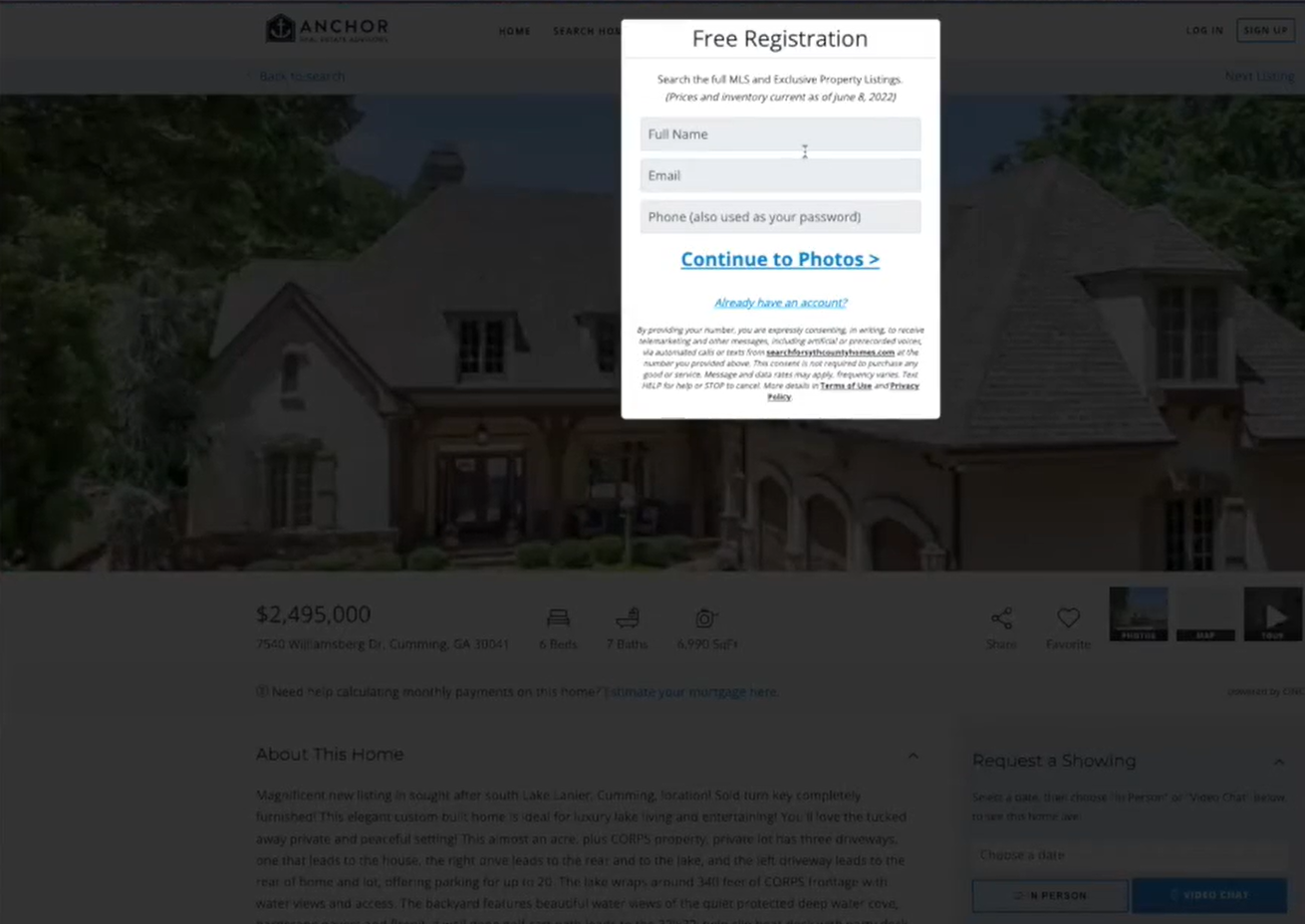 Example of form to convert a lead on an IDX consumer search website where a lead has expressed information in a property.
Executing this online real estate buyer lead strategy cost efficiently at scale can be challenging for any one real estate agent or team.
The top real estate teams and agents partner with the right third-party buyer lead generation companies in order to take advantage scale and stay ahead of the curve of Google's never ending wave of updates.
Ready to take your business to the next level?
Join the thousands of people making the switch to CINC today.
Originally posted on
September 20, 2022
and last edited on
September 29, 2022